Close
UHV ABR publisher compiles book from personal essays, columns
In a column that first appeared in the University of Houston-Victoria American Book Review, Jeffrey Di Leo addressed the law in Arizona that advises teachers to avoid discussions about race, ethnicity and oppression, and to stop teaching books that deal with those topics.
Di Leo's column, "Hide it From the Kids," is one of many the ABR editor and publisher, and dean of the UHV School of Arts & Sciences has written that discuss book and publishing culture, and how they intersect with current issues in the humanities. The column is the ninth selection in Di Leo's new book, "Turning the Page: Book Culture in the Digital Age – Essays, Reflections, Interventions."
"The book is a whirlwind journey through the contemporary changes in book and publishing culture," Di Leo said. "The general audience here is wide and varied. Although there are not many books like this one on the market – books about books – it's an important area of concern. I like to think of it as a new field in philosophy; call it, if you will, a philosophy of the book."
Di Leo said that Arizona's cultural logic seems to be that if these books are taken out of curricular circulation and students are not permitted to learn about their cultural and literary heritage in school, then the students' solidarity with their ethnic group will evaporate.
"At this point in cultural history, it seems ludicrous to have to defend the study of cultural and critical thinking," Di Leo wrote. "We should not need to defend ethnic literature – especially in places like Tucson where 60 percent of the student population is from an ethnic group that is invisible in the general curriculum. But reactionary behavior such as that in Arizona shows that there is still a need."
Since 2006, Di Leo has written a column in the American Book Review on the state of book culture. The column is called "Page 2" for the page where it appears. Among the topics he has written about are the growing popularity of e-books, book burnings, data about reading practices and the passing of influential novelists.
In "Turning the Page," 54 of Di Leo's ABR columns and personal essays were placed in reverse chorological order and published by the Texas Review Press, a member of the Texas A&M University Press Consortium. Di Leo said it was a thrill to revisit his early material and see how it connected with and matured into many of his contemporary concerns.
Founded in 1977 by novelist Ronald Sukenick, ABR was designed to offer a unique model for reviewing books, one edited by writers themselves in an effort to reproduce the interest they took in their peers' works of fiction, poetry and criticism. This collective approach remained intact while responsibility for producing the journal was assumed by the University of Colorado at Boulder in 1987 and then by Illinois State University in 1995.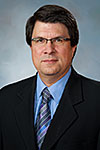 Jeffrey Di Leo
In 2006, Di Leo joined Charles Harris as ABR co-editors and moved operations to UHV. The next year, Di Leo became the sole editor and publisher. The ABR Reading Series at UHV also began in 2006.
The Page 2 column was introduced by Harris in the November/December 2005 issue as a space for commentary about book and writing culture. Di Leo's first column appeared one year later.
"The next four columns took on distinctive topics – and with increasing energy," Di Leo wrote in the book's introduction. "One was about my desire to provide easy access to critical theory in ABR, another was on the disappearance of book reviews in newspapers, and still another on the notion of public book proposals. Page 2 pieces often take up the themes of ABR issues but sometimes are just investigations of my own area of interest or concern related to book and writing culture. They are meant to raise questions more than to provide answers."
Eric Miles Williamson, a member of the National Book Critics Circle and an associate editor of ABR, suggested Di Leo put all of his ABR writing into one book.
"At first, I did not think much about his suggestion, but then a year later, I read a collection of occasional writing by John Barth – the review of which is in this book – and enjoyed it immensely," Di Leo said. "It reminded me of what I have been doing for ABR all these years, and so I looked into a similar project for my own material. It turns out that I have written quite a bit of material for ABR – more than 70,000 words, so I pursued the project with Texas Review Press."
Ralph Berry, an author and longtime Florida State University professor, applauded Di Leo's call to action at the end of the Arizona book banning column. Di Leo wrote that to support colleagues in ethnic studies, professors can assign their works in class and invite them to speak on campus.
"Throughout 'Turning the Page,' we encounter possibilities never realized, openings ignored," Berry wrote in the book's preface. "The aim of narrating in both cases is to alter events, and so, in retrospect, each documents them."
A central theme of the book banning column is that cultural and critical studies make the educational system stronger. Di Leo said that message is now louder and stronger, but the people in charge of Arizona education still don't get it.
"There really is no debate here about whether this curriculum and these books should be part of the public education system," he said. "Still, the continued political polarization of the subject keeps the sides strongly oppositional."
"Turning the Page" is available from a variety of online booksellers, including Amazon, Barnes & Noble and Books-A-Million.
The University of Houston-Victoria, located in the heart of the Coastal Bend region since 1973 in Victoria, Texas, offers courses leading to more than 80 academic programs in the schools of Arts & Sciences; Business Administration; and Education, Health Professions & Human Development. UHV provides face-to-face classes at its Victoria campus, as well as an instructional site in Katy, Texas, and online classes that students can take from anywhere. UHV supports the American Association of State Colleges and Universities Opportunities for All initiative to increase awareness about state colleges and universities and the important role they have in providing a high-quality and accessible education to an increasingly diverse student population, as well as contributing to regional and state economic development.