Close
UHV nursing student wins national scholarship for patient care essay
No matter how hectic her day may be, University of Houston-Victoria student April Narvaez plans to explain every procedure and medication to her patients when she becomes a nurse.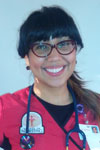 April Narvaez
Narvaez demonstrated her commitment to patient-centered care in a nursing essay she wrote for a national contest. She was one of 10 recent winners of the 2014 Cherokee Uniform A Nurse I Am Scholarship contest. Each winner received $2,000 to help pay for school.
"When I become a nurse, I will strive to treat every person as an individual," Narvaez said. "Nurses should view a patient as part of a family and part of a community. Every patient has his story, and he will be counting on me to listen and not miss anything. I'm not going to take shortcuts."
Narvaez, 27, is pursuing a Second Degree Bachelor of Science in Nursing in the UHV School of Nursing. The Houston native previously earned a bachelor's degree in biology at the University of Texas at Austin. After working a couple of years, Narvaez wanted to proceed with a health care career. She started the accelerated, one-year UHV program in January.
"I feel lucky to go to school at UHV because of the supportive faculty," she said. "The professors tell it to us straight. The lectures are easy to understand and prepare us for what's ahead. The professors have so much experience, and I'm happy to soak up their knowledge."
Based in Chatsworth, Calif., Cherokee designs and manufactures medical uniforms and accessories. The company has operated the scholarship contest since 2007.
Each applicant wrote an essay about the film "A Nurse I Am." The movie shows nurses in real-life situations where they interact with patients, students and colleagues, highlighting key points for a successful nursing career. Cherokee provided a grant to produce the film out of concern about the number of nurses leaving the profession within the first few years of practice.
"The winning essayists articulated strategies for how they will remain dedicated throughout their nursing careers to treating patients as individuals who are worthy of their best clinical work and deepest compassion," said Wendell Mobley, Cherokee contest scholarship director. "These students understand the power of patient-centered care within practice environments that will compete for their time and attention."
The essay asked how nurses will overcome the temptation to become focused on goals instead of patients in light of increased demands and workloads.
"To prevent the mentality of goal-focused care, I will first improve my communication technique," Narvaez wrote in the essay. "This includes communication to the patient, family and the rest of the health care team. Communication is integral to better patient outcomes, and I intend to actively create as many positive outcomes as possible."
Narvaez said one reason nurses get distracted from focusing on the patient is staffing shortages. Sometimes nurses have a high patient load, and giving each one the necessary attention is difficult.
"Nurses always have to put things in priority order," Narvaez said. "Because of that, a diagnosis might get missed with one patient if something more severe is going on elsewhere. There are time constraints, and nurses have to chart everything. I know there's a lot of pressure, but it really behooves us to thoroughly focus on each patient."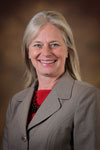 Kathryn Tart
Kathryn Tart, dean of the UHV School of Nursing, said she was delighted Narvaez was chosen for A Nurse I Am Scholarship.
"April did a fantastic job in her essay explaining why patient-centered care is critical all the time," Tart said. "I liked how she used examples from real life and the film to make her case. April has a bright future in the nursing profession, and I'm glad she is being recognized. This national award also illustrates the quality of students attracted to the UHV School of Nursing."
Narvaez said she was surprised to receive the award. She applied for a variety of scholarships to help pay for school.
"It's a national award, so I was not expecting to win, but I thought it be worth a shot to apply," Narvaez said. "I sent it in and forgot about it. I was really excited when they called to tell me I had won."
With graduation around the corner in December, Narvaez has started applying for critical care positions, such as working in an intensive care unit or labor and delivery. After gaining some work experience, she plans to pursue nursing graduate studies.
To read the winning essays, visit www.anurseiam.com/winners. To find out more about the UHV nursing programs go to www.uhv.edu/nursing.
The University of Houston-Victoria, located in the heart of the Coastal Bend region since 1973 in Victoria, Texas, offers courses leading to more than 80 academic programs in the schools of Arts & Sciences; Business Administration; and Education, Health Professions & Human Development. UHV provides face-to-face classes at its Victoria campus, as well as an instructional site in Katy, Texas, and online classes that students can take from anywhere. UHV supports the American Association of State Colleges and Universities Opportunities for All initiative to increase awareness about state colleges and universities and the important role they have in providing a high-quality and accessible education to an increasingly diverse student population, as well as contributing to regional and state economic development.