Close
UHV education honor society to add new service projects, members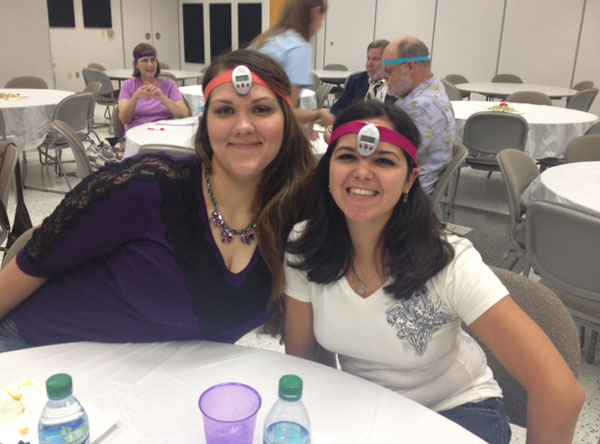 Alpha Zeta Lambda members Rachel Striedel, left, and Mariah Sanchez display headbands used for a game during the education honor society's open house last month in Victoria. Pedometers were attached to the headbands, and contestants bobbled their heads for one minute, competing to see who had the most bobbles.
Leaders of the Alpha Zeta Lambda education honor society are on their way to accomplishing their goals of increasing membership and community outreach.
Alpha Zeta Lambda is the University of Houston-Victoria chapter of Kappa Delta Pi, an international education honor society. The UHV chapter, which was chartered in February 2012, already has more than 140 members. The chapter is open to undergraduate and graduate students, practicing educators, school administrators, university education faculty and education retirees.
To raise awareness about the group, Alpha Zeta Lambda held an open house earlier this fall in Victoria for current members, potential new members and Victoria Independent School District principals and teachers.
"It is my personal goal to not only bring UHV education students into Alpha Zeta Lambda, but also bring in practicing teachers and administrators to mentor and share their experience with the next generation of educators," said Michael Norris, Alpha Zeta Lambda president in Victoria.
Many Alpha Zeta Lambda members live or attend school in the Katy area, where UHV offers programs at the Houston Community College Katy Campus and the UH System at Cinco Ranch. Because of the geographic separation, the group has separate officers for Victoria and Katy.
Officers and their hometowns for the 2014-2015 school year are:
Victoria President – Norris, Montgomery, Ala.
Victoria Vice President – Laura Caldwell, New Braunfels
Victoria Treasurer – Stephanie Ebel, Wyile
Victoria Secretary – Donna Holcombe, Victoria
Victoria Membership Chair – Arielle McGillis, Katy
Katy President – Julia Jackson, Brazoria
Katy Vice President – Elizabeth Derouen, Richmond
Katy Treasurer – Holly Ellis, Arkansas City, Kan.
Katy Secretary – Adriana Alvarez, Katy
Katy Membership Chair – Amanda Rey, Sugar Land
Steve Trowbridge, adjunct professor of language and literacy in the UHV School of Education & Human Development, organized and launched the UHV chapter. Trowbridge is the Victoria counselor of Alpha Zeta Lambda. Moira Baldwin, an assistant professor of science education, took over this school year as the Katy counselor. She replaced Mary Lasater, an assistant professor of education.
"We want to thank Dr. Lasater for serving as counselor last school year and wish her luck in her new role as coordinator of the UHV curriculum and instruction graduate program," Jackson said. "She joined the organization last year, so we look forward to continuing to have her as a member."
Jackson said she will make every effort as president to uphold the organization's mission, which is to strive to sustain an honored community of diverse educators by promoting excellence and advancing scholarship, leadership and service.
The organization has a full slate of service projects planned this year. Members recently participated in the B.I.G. Love Superhero Fun Run fundraiser in Pearland and raised $910, easily exceeding their goal of $500.
In November, the Katy club has three service events planned in the same week. Members will participate in the Houston Buddy Walk to support the Down Syndrome Association of Houston, the Houston Salutes American Heroes Veterans Day Celebration parade and the 14th Special Olympics Over the Edge fundraiser, where participants rappel down a high-rise building in Houston.
The Katy contingent also will participate in two new service projects in 2015 by volunteering at Relay for Life of Fort Bend County and the Special Olympics Spring Games.
The new Victoria projects are Victoria's Relay for Life, working with the Riding Therapy Center and participating in Book Buddies, where children read books to shelter animals.
"It's terrific to see our students reach out to the community and participate in a number of fundraisers and community projects," said Fred Litton, dean of the UHV School of Education & Human Development, also a member of the organization.
Invitations to join Alpha Zeta Lambda are extended to undergraduate education applicants who have completed 30 semester hours or more and have at least a 3.0 grade-point average. Graduate applicants need to have completed at least 6 credit hours and have a minimum 3.25 GPA. Practicing professionals interested in joining the honor society must show proof they obtained an education degree.
For more information about Alpha Zeta Lambda, send an email to uhvazlnews@gmail.com. The next members' installation is scheduled for 1 p.m. Oct. 18 at the UH System at Cinco Ranch, 4242 S. Mason Road in Katy.
The University of Houston-Victoria, located in the heart of the Coastal Bend region since 1973 in Victoria, Texas, offers courses leading to more than 80 academic programs in the schools of Arts & Sciences; Business Administration; and Education, Health Professions & Human Development. UHV provides face-to-face classes at its Victoria campus, as well as an instructional site in Katy, Texas, and online classes that students can take from anywhere. UHV supports the American Association of State Colleges and Universities Opportunities for All initiative to increase awareness about state colleges and universities and the important role they have in providing a high-quality and accessible education to an increasingly diverse student population, as well as contributing to regional and state economic development.