Close
Faculty lecture series, student activities to show how subjects intersect
University of Houston-Victoria students taking part in the "First-Year Seminar" course this fall and interested members of the community are in for a futuristic blast from the past.
The UHV Community of Readers Committee chose "Ready Player One" as this year's book for the common reading program, and the '80s are coming back with it. Volunteers from the UHV faculty have prepared a series of lectures open to the public that examine the story from their area of expertise.
"Every year, all of the instructors present something a little bit different, and I learn something from each of the presentations," said Amanda Breu, chair of the Community of Readers Committee and an instruction and outreach librarian at the Victoria College/UHV Library. "I would definitely encourage everyone to get involved with this as much as possible."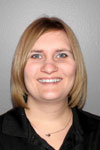 Amanda Breu
"Ready Player One" is told from the perspective of Wade Watts, an 18-year-old orphan in a world where fossil fuels have run out and the majority of humanity spends most of their time plugged in to a virtual reality known as OASIS. The creator of this virtual universe left behind a will that offered his quarter-trillion-dollar fortune and control of OASIS to whoever can find an Easter egg hidden inside the system behind three gates. Those gates can only be unlocked using hidden keys.
The keys are located by answering riddles and knowing pop culture from the '80s, the decade OASIS' creator grew up in. Wade has devoted his life to studying the era, and when he finds the first key, he draws the attention of the entire world.
"One of the goals of the First-Year Academic Experience is for students to learn how all of the different academic fields are related and how different fields look at the same problem in different ways," program Director Keith Akins said. "We try to find a book that is open to being analyzed from a wide variety of perspectives."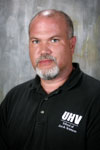 Keith Akins
Members of the faculty have volunteered to read the book and put together presentations focused on how their areas of expertise tie in with the story. All of the speakers are members of the School of Arts & Sciences unless otherwise noted. The lectures will begin at 11:30 a.m. in the University Center Multi-Purpose Room, 3007 N. Ben Wilson St., except for the last two lectures, which will begin at 5 p.m.:
Monday – "Addiction and Imagination – Pros and Cons," Terry Kirk, associate clinical professor, School of Nursing
Tuesday – "Philosophies of Technology and Growth," Justin Bell, philosophy assistant professor
Oct. 13 – "Cracking the Egg, Unbinding the Book," Charles Alexander, director of the Master of Fine Arts in creative writing
Oct. 21 – "Mathematics, Games and Careers," Ricardo Teixeira, math assistant professor and director of the math program and core curriculum
Oct. 28 – "OASIS: Reality vs. Virtually," Amjad Nusayr, computer science lecturer
Nov. 3 – "Science Fiction and Symbols: Cultural Imagery and Computing in Ready Player One," Jeff Sartain, English assistant professor and director of professional writing
Nov. 4 – "The Quest for an Epic," Jeffrey Cass, provost and vice president for academic affairs
Nov. 4 – "I Dislike What I Fancy I Feel: Perception and Living in the Virtual Reality," Dmitri Sobolev, biology assistant professor and facilitator of the biology program
Nov. 10 – "Understanding Online Relationships: Why Computer-Mediated Communication Gets 'Hyper-Personal,'" Mark Ward, communication assistant professor
"While we aren't always able to bring the author to campus, we decided to use the experts we already have at UHV," Breu said. "That's how this lecture series developed. It has been extremely successful. It's been great for the faculty who present, and it's a way for the students to interact with some faculty they normally wouldn't have contact with on a regular basis."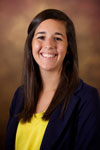 Dawn Savage
UHV Student Life & Services also will be tying student events into "Ready Player One." An '80s Skating Party will take place at 9 p.m. Oct. 2 at Skateworld, 108 Monterrey Drive. Although the skating party was held in previous years, this year it will include '80s music, a photo booth with props, glow sticks and neon colors. There also will be a dessert bar.
"We wanted to help students experience some of what they read in the book in real life," Student Services Coordinator Dawn Savage said. "Not too many of them are familiar with the '80s, so we wanted to bring it to life for them."
Student Life & Services and the Community of Readers also will feature several other events that tie in with the book:
Old School Movie Night featuring "Ferris Bueller's Day Off" and "Indiana Jones and the Temple of Doom," 7:30 p.m. Oct. 15, Jaguar Hall Commons
'80s concert featuring the I-69 Band, 7 p.m. Nov. 4, Jaguar Hall Commons
Gaming in the Library, Nov. 12, VC/UHV Library
Treasure Hunt, Nov. 10-13, jaX the Jaguar Facebook page
The Community of Readers is primarily for first-year students taking the freshman seminar course. But any UHV student, faculty or staff member interested in reading the book can request a copy from Ashley Shields in the UHV School of Arts & Sciences by calling 361-570-4364 or emailing shieldsa@uhv.edu. Community members can purchase the book online through Amazon or Barnes & Nobles, or Hastings in Victoria. The book also is available at the VC/UHV Library and the Victoria Public Library both in print and audiobook.
The University of Houston-Victoria, located in the heart of the Coastal Bend region since 1973 in Victoria, Texas, offers courses leading to more than 80 academic programs in the schools of Arts & Sciences; Business Administration; and Education, Health Professions & Human Development. UHV provides face-to-face classes at its Victoria campus, as well as an instructional site in Katy, Texas, and online classes that students can take from anywhere. UHV supports the American Association of State Colleges and Universities Opportunities for All initiative to increase awareness about state colleges and universities and the important role they have in providing a high-quality and accessible education to an increasingly diverse student population, as well as contributing to regional and state economic development.