Close
UHV students excel on Texas educator certification exam
Ninety-five percent of University of Houston-Victoria students studying to become teachers, principals or other types of educators passed the test to become certified to teach in Texas, according to figures released by the Texas Education Agency.
The pass rate was the cumulative percentage of students who passed the Texas Examination of Educator Standards in 17 different education certification programs from Sept. 1, 2013, to Aug. 31. A total of 156 UHV students passed the exam during that time period.
Future teachers, principals, school counselors, superintendents and educational diagnosticians are required to take the state exam to become certified educators, said Fred Litton, dean of the UHV School of Education & Human Development.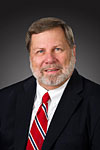 Fred Litton
"Our faculty and staff did an unbelievable job getting students ready to take this test as part of their overall preparedness for education careers," Litton said. "It's their commitment that led us to achieve one of the top scores in the state. I also want to extend thanks to our students for all their dedication and work that went into getting ready for these exams. It's a high-stakes exam because state certification depends on it."
In nine separate program exams, every UHV student who took the test passed it. The state also breaks down pass rates by gender and race. UHV achieved pass rates above 90 percent in all demographic categories. A pass rate of 80 percent is considered acceptable.
Litton was particularly pleased with the pass rate improvement of UHV students in the early childhood through sixth-grade generalist program. The pass rate for those students went from 78 percent in 2012-2013 to 90.5 percent in 2013-2014.
"Getting that percentage up was a point of emphasis, and I'm pleased with the results," he said.
Litton said the university's Texas Examination of Educator Standards Academy was a significant help in preparing students for their certification exams.
Run by Andria Young, a UHV associate professor of education, the TExES Academy provides students with materials for studying and directions on what they need to do to complete their certification tests. UHV students are enrolled in the academy after being admitted into the teacher education program. They access the materials via Blackboard, a virtual learning environment and course management system that UHV students routinely use for class materials and assignments.
Students work at their own pace. They have to complete reviews, develop a study plan and take practice tests until they meet the minimum passing criteria. Only then can they proceed to take the Texas Examination of Educator Standards.
"The process they go through helps students identify their strengths and weaknesses, so they can make modifications to what and how they are studying," Litton said. "Our students are taking the exam seriously, and it shows in their use of the TExES Academy."
The University of Houston-Victoria, located in the heart of the Coastal Bend region since 1973 in Victoria, Texas, offers courses leading to more than 80 academic programs in the schools of Arts & Sciences; Business Administration; and Education, Health Professions & Human Development. UHV provides face-to-face classes at its Victoria campus, as well as an instructional site in Katy, Texas, and online classes that students can take from anywhere. UHV supports the American Association of State Colleges and Universities Opportunities for All initiative to increase awareness about state colleges and universities and the important role they have in providing a high-quality and accessible education to an increasingly diverse student population, as well as contributing to regional and state economic development.