Close
UHV small business center associate director receives State Star Award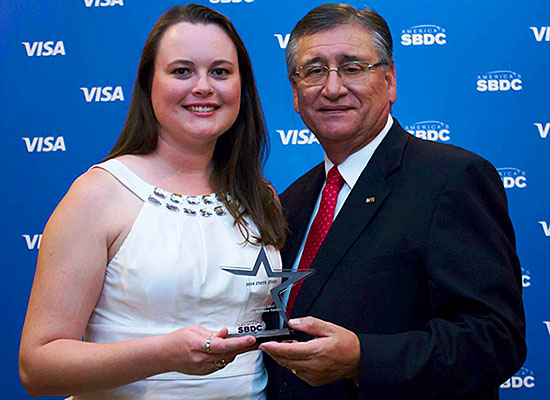 Lisa Barr, senior business advisor and associate director of the University of Houston-Victoria Small Business Development Center, accepts the 2014 State Star Award from Al Salgado, SouthWest Texas Border Region state director.
For the second time in less than four years, a member of the University of Houston-Victoria Small Business Development Center team has received regional recognition for her work with area businesses.
Lisa Barr, senior business advisor and associate director of the UHV SBDC, has received her second State Star Award for the SouthWest Texas Border Region SBDC. The award recognizes her as the top performing business advisor for fiscal year 2013 out of more than 70 others in the Texas SBDC Network. She first received the award in 2011 for her work in the 2010 fiscal year.
"The State Star Award recognizes Lisa's extraordinary efforts to achieve and support the goals and mission of the SouthWest Texas Border Region SBDC Network," said Farhang Niroomand, dean of the UHV School of Business Administration. "I am proud to have her dedication and talent as a part of the leadership of the UHV SBDC."
The State Star Award is given to one SBDC advisor from each of about 60 regions across the country. Barr recently received her award at the Association of Small Business Development Centers National Convention in Grapevine.
"The first time I won, I really set out to win it," Barr said. "I wasn't as aggressive as I was the first time, but I set out to help people. That's my main goal. The award is just a bonus on top of that."
Barr won the award over SBDC advisors in many larger communities in the region, UHV SBDC Director Joe Humphreys said. The SBDC helps spur economic development through business growth, so this award is a measure of business growth in the area.
"It's just incredible when you think about some of the communities Lisa had to compete against," Humphreys said. "Those bigger cities such as San Antonio, Austin, El Paso and Corpus Christi have a lot more businesses with a lot more opportunities. So this is quite an accomplishment."
Barr is not just the winner for the region, he said. She also is in charge of other advisors at the UHV SBDC and encouraging them to reach the same level. This year was a high-performance year for the center.
The award is given based on a point system that requires SBDC advisors to keep a detailed log of their activities throughout the fiscal year. Points are awarded based on services the advisors offer and whether they meet certain impact goals. Advisors must log at least 1,200 hours to be eligible for the award. All of advisors' work is certified by clients who confirm that the logs are an accurate reflection of the assistance they received.
In fiscal year 2013, Barr logged 284 client jobs created and retained, 32 client businesses started and expanded, 44 client investments, 53 long-term clients and 1,253 total client hours.
The points system is based on a combination of quality and quantity of help offered by the advisor, Humphreys said.
This year, three of the UHV SBDC advisors were within five points of each other, Barr said. An advisor can only win the award three times, so Barr is pushing for her third win.
"I'm pretty competitive," she said. "All of the advisors here are high performing. So by doing what we do, advisors can get close, but it takes extra effort to reach that award. I would say I'm a good contender for 2015. Our numbers for the 2014 fiscal year already have been submitted, and I had some big numbers this year."
That competitive attitude helps push others in the center to match Barr's efforts, Humphreys said. Keeping track of advisors' numbers creates something similar to a scoreboard, which serves as inspiration for everyone to do more.
"We're planning to keep the award in our center for at least a few years, so that means we're going to have to keep pushing ourselves and our advisors," Barr said.
Barr has worked at the SBDC since 2007 and completed her Bachelor of Business Administration and Master of Science in Economic Development & Entrepreneurship from the UHV School of Business Administration. She also teaches a business management course as a UHV adjunct instructor.
The University of Houston-Victoria, located in the heart of the Coastal Bend region since 1973 in Victoria, Texas, offers courses leading to more than 80 academic programs in the schools of Arts & Sciences; Business Administration; and Education, Health Professions & Human Development. UHV provides face-to-face classes at its Victoria campus, as well as an instructional site in Katy, Texas, and online classes that students can take from anywhere. UHV supports the American Association of State Colleges and Universities Opportunities for All initiative to increase awareness about state colleges and universities and the important role they have in providing a high-quality and accessible education to an increasingly diverse student population, as well as contributing to regional and state economic development.