Close
UHV counseling education program to use grant for student stipends, new director
University of Houston-Victoria students pursuing a Master of Education in clinical mental health counseling are eligible to receive a $10,000 internship stipend thanks to a federal grant recently secured by the university's School of Education & Human Development.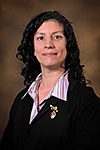 Katherine Bacon
The school obtained an $850,737 federal grant from the Health Resources and Services Administration, which is part of the U.S. Department of Health and Human Services. The grant period began Sept. 30 and will run until Aug. 29, 2017.
Katherine Bacon, a UHV assistant professor of counseling, said the purpose of the grant is to increase the number of professional counselors trained in integrated behavioral health care. UHV will use 70 percent of the grant funding to provide student stipends, which will help UHV counseling interns offset some tuition and cost-of-living expenses.
"We are expecting an increase in enrollment for our mental health counseling master's program because of this grant," Bacon said. "The award speaks to the caliber of our program and shows future counselors that they can get cutting-edge training from UHV that will prepare them for their careers."
UHV master's programs in professional school counseling, community counseling and clinical mental health counseling are accredited by the Council for the Accreditation of Counseling and Related Educational Programs. Joining Bacon in preparing the grant were Jennifer Boswell and Linda Autry, UHV counseling assistant professors; and Elsa Soto Leggett, a UHV counseling associate professor.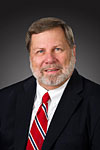 Fred Litton
"The credit goes to Dr. Bacon and her team for their tremendous work in securing this grant," said Fred Litton, dean of the UHV School of Education & Human Development. "This award is gratifying because it is going to help our students financially as they gain practical experience. This is a fantastic benefit for our school and counseling program."
The grant also will be used to fund the salary of a part-time director of clinical field experience. Kate Walker, a practicing family therapist in The Woodlands, started Oct. 1 in that position. She is providing weekly supervision to students doing internships and liaisons with personnel at clinical sites where the internships take place.
UHV began a master's clinical mental health counseling track this fall in response to changes adopted by the Texas Legislature and CACREP. The 60-credit-hour degree includes online and face-to-face classes.
In order to qualify for the stipend, students need to be admitted to the master's program, complete the necessary classes and spend at least two semesters in an internship working with children, adolescents or 16- to 24-year-olds. Internships can be in Victoria or Greater Houston.
While the grant is for three years, the internships won't start until students are in their final three semesters. Therefore, incoming clinical mental health counseling students will have to take a steady course load to be eligible for the stipend by the end of the grant period, Bacon said. Students who convert to the 60-credit-hour master's program from UHV's 48-credit-hour community counseling program also are eligible for the stipend.
The title of the project submitted for the grant is "Expanding Master's-Level Experiential Learning in Integrated Behavioral Health Settings." An integrated behavioral health clinic has primary care and counseling services provided in tandem.
"What we want our students to experience is care across settings," Bacon said. "There will be more integrated care settings because it's the future of the health care industry. The ability to provide this training to our students is going to make them more marketable when looking for jobs."
When the pediatrician or family doctor is separate from the counselor, a lot of families don't follow through and get the recommended counseling, Bacon said.
"But if everything is in one place, our students can make a connection right away, make the family feel comfortable and literally walk them down the hall to the counseling offices," she said. "It works the other way, too. Counselors ask questions about primary care. If they discover the client isn't getting the care they need, our students can walk them to the physician's office."
Bacon said students will be able to talk about cases with a variety of health care professionals during their internships.
For more information about the counseling programs, contact UHV education recruitment coordinator Reese Alexander at alexanderjr@uhv.edu or 281-275-3370.
The University of Houston-Victoria, located in the heart of the Coastal Bend region since 1973 in Victoria, Texas, offers courses leading to more than 80 academic programs in the schools of Arts & Sciences; Business Administration; and Education, Health Professions & Human Development. UHV provides face-to-face classes at its Victoria campus, as well as an instructional site in Katy, Texas, and online classes that students can take from anywhere. UHV supports the American Association of State Colleges and Universities Opportunities for All initiative to increase awareness about state colleges and universities and the important role they have in providing a high-quality and accessible education to an increasingly diverse student population, as well as contributing to regional and state economic development.