Close
Claud and Mary Virginia Jacobs Establish First Endowed Scholarship for UHV Baseball
Claud and Mary Virginia Jacobs have established the first athletic scholarship at the University of the Houston-Victoria as a gift to the university. The Claud J. Jacobs Endowed Scholarship will be awarded to a Jaguars' baseball player who meets the criteria established by Mr. and Mrs. Jacobs. The scholarship has been established to honor the legacy of Claud Jacob's father.  
"Next to working, baseball was my dad's love. He spent both dollars and time promoting baseball in Yoakum," said Jacobs. "In the late '40s and early '50s he sponsored the Yoakum Toms, a semi-pro team in the same league as the Victoria Rosebuds. They played many games at Rosebud Stadium."
Mr. Jacobs was also instrumental in getting little league ball started in the Yoakum area, giving kids an opportunity to play ball.
"He also organized and sponsored Little League baseball in Yoakum in 1954 and Babe Ruth baseball in 1955," said Jacobs. "He believed that if youngsters had a chance to play baseball, it would help them to stay out of trouble." UHV President Tim Hudson is thankful for friends like the Jacobs, as state dollars cannot be used to support athletic programs. Therefore, private support is needed to help the program get off the ground.
"Community support is important as we establish our athletic program, whether the donations are in dollars, goods and services, or volunteer efforts," said UHV president Tim Hudson. "Claud and Mary Virginia have been very generous supporters of our nursing program, and now our baseball team will benefit from their philanthropic endeavors."
The Jacobs are strong believers in higher education and are excited about the impact UHV's new athletics program will have on the entire community.
"Victoria has a baseball tradition almost as big as Texas," said Jacobs. "The UHV baseball and softball programs will provide entertainment for our community and draw visitors to our city. This will have a positive impact on our economy.
"These programs will also give young men and women the opportunity to continue playing their chosen sport, receive an outstanding education close to home, and play ball in an outstanding stadium before their family and friends.
"With the wonderful renovations at Rosebud Stadium, Victoria could one day host a NAIA Championship tournament and perhaps a NAIA World Series Tournament."
UHV athletic director Ashley Walyuchow says endowed gifts, such as the Claud B. Jacobs Scholarship, can become the lifeblood of the program.
"Endowments are important because they provide a source of funds for the program in perpetuity," said Walyuchow. "The income earned on this investment will be used to fund the scholarship, and as the fund grows, we can award more scholarships to more deserving students."
To learn how your support can help UHV athletics please call (361) 570-4343.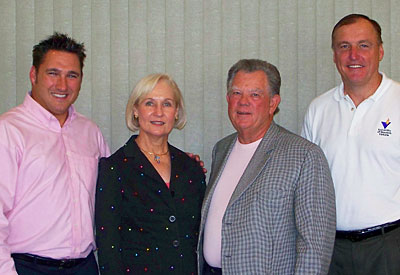 The University of Houston-Victoria, located in the heart of the Coastal Bend region since 1973 in Victoria, Texas, offers courses leading to more than 80 academic programs in the schools of Arts & Sciences; Business Administration; and Education, Health Professions & Human Development. UHV provides face-to-face classes at its Victoria campus, as well as an instructional site in Katy, Texas, and online classes that students can take from anywhere. UHV supports the American Association of State Colleges and Universities Opportunities for All initiative to increase awareness about state colleges and universities and the important role they have in providing a high-quality and accessible education to an increasingly diverse student population, as well as contributing to regional and state economic development.