Close
Victoria religious radio inspires UHV assistant professor's research
Mark Ward Sr., a University of Houston-Victoria assistant professor of communication, will receive an award in November for the outstanding scholarly article of the year in religious communication.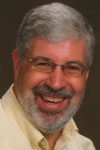 Mark Ward Sr.
Presented by the Religious Communication Association, the group will give the honor at its annual convention Nov. 19 to 23 in Chicago.
Ward said his prize-winning article has a local twist. The idea for his research came from listening to Victoria radio stations. Despite being more than 100 miles from major metropolitan areas, Victoria is served by at least four religious radio stations. As Ward listened to these outlets, a thought occurred to him.
"Religious communities develop cultures as their members communicate with one another," he said. "But evangelical Christians in Victoria talk the same talk, listen to the same music and read the same books as evangelicals across the country whom they've never met. How could they all have the same culture when they don't directly communicate?"
Ward read about other scholars' research on "fan cultures," such as devotees of "Star Trek" or Elvis, and thought the same dynamics could be true of religious radio listeners and TV viewers.
"Surprisingly, I found this would be a novel approach to religious media," he said.
This realization led Ward to develop a new idea for writing church history.
"Rather than write the history of a religious movement around its leaders, I decided to write a history around its media," he said.
The resulting article, "Give the Winds a Mighty Voice: Evangelical Culture as Radio Ecology," was published in May by the Journal of Radio and Audio Media.
In the article, Ward documented how American evangelicalism became a mass movement in the late 19th century when its ideas were spread through new technologies for mass circulation such as penny press newspapers. Then in the 20th century, the movement developed a shared culture when radio allowed evangelicals nationwide to experience the same preaching and music in real time.
"That dynamic continues today," Ward said. "The religious talk station in Victoria is part of a national network and influences the political issues many local churchgoers think about. And the contemporary Christian music stations here are tied to national playlists that influence the music sung and played in many Victoria congregations."
Ward's research, which he also has published in two books and numerous articles, combines history and ethnography. He is the editor of an upcoming book series titled "The Electronic Church in the Digital Age: Cultural Impacts of Evangelical Mass Media."
"Observing national and ethnic cultures has long been an accepted research method, so why not religious cultures?" Ward said. "If people of different faiths, or no faith, can better understand each other, then communities like Victoria will be better off."
The University of Houston-Victoria, located in the heart of the Coastal Bend region since 1973 in Victoria, Texas, offers courses leading to more than 80 academic programs in the schools of Arts & Sciences; Business Administration; and Education, Health Professions & Human Development. UHV provides face-to-face classes at its Victoria campus, as well as an instructional site in Katy, Texas, and online classes that students can take from anywhere. UHV supports the American Association of State Colleges and Universities Opportunities for All initiative to increase awareness about state colleges and universities and the important role they have in providing a high-quality and accessible education to an increasingly diverse student population, as well as contributing to regional and state economic development.