Close
Speaker shares cautionary tale as part of Willis lecture series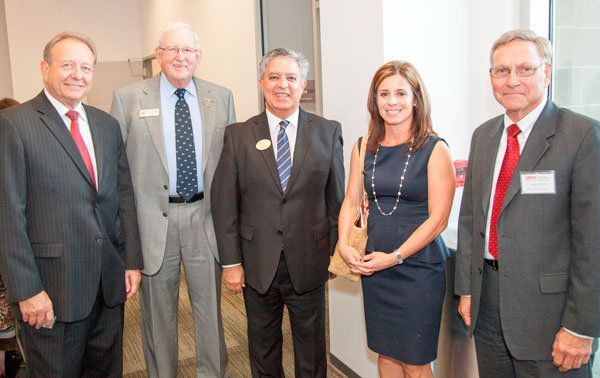 Helen Sharkey, second from right, gets ready to talk Oct. 8 at the University of Houston Sugar Land as part of the University of Houston-Victoria Willis Group Distinguished Speaker Series. Pictured with her, from left to right, are Dick Phillips, associate vice chancellor for the UH System at Cinco Ranch and UH Sugar Land; Vic Morgan, UHV interim president; Farhang Niroomand, UHV School of Business Administration dean; and Wayne Beran, UHV vice president for administration and finance.
SUGAR LAND – In front of an auditorium full of students, professors and guests, a former Certified Public Accountant shared a sobering tale.
Helen Sharkey, once the lowest-level employee in a structured finance transaction team known as Project Alpha, came Oct. 8 to University of Houston Sugar Land as part of the University of Houston-Victoria Willis Group Distinguished Speaker Series to give a word of caution to the next generation of business leaders.
"Her story is one that anyone in the world of business or students who intend to find a job in the financial sector can learn from," said Farhang Niroomand, dean of the UHV School of Business Administration. "By detailing the story of her journey from a 28-year-old CPA to a convicted felon, Ms. Sharkey shared a unique perspective that no one in the business world should forget."
Sharkey explained during her Oct. 8 speech that her presentation began as a letter to her sons – a way to explain why their mother is a convicted felon. Now, she shares her presentation to shed light on the situation and in the hope that detailing her experience will prevent it from happening to others.
She accepted her dream job in 1996 as a consultant with Dynegy, a Houston-based energy trading company. She began working for the company on Project Alpha, which was putting together a $300 million business deal. As the deal progressed, Sharkey began noticing something wasn't right, and red flags started popping up.
Then when the team was in New York City to close the deal, the bank asked for a concession that she said could not be done. When the bank kept pushing for the concession, she deferred to her supervisor. She expected him to back her stance, but he chose to give the bank what it wanted.
That moment changed everything. She lost trust in her supervisor and the company where she worked. She transferred out of that department and eventually found a job with a different company.
When Enron began to be investigated in 2001, she started to understand what was really going on under Project Alpha, but she didn't report it to anyone. Then, when Dynegy came under investigation, she made the mistake of trusting that the company's attorneys would represent her, so she didn't hire an attorney.
Through the long ordeal that followed, Sharkey said it became clear that the company's attorneys were focused on serving and saving the company, not the people, so she eventually hired an attorney and pleaded guilty to one count of conspiracy to commit securities fraud. She was sentenced and spent 28 days in prison, six months under house arrest and paid a $10,000 fine.
Looking back, Sharkey said she learned two valuable lessons from her ordeal. First, people should trust their gut.
"Pay attention to those red flags," she said. "You may not know if something is illegal, but if it violates your beliefs, stop right there and take another look."
Second, Sharkey learned the hard way that people have to look out for themselves, because no one else will.
"Raising a red flag could get you labeled a whistleblower, but that's better than being branded a felon for life," she said. "When you are panicked, ethical thinking goes out the window. You have to step back and analyze. If you don't, this could become the fight of your life."
Sharkey's story struck a chord with members of the audience, which included students from the UHV School of Business Administration. Shohania Maredia, a senior accounting and management major from Sugar Land, said the presentation was eye-opening, especially in terms of business ethics.
"Every company has its own ethics, and when you join a company, you bring your values and ethics and become part of that group," Maredia said. "When they break those ethical standards, it's important to make a stand and say, 'This is not what our company is about.' You need to ask why the company is doing things. Raise the question, or you could get caught in a similar situation."
Sharkey's firsthand account of how she went from working in her dream job to being branded a white-collar criminal offers a perspective Maredia plans to hold on to as she begins her own career.
"When you meet someone who lived through a situation you've seen play out on TV, it can be jarring because you realize this is a real person," Maredia said. "You don't necessarily relate to someone, but it brings the point home that this can happen."
As her presentation drew to an end, Sharkey had one final statement that she said applies to all people, whether they are students, professors or professionals working in the business world: No job is worth someone's happiness.
Since 2011, the Willis Group Distinguished Speaker Series has brought in area executives to discuss contemporary business issues. Past speakers have included executives in the health care, oil and gas, real estate, technology and staffing industries, such as Farouk Shami, founder and chairman of Farouk Systems; Steven Kaufman, president of Zeus Mortgage; Herber Lacerda, president and CEO of Regency Nursing & Rehabilitation Centers; Rod Canion, co-founder and former CEO of Compaq Computer Corp.; and Jim McIngvale, founder and owner of Gallery Furniture.
The series will continue on Oct. 23 with a presentation by Brock Wagner, founder of Saint Arnold Brewing Co. Then on Nov. 13, Daniel S. Hamermesh, an economist and professor of economics at the University of Texas in Austin, will give his lecture as part of a joint presentation with the UHV Provost's Lecture Series. Both lectures will begin with a reception at 6 p.m. in Room 103 of UH Sugar Land Brazos Hall, 14000 University Blvd., followed by a presentation at 7 p.m. in the building's auditorium.
The University of Houston-Victoria, located in the heart of the Coastal Bend region since 1973 in Victoria, Texas, offers courses leading to more than 80 academic programs in the schools of Arts & Sciences; Business Administration; and Education, Health Professions & Human Development. UHV provides face-to-face classes at its Victoria campus, as well as an instructional site in Katy, Texas, and online classes that students can take from anywhere. UHV supports the American Association of State Colleges and Universities Opportunities for All initiative to increase awareness about state colleges and universities and the important role they have in providing a high-quality and accessible education to an increasingly diverse student population, as well as contributing to regional and state economic development.