Close
Howell Middle School students win scholarships at Hispanic heritage event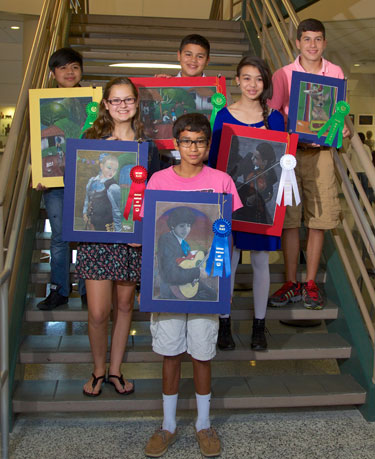 Howell Middle School seventh- and eighth-graders celebrate their wins Tuesday in the Hispanic Heritage Month Art Contest. Those attending a reception at the University of Houston-Victoria to recognize the winners were Donivan Vecera, front row, first place; Lauren Johnson, second row left, second place; and Safia Putnam, third place. In the back row are honorable mention winners Khiem Nguyen, left, Raul Cerda Martinez and Keilan Rader.
Donivan Vecera, an eighth-grader at Howell Middle School, typically does not draw people in his artwork, but he made an exception for Hispanic Heritage Month.
Vecera's drawing of a young Hispanic man dressed in a mariachi suit with a bright blue bow tie playing a guitar under a setting sun won first place in the Hispanic Heritage Month Art Contest. He learned his "El Guitarrista" drawing won the top prize during Tuesday's University of Houston-Victoria Hispanic Heritage Celebration.
"I am very happy and excited," Vecera said. "I rarely draw people, but decided it would be good idea to draw a man playing a guitar because it celebrates Hispanic heritage."
Vecera won a $2,000 scholarship to UHV, free registration for a one-week summer camp at Victoria College and a UHV goodie bag. He was one of six art contest winners from Howell Middle School.
Second place went to eighth-grader Lauren Johnson for her painting titled "La Concertista." Johnson won a $1,000 scholarship from the Victoria Chamber of Commerce Minority Business Council to either UHV or VC, free registration for a one-week VC summer camp and a UHV goodie bag.
Johnson, who also won second place at last year's contest, explained that the inspiration for the girl in her drawing came from an old photo taken by her art teacher, Blanca Sanchez.
"I found a picture that Ms. Sanchez took when the girl was 18," Johnson said. "I really liked it, so I drew her with my own touches. It took me more than two weeks to draw it."
Safia Putnam, a seventh-grader at Howell, took third place for her painting, "Muchacha de Guadalajara." Putnam won a $500 scholarship from the Victoria Chamber of Commerce Minority Business Council to either UHV or VC, free registration for a VC one-week summer camp and goodie bag from UHV.
"I used to play the violin, so I have experience and a relationship to the drawing," Putnam said.
Paintings by a trio of Howell students – Raul Cerda Martinez, Keilan Rader and Khiem Nguyen – were given honorable mention awards. Martinez and Rader are in seventh grade, while Nguyen is in eighth grade. Each received goodie bags from UHV.
Hispanic Heritage Month, held nationally from Sept. 15 to Oct. 15, recognizes contributions of Hispanic and Latino Americans to the U.S. and celebrates Hispanic heritage and culture. Tuesday's celebration, which was hosted by UHV, VC and the Victoria Chamber of Commerce Minority Business Council, wrapped up UHV's Hispanic Heritage Month activities. UHV held a "Who Is Hispanic" panel discussion and had film nights and a trivia contest.
Reception attendees ate Mexican food and enjoyed a dance performance by the Victoria Independent School District Ballet Folklorico. Students from Victoria East and Victoria West demonstrated a number of folk dances.
"I thought it was an amazing event," Vecera said. "I liked how they brought out the Hispanic dances. It was really cool. I had never seen dances like that before."
Art from all the contestants will be displayed for the public to view in the UHV University Center, 3007 N. Ben Wilson St., throughout October.
UHV was designated a Hispanic-Serving Institution in 2013. A university can be given this designation if its enrollment of full-time undergraduates is at least 25 percent Hispanic. UHV's preliminary fall enrollment numbers show that 29 percent of the entire study body is Hispanic, and 53 percent of the new freshman class is Hispanic.
The University of Houston-Victoria, located in the heart of the Coastal Bend region since 1973 in Victoria, Texas, offers courses leading to more than 80 academic programs in the schools of Arts & Sciences; Business Administration; and Education, Health Professions & Human Development. UHV provides face-to-face classes at its Victoria campus, as well as an instructional site in Katy, Texas, and online classes that students can take from anywhere. UHV supports the American Association of State Colleges and Universities Opportunities for All initiative to increase awareness about state colleges and universities and the important role they have in providing a high-quality and accessible education to an increasingly diverse student population, as well as contributing to regional and state economic development.