Close
UHV Downtown Arts Series event to feature book series creator, co-editor
The creator and the co-editor of a literary art book series will be the next speakers in the University of Houston-Victoria Downtown Arts Series, a new series aimed at bringing a diverse set of artists to downtown Victoria.
Dawn Pendergast, creator and co-editor of the Little Red Leaves Textile Edition, one of the nation's most unique literary art book series, and co-editor Paul Klinger will present their work at 7:30 p.m. Saturday in the Law Offices of Lidia Serrata, formerly Lulu's, located at 113 E. Constitution St. The event is free and open to the public, and refreshments will be provided.
"The first Downtown Arts Series event in September was a great success, gathering a new audience to hear one of America's great poets, Ron Silliman," said Charles Alexander, UHV poet and designer in residence. "This second event promises no less but focuses more on emerging artists who are changing the shape of books and literature in South Texas."
Alexander, who put the series together with Cynthia Miller, UHV artist in residence, said there will be time following the presentation for questions and answers.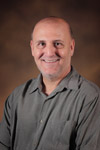 Charles Alexander
"I'd like to keep the series informal so that the audience can take part," Alexander said. "Audience members will have the freedom to ask questions and meet the presenters face to face."
Alexander sees opportunities for student engagement, especially for those studying communication design or publishing. By bringing in these two bookmakers, editors, publishers and poets, students in diverse programs can get to know people in their fields of study, he said.
Pendergast, a Houston resident, has written three micro-chapbooks – "leaves fall leaves," "Off Flaw" and "Mexico City" – all published by small press publishers. She produces handmade chapbooks for the Little Red Leaves textile series in which covers are stitched and printed on fabric. Her writing can be found at whatbirdsgiveup.com.
Klinger, like Pendergast, earned his Master of Fine Arts in creative writing from the University of Arizona and lives in Houston. He also holds a law degree from UH. He serves as an editor for Little Red Leaves. His most recent chapbook is "Jumblefate." His book "Rubble Paper, Paper Rubble" is an artist's visual poetry book.
The location of the series is rotating between different venues downtown, including UHV's new Center for the Arts, 204 N. Main St. After renovations are complete, UHV will use the 5,500-square-foot facility for courses in drawing, painting, design and the digital arts.
The Pendergast and Klinger's reading and presentation is the second of six events scheduled for the 2014-2015 academic year. Other presenters are:
Nov. 22 – Rosa Alcala, poet and translator
Feb. 13 – Amos Paul Kennedy Jr., letterpress printer, printmaker and educator
March 28 –David Abel, performer, poet, editor and fine book dealer
April 24 – Samuel Ace, painter, filmmaker and poet
"The intent of the series is to present an array of groundbreaking art practices to the Victoria community and to stimulate a dialog about the presence of arts in our lives," Alexander said.
For more information about the downtown series, contact Alexander at 361-570-4101 or alexanderch@uhv.edu.
The University of Houston-Victoria, located in the heart of the Coastal Bend region since 1973 in Victoria, Texas, offers courses leading to more than 80 academic programs in the schools of Arts & Sciences; Business Administration; and Education, Health Professions & Human Development. UHV provides face-to-face classes at its Victoria campus, as well as an instructional site in Katy, Texas, and online classes that students can take from anywhere. UHV supports the American Association of State Colleges and Universities Opportunities for All initiative to increase awareness about state colleges and universities and the important role they have in providing a high-quality and accessible education to an increasingly diverse student population, as well as contributing to regional and state economic development.