Close
Author explores contradictions in South Texas through stories
Oscar Cásares has a love/hate relationship with Brownsville.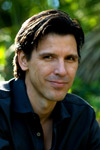 Oscar Cásares
On one hand, it is a place he has spent much of his life away from, but on the other, it is a part of him and has a strong influence on his literary work.
"There's something great about that, but in other ways, I wish that I could put it away," Cásares said. "But that's who I am and where I come from, and there's just no way that I can deny that. It influences every part of my life. Everything gets filtered through Brownsville. There's no escaping it."
Cásares, the author of two critically acclaimed books and an associate professor at the University of Texas at Austin, will be the next speaker in the University of Houston-Victoria/American Book Review Reading Series. His presentation will be at noon Nov. 6 in the Alcorn Auditorium of UHV University West, 3007 N. Ben Wilson St. The public is invited to attend the free event.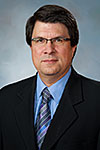 Jeffrey Di Leo
"We are excited to welcome Oscar Cásares to UHV," said Jeffrey Di Leo, dean of the UHV School of Arts & Sciences and ABR editor and publisher. "His creative talent and unique perspective on the South Texas border region will bring valuable insight to our community as part of the reading series."
Cásares plans to read an excerpt from his first book, "Brownsville," and possibly from his novel "Amigoland." "Brownsville" is a collection of short stories exploring different perspectives from the South Texas border town. He drew on 150 years of history and multiple generations in the region when he was writing the stories. A single story can touch on elements from the 1950s, then include some pieces from the 1850s, but it all centers around Brownsville.
"Before the book ever came out, I started writing stories that I was connected to in some way," Cásares said. "The stories themselves also have an autobiographical thread that runs through them. They're autobiographical fragments of my life and my family's life along the border."
His first novel, "Amigoland," was similarly autobiographical, but in a more literal and unintentional sense, Cásares said. Soon after he began writing the book about two elderly brothers, one of whom is in a nursing home, his own father fell, broke a hip and had to be moved into a nursing home.
"I ended up feeling almost like a war correspondent," Cásares said. "It was happening before my eyes, and I was reporting it in this novel. Obviously, the real-life experience fed into the fictional, but I had to make a concerted effort to keep the two separate. I wasn't simply writing my father's story, but his life was factoring into the narrative. I had to make sure I wasn't getting too close to it. I'm glad that the character was already alive and thriving in my mind before this happened to my father."
Cásares wasn't always a writer. Before he started his writing career, he worked in advertising for about 10 years. That's when his desire to pursue creative writing grew. In a period of five months, he left his advertising career and started writing full time.
"I've always loved storytelling," he said. "I remember times sitting around with my family hearing stories and the communal experience of that. It was the best time for me when my uncles would come over and share stories."
His unique perspective and love/hate relationship with the Brownsville area has played a major role in his storytelling. His parents were older than most of his friends' parents, so they were more established and set in their ways, while he was always hungry for more experiences and wanted to see more of the world. The expression he put down and explored through his writing helped him work out the connection between his roots in Brownsville and his family, as well as his own desires in life.
"I think I've got the best job in the world for me," Cásares said. "I get to sort through the things that have always perplexed me in a way that I've struggled with before. I get to work through them in stories or essays. I get to point out to people some of those contradictions and mysteries that I don't think anyone can fully solve or unravel. It gives me the space to do that, and it's a real privilege."
Cásares said he is excited and honored to be a part of the ABR reading series, especially after seeing the talented writers who have already taken part in this season's series. As part of his presentation, he hopes to dispel some of the misperceptions people have about the South Texas border region through his writing and his personal experiences. It's ultimately about sharing good stories and getting people to look at the region differently, he said.
The last writer scheduled for the UHV/ABR Reading Series is Nan Cuba on Dec. 4. She is founder and executive director emeritus of the nonprofit literary center Gemini Ink in San Antonio. She is the author of the novel "Body and Bread," which won the PEN/Southwest Award in Fiction, and the Texas Institute of Letters Steven Turner Award for Best Work of First Fiction. She received a Fundación Valparaiso Residency Grant in Mojácar, Spain, and was twice the runner-up for the Dobie Paisano Fellowship. As an investigative journalist, she reported on causes of extraordinary violence in publications such as LIFE, Third Coast and D Magazine.
ABR is a nonprofit, internationally distributed literary journal published six times a year. It began in 1977, moved to UHV in 2007 and has a circulation of about 8,000. The journal specializes in reviews of works published by small presses.
For more information about the UHV/ABR Reading Series, call the ABR office at 361-570-4101 or go to www.americanbookreview.org.
The University of Houston-Victoria, located in the heart of the Coastal Bend region since 1973 in Victoria, Texas, offers courses leading to more than 80 academic programs in the schools of Arts & Sciences; Business Administration; and Education, Health Professions & Human Development. UHV provides face-to-face classes at its Victoria campus, as well as an instructional site in Katy, Texas, and online classes that students can take from anywhere. UHV supports the American Association of State Colleges and Universities Opportunities for All initiative to increase awareness about state colleges and universities and the important role they have in providing a high-quality and accessible education to an increasingly diverse student population, as well as contributing to regional and state economic development.