Close
UHV School of Business Administration professors honored
| | | | | | |
| --- | --- | --- | --- | --- | --- |
| | | | | | |
| Ziad Swaidan | Rachana Kalelkar | Jie Yang | Xavier Garza-Gomez | Rupak Rauniar | Barjinder Singh |
Six faculty members from the University of Houston-Victoria School of Business Administration recently were recognized with financial awards for their efforts in teaching and research.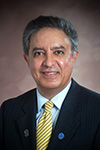 Farhang Niroomand
"The UHV School of Business Administration has outstanding faculty members who are always pushing for excellence," said Farhang Niroomand, dean of the UHV School of Business Administration. "These professors are shining examples of the university's commitment to providing a quality education and mentoring the next generation of leaders."
The UHV School of Business Administration recently named three Partnership Professors for the 2014-2015 school year, and Bloomberg Businessweek recognized three business faculty members for effective use of the company's materials in teaching and research during the 2013-2014 school year. The six professors were honored at a reception earlier this month at UH Sugar Land. The award-winning professors are:
Ziad Swaidan, professor – Partnership Professor of Marketing
Rachana Kalelkar, assistant professor – Partnership Professor of Accounting
Jie Yang, professor – Partnership Professor of Operations Management and Quantitative Methods
Xavier Garza-Gomez, associate professor of finance – Bloomberg Fall 2013 Teaching Award
Rupak Rauniar, associate professor of strategic management and operations and supply chain management – Bloomberg Spring 2014 Teaching Award
Barjinder Singh, assistant professor of management – Bloomberg 2013-2014 Research Award
Partnership Professors are nominated by School of Business Administration department chairs. Nominees are those who have done exceptional work in research, teaching or service for the school. Each will have access to $3,000 stipend to be used for research projects and faculty development. The school launched the Partnership Professor awards in 2012 to recognize the exceptional achievements of faculty and facilitate ongoing research and other scholarly efforts.
Garza and Rauniar each received $2,000 from Bloomberg Businessweek, and Singh received $2,500. Bloomberg award winners are chosen based on professors' use of the publication's teaching materials in the classroom. The publication puts out teaching notes on particular industry topics or scenarios that professors can use in class. The notes often include a quiz and questions for class discussion. The topics usually involve recent events from different areas of the business industry to help generate relevant discussion.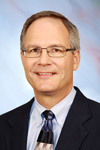 Jeff Blodgett
"These awards recognize professors who are bringing more to the classroom through contemporary business stories and issues and who put extra effort into providing an excellent education," said Jeff Blodgett, associate dean of the UHV School of Business Administration. "These are not teachers who just read from a book. They discuss issues that are current, meaningful and relevant to help give their students the perspective necessary to succeed. That's what this is really all about."
Swaidan's research focuses on cross-cultural marketing and consumer ethics. His work has been published in multiple academic journals, including the Journal of Business Ethics, International Business Review, Journal of Global Marketing, Journal of Marketing Theory and Practice, and Journal of Education for Business. More than 220 scholars have cited his work. He also has served on the editorial review board of the Journal of Teaching in International Business and on the advisory board for The Business Review, The Journal of American Academy of Business and several prestigious academic conferences. He has a doctorate in marketing from the University of Mississippi.
Kalelkar's research focus is executive compensation, corporate governance and auditing. Her research has been published in multiple journals, including the Journal of Accountancy; Auditing: A Journal of Practice and Theory; Valuation Strategies; and the Journal of Accounting and Public Policy. She earned her master's in accounting from Mumbai University in India and her doctorate from the University of Texas at San Antonio.
Yang's research primarily focuses on relational infrastructure in a buyer-supplier relationship, supply chain agility in operational collaboration, supply chain performance in transition economies, and the knowledge management/supply chain management interface. Her work has been published in many journals, including the International Journal of Production Economics, International Journal of Production Research, Journal of Engineering and Technology Management, and Asia Pacific Journal of Management. She received her doctorate from the Chinese University of Hong Kong.
Garza-Gomez has published articles in a number of academic journals, including Financial Analyst Journal, Journal of Economics and Business, and Asian-Pacific Financial Markets. He also has presented papers at multiple Financial Management Association conferences and has received best paper awards on his research in discretionary accrual models. He earned a doctorate in economics from Nagoya City University in Japan.
Rauniar's primary research interests are e-commerce and information systems, new product development and project management, and knowledge integration. His research was featured in publications, including Decision Sciences Journal, Journal of Business and Behavioral Science, International Journal of Electronic Business and International Journal of Operations and Production Management. He has a doctorate in manufacturing management and engineering, and a Master of Business Administration in strategic management from the University of Toledo in Ohio.
Singh previously worked with the Confederation of Indian Industry, India's largest chamber of commerce, in Chandigarh for three years. His research into organizational behavior, human resource management and business ethics has been published in several academic journals, including the Journal of Occupational and Organizational Psychology, Journal of Business Ethics and International Journal of Human Resource Management. He also has presented his work at national and international conferences. In 2011, he earned his doctorate in organization and strategic management from the University of Wisconsin-Milwaukee.
The University of Houston-Victoria, located in the heart of the Coastal Bend region since 1973 in Victoria, Texas, offers courses leading to more than 80 academic programs in the schools of Arts & Sciences; Business Administration; and Education, Health Professions & Human Development. UHV provides face-to-face classes at its Victoria campus, as well as an instructional site in Katy, Texas, and online classes that students can take from anywhere. UHV supports the American Association of State Colleges and Universities Opportunities for All initiative to increase awareness about state colleges and universities and the important role they have in providing a high-quality and accessible education to an increasingly diverse student population, as well as contributing to regional and state economic development.