Close
UHV students learn about Chinese business customs on study abroad trip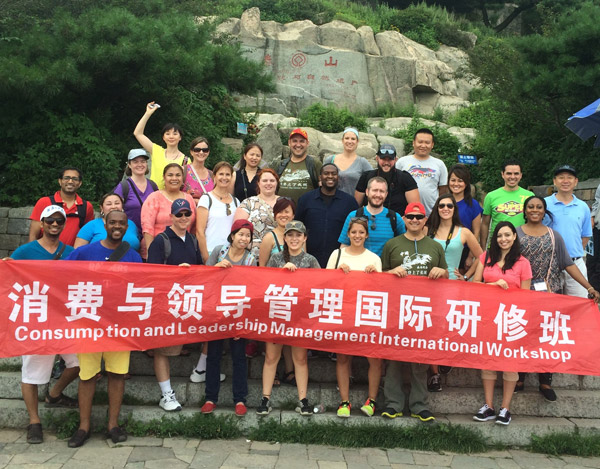 University of Houston-Victoria and Central University of Finance and Economics students pose for a group photo at Tai Mountain in China during a recent study abroad program. Twenty-nine UHV students spent two weeks studying Chinese leadership management and visiting with Chinese students and business leaders.
A group of 29 University Houston-Victoria School of Business Administration students recently exchanged ideas with Chinese students and business executives during a two-week study abroad program in China.
During the trip, 22 UHV graduate students, seven UHV undergraduate students and six doctoral and master's students from the Central University of Finance and Economics in China studied Chinese leadership management and toured commerce and cultural sites.
Jifu Wang, a UHV associate professor of management who organized the study abroad program, said the most memorable part of the trip was the interaction between UHV students and the people they met in China.
"It was amazing to see the exchanges our students had with the different people they met in the classroom and at various sites around China," Wang said. "They got a firsthand look at some of the differences in economy, management and culture. Our students learned a great deal during their visit."
This is the second time UHV has offered a study abroad program in China. The program increased in popularity after five students made the trip in 2013. UHV was able to cover more travel expenses this time because of a $600,000 donation to the UHV School of Business Administration by Chinese businessman Bingxin Wu and his wife, Shuqin Feng. Their gift a year ago was the largest the school has ever received. This donation was used for the establishment of the Wu-Feng Center for International Business, in addition to providing scholarships for students to attend the study abroad program in China.
"Thanks to Chairman Wu's generosity, many more students were able to make this memorable trip," said Farhang Niroomand, dean of the UHV School of Business Administration. "Business today is more global than ever, and getting a chance to learn firsthand the leadership practice of another culture is a valuable experience."
Niroomand was one of several lecturers to share insights with Chinese and UHV students, who earned credit for the course "Leadership Management." Wu, Wang and deans and faculty from the Central University of Finance and Economics also gave lectures. Chinese students learned about advanced business theories in the United States, while UHV students learned about Chinese history and new business theories developed in China, Wang said.
"It was beneficial for our students to see and hear how Chinese firms are managed," he said. "This was a chance for our students to go beyond textbooks and lectures, and see the operations with their own eyes."
Because of the connection with Wu, Wang said the UHV students got to experience a closer look at industries than they would have otherwise. Students visited with representatives from Wu's company, Sanzhu Industries. Sanzhu is involved in the health care, medicine, medical devices, hospital and ecological cosmetics industries. The students also toured Air Tech, an American Company operating in Tianjin, China, where they heard management strategies from a private sector perspective.
The first four days of the trip were spent in downtown Beijing where excursions included visits to the Forbidden City, Great Wall of China and Summer Palace. The students were invited to the U.S. Embassy in Beijing where they got a tour and listened to advice and stories from U.S. government officials. Students spent the reminder of the trip at Wu's Shanzu Holiday Resort in Jinan City. From there they made several trips, including a visit to the hometown and temple of Confucius, and Tai Mountain.
Karen Pantel, a Goliad resident and recent UHV Master of Business Administration graduate, said the study abroad trip was an once-in-a-lifetime opportunity.
"To be able to interact with the Chinese students and to hear lectures firsthand from prestigious professors and businessmen provided me with the experience and knowledge that I can use to improve my leadership skills and enhance my business endeavors," said Pantel, who also works at UHV as the benefits and Human Resources Management System manager. "Along with visiting significant Chinese landmarks, such as the Great Wall, Summer Palace and Tai Mountain, I formed special friendships with other students from UHV as well as Chinese students."
The UHV students were divided into groups for the trip, and each group included a Chinese student studying government.
"We intended to get the students from business and government together to learn from one another since these are the two sides of the same coin in modern society," Wang said. "Business executives and government officials need to know each other's business for effective and efficient operations."
Liza Lybolt, a senior from Conroe pursuing a Bachelor of Business Administration with concentrations in accounting and management, said the trip was memorable because of great lectures, interesting culture and new friendships. In fact, she stayed an extra five days in China after the study abroad program so she could see more Beijing attractions. She went to museums and malls with a couple of the Chinese students from the program.
"The whole trip was a great experience," Lybolt said. "I talked a lot with the Chinese students and learned a lot about their culture and some key leadership differences compared with the U.S. One of the best things about the trip is the friendships I made with the Chinese students and the UHV students who I didn't know before."
For information about future UHV School of Business Administration study abroad trips, contact Rosie McCusker, UHV manager of student recruitment and marketing for graduate business programs, at mccuskerr@uhv.edu or 832-842-2858.
The University of Houston-Victoria, located in the heart of the Coastal Bend region since 1973 in Victoria, Texas, offers courses leading to more than 80 academic programs in the schools of Arts & Sciences; Business Administration; and Education, Health Professions & Human Development. UHV provides face-to-face classes at its Victoria campus, as well as an instructional site in Katy, Texas, and online classes that students can take from anywhere. UHV supports the American Association of State Colleges and Universities Opportunities for All initiative to increase awareness about state colleges and universities and the important role they have in providing a high-quality and accessible education to an increasingly diverse student population, as well as contributing to regional and state economic development.