Close
St. Arnold Brewery founder shares success story with UHV students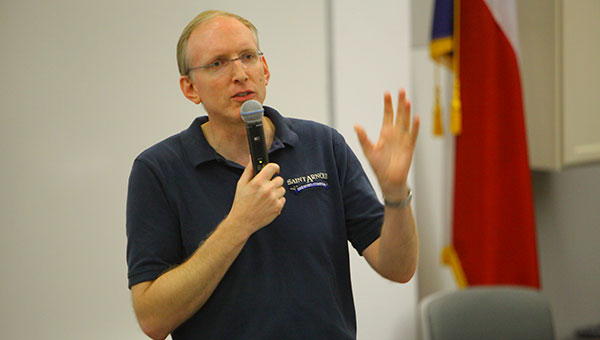 Brock Wagner, founder of St. Arnold Brewery Co., talks about his company Oct. 23 during the University of Houston-Victoria School of Business Administration Willis Group Distinguished Speaker Series.
SUGAR LAND – Brock Wagner followed his passion – not dollar signs – when he left a successful career as an investment banker to start St. Arnold Brewery Co.
During an Oct. 23 speech to University of Houston-Victoria students, alumni, faculty and community members, Wagner shared how two decades ago he took his interest of homebrewing and went about turning it into Houston's first microbrewery.
Wagner was invited to speak at UHV as part of the university's School of Business Administration Willis Group Distinguished Speaker Series. There was not an empty seat in the auditorium for his presentation at UH Sugar Land, where UHV offers many degree programs.
"I'm glad so many students, alumni and guests were able to join us to hear the triumphs and tribulations of the Saint Arnold story," said Jeff Blodgett, associate dean of the UHV School of Business Administration. "Many of us are familiar with the success of the brewery, but hearing the journey from Mr. Wagner about how that success was reached was interesting and applicable to many of our students and graduates."
Wagner was introduced in the 1980s to homebrewing by a friend while he was a student at Rice University. After six years of investment banking, he decided to open the brewery in 1994. The company brews several different beers. Some are available year round; some are seasonal; and a few are single-batch brews.
Wagner told the audience he had some regrets about opening in Texas because of strict laws on selling alcohol to the public. To help stay in business, he had to use what were then uncommon marketing strategies, such as promoting tours and sending emails.
"The creativity of Brock Wagner is what made Saint Arnold's what it is today," said Michael Lynds, a junior Bachelor of Business Administration major from Meadows Place. "He explained how he worked around government regulation and told us to take obstacles businesses face and make them opportunities."
Lynds said Wagner was an enthusiastic speaker who clearly cares about the community and his employees. He interviews each applicant himself and listens to his workers when making plans for the company's future.
"He told us a company is as good as its people, and we should always give the customer more," Lynds said. "I like that he explained his story in a way that it tied to marketing terms we covered in class."
Lynds attended the speech with his "Principals of Marketing" class taught by Ziad Swaidan, a UHV marketing professor.
"The speech showed our students that what we are teaching in classes is really relevant to businesses," Swaidan said. "The information about Mr. Wagner's marketing strategy, business strategy, relationships with employees and how he deals with political rules and regulations were all pertinent to what we are teaching. It's great to bring local executives here for this series so we can learn more about them, and they can learn more about UHV."
The Willis Group Distinguished Speaker Series brings in local executives to discuss contemporary business issues with UHV alumni, faculty and students. The Willis Group includes multiple companies that address a variety of business staffing needs and solutions. Through its agreement with the UHV School of Business Administration, the Willis Group creates opportunities by providing business students with professional development and career placement assistance, supporting faculty research and classroom instruction, and actively participating in events to promote the success of the business school and its students.
The series opened this school year with Helen Sharkey, a former employee of Dynegy who pleaded guilty to one count of conspiracy to commit securities fraud and served time in prison. The series continues on Nov. 13 when Daniel S. Hamermesh, a professor of economics at the Royal Holloway University of London, presents "The Economy of Beauty."
The University of Houston-Victoria, located in the heart of the Coastal Bend region since 1973 in Victoria, Texas, offers courses leading to more than 80 academic programs in the schools of Arts & Sciences; Business Administration; and Education, Health Professions & Human Development. UHV provides face-to-face classes at its Victoria campus, as well as an instructional site in Katy, Texas, and online classes that students can take from anywhere. UHV supports the American Association of State Colleges and Universities Opportunities for All initiative to increase awareness about state colleges and universities and the important role they have in providing a high-quality and accessible education to an increasingly diverse student population, as well as contributing to regional and state economic development.