Close
Jaguar Days give potential UHV students first look at Victoria campus
The University of Houston-Victoria is ready to offer prospective students a look into college life.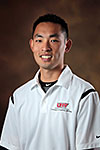 Billy Lagal
Jaguar Day on Nov. 15 will give potential students and their families a chance to become familiar with the options available at UHV, said Billy Lagal, associate director of Admissions & Student Recruitment. The event will begin with check-in at 10 a.m. in the lobby of Jaguar Hall, 2705 Houston Highway. Jaguar Day will last until about 2 p.m. and is open to any prospective freshman or transfer student. Visitors are welcome to park at Jaguar Village and ride the university's shuttle buses to and from the main campus for tours and office consultations.
"There's a lot going on at UHV," Lagal said. "We've grown immensely during the last five years, and we have a lot to offer local students and students from outside the area. We want to share everything that's going on here with people. Hopefully, after they visit UHV, they'll see that we're a good fit, and we can help them continue their education."
An information session also will begin at 10 a.m. in Jaguar Hall. While there, visitors can talk to faculty and representatives from a variety of offices on campus, including the Office of Financial Aid, Student Life & Services, Admissions, Student Success and more. The information session will be a come-and-go event that ends at 12:30 p.m.
"The session is intended to answer all of the students' questions," Lagal said. "That can run a gamut of topics. How can they get financial help for attending UHV? What is there to do? How successful will they be? We want to get their answers so they can make the best judgment about what will work for them."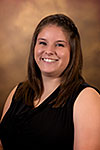 Jena West
In addition to the information session, potential students and their families can choose to go on a variety of tours, said Jena West, senior coordinator for Letting Education Achieve Dreams & Student Recruitment. Current students and staff members will lead campus tours where visitors can meet and talk with members of the university's staff. Resident Assistants will lead tours through the residence halls. Visitors also can take one of two student-narrated shuttle rides around Victoria to see some of the highlights and places where students are likely to go, such as grocery stores, Riverside Park, Skateworld, the Victoria Mall, Laserworld and more.
"I think a lot of people have a misconception about the size of Victoria," West said. "Once they get here, it's completely different. They often don't expect our campus to be as big and exciting as it is. It turns out to be something completely different from what they expected."
One of the qualities staff members emphasize during Jag Days is the comfortable, welcoming attitude at UHV. Students are able to take part in an active learning environment that is focused on offering the best education possible and helping each individual make their mark. Students also are able to take part in plenty of student life activities throughout the year.
"I like showing students the comfortable feel at UHV," West said. "Students don't feel like they're just another number. People here have a vested interest in who the students are, what goals they have and how to help more. Our staff, administration and faculty are willing to help the students. I like to show people that environment because it puts people's mind at ease, especially parents."
Parents show a great interest in the information offered during Jaguar Days, Lagal said. The day is focused on having conversations and drawing out questions from parents about the university and the options available for students. In addition, the university has developed tools to help parents stay connected to UHV. These include social media groups, mailings, emails and more.
"Parents appreciate Jag Days more than anybody because their son or daughter is going away," Lagal said. "They want to be sure that the university is safe and can offer a good education. When they come visit us for the first time, a lot of parents are very impressed. Seeing the campus and meeting the professors helps set their minds at ease."
After the Nov. 15 event, the next Jaguar Days events will be on Jan. 31 and Feb. 28. To sign up for any of the Jaguar Days, go online to www.uhv.edu/jagday. Registration is not required to attend, but it helps the university with planning. If possible, visitors should sign up online by Nov. 14 for the Nov. 15 event. About 100 potential students and their families already have signed up for the event, and more are likely to follow as the day draws closer, West said.
For those who can't attend a Jaguar Days event, personal tours are offered throughout the year. Visitors should fill out a tour request form online at www.uhv.edu/LEAD/CampusTours.aspx.
The University of Houston-Victoria, located in the heart of the Coastal Bend region since 1973 in Victoria, Texas, offers courses leading to more than 80 academic programs in the schools of Arts & Sciences; Business Administration; and Education, Health Professions & Human Development. UHV provides face-to-face classes at its Victoria campus, as well as an instructional site in Katy, Texas, and online classes that students can take from anywhere. UHV supports the American Association of State Colleges and Universities Opportunities for All initiative to increase awareness about state colleges and universities and the important role they have in providing a high-quality and accessible education to an increasingly diverse student population, as well as contributing to regional and state economic development.