Close
UHV student and gaming alumnus team up to develop puzzle game app
Halfway through the development of their new video game app, Lux Protocol, Andrew Morales said it felt like he and his game development partner Thomas Brantley were just two guys messing around.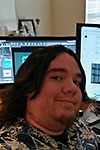 Andrew Morales
"But when it got closer to being finished, it struck us that it was really happening," he said. "We ended up making a game we're proud of that looks awesome. We accomplished a lot more with it than we ever thought possible."
Morales, a University of Houston-Victoria graduate from Sugar Land, and Brantley, a UHV senior from Houston, released the first app earlier this month from Divergent Games, a new indie game studio they created. In May, Morales earned his bachelor's degree in computer science with a concentration in digital game and simulation. Brantley will graduate with the same degree in December.
Lux Protocol is a free puzzle game that tests memory and pattern recognition skills. The goal is to light up the board using different button types, from standard buttons to incremental and pause buttons. There are 60 unique levels ranging from easy to very difficult. The app is available for downloading on Google Play and other Android websites.
The idea for the game was inspired by the Zelda game "Link's Awakening."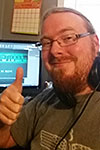 Thomas Brantley
"In that game, there are floor light puzzles where the person playing has to walk on top of a tile and it will light up," Brantley said. "I took that idea and ran with it, making it much more complicated. In our game, the user presses buttons on their smart phone in a 7-by-10-grid. There are different puzzles they have to solve to get to the next one."
Brantley said he's wanted to design video games for a while, but it wasn't until he was in the game design program at UHV that he realized it could be his career. In designing Lux Protocol, he and Morales used lessons learned from taking gaming classes taught by Alireza Tavakkoli, assistant professor in the UHV School of Arts & Sciences and director of the university's digital gaming and simulation program.
"Dr. Tavakkoli made making games fun even though it's a lot of work," Brantley said. "He brought passion to the table. It really inspired me with the creation of this game. I knew it would be a lot of work, but I also knew it would be worth it."
Divergent Games was started because Morales and Brantley wanted to make their own games on their own terms.
"I didn't want to have to work for 20 or 30 years at a game studio before my ideas were even considered," Brantley said.
Morales said they will have an Indiegogo crowdfunding campaign to raise money to acquire trademarks and become a limited liability company.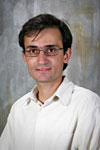 Alireza Tavakkoli
"It's quite impressive for Andrew and Thomas to take such a huge step to create a company," Tavakkoli said. "It's a testament to the quality of students and alumni we have at UHV.
The work on Lux Protocol started in June, but the game had to be revised four times before its Oct. 17 release. While an early version of the game looked great on personal computers, it wouldn't run on smartphones.
"Our original version was far more ambitious," Brantley said. "We originally had it so if you touched a certain light, it would shatter. We found out that takes a lot of processing power."
Getting the game on Google Play was easy. It took $25 to open a developer account.
"Unfortunately, it's hard for your game to be noticed because they have millions of apps, and if a game doesn't have a lot of downloads, it doesn't show up on new release lists," Morales said. "Once we get a good amount of downloads, it could get on some lists, and more people could stumble upon it."
Brantley said they have a goal of 1,000 downloads by the end of the year. The game has gotten five-star reviews on Google Play from several users, who have complimented the challenging aspects of Lux Protocol.
"Their game is interesting and challenging," Tavakkoli said. "For a simple game, it involves a great deal of mental facility for the users. It's very well done."
The duo is now working on a more in-depth game, which does not have a title yet. Brantley said it's a continuous game where the levels flow into each another with no screen breaks.
"It will be a much longer game, and there will be more story and emotion," Morales said.
To download Lux Protocol from Google Play, visit http://tinyurl.com/njg4zax.
The University of Houston-Victoria, located in the heart of the Coastal Bend region since 1973 in Victoria, Texas, offers courses leading to more than 80 academic programs in the schools of Arts & Sciences; Business Administration; and Education, Health Professions & Human Development. UHV provides face-to-face classes at its Victoria campus, as well as an instructional site in Katy, Texas, and online classes that students can take from anywhere. UHV supports the American Association of State Colleges and Universities Opportunities for All initiative to increase awareness about state colleges and universities and the important role they have in providing a high-quality and accessible education to an increasingly diverse student population, as well as contributing to regional and state economic development.