Close
UHV students connect with community by building homes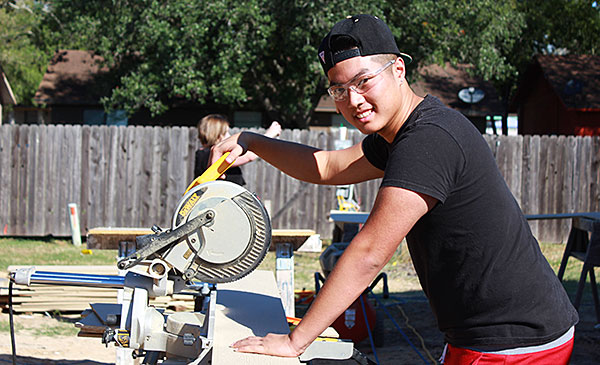 UHV freshman Nathan Nguyen, an undecided major from Palacios, works on the construction of a Golden Crescent Habitat for Humanity house Nov. 1 as part of a service project for his First-Year Seminar class.
A group of 17 University of Houston-Victoria students spent Saturday morning building a pair of houses for a class service project.
The students are enrolled in the First-Year Seminar course which is connected to a core curriculum course to form a linked learning community taught by Diana Lopez, a UHV assistant professor of creative writing, and A.J. Ortega, a UHV English lecturer.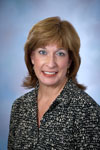 Jill Fox
This is the first year the university has worked with the Golden Crescent Habitat for Humanity as part of the seminar course, said Jill Fox, senior director of the UHV Living & Learning Office. The university was looking for an activity that would help students get involved in the Victoria community.
"UHV's Quality Enhancement Plan includes a focus on student engagement with the university, each other, the faculty and the Victoria community," said Fox. "We decided that Habitat for Humanity would be a good investment for the students. It would be an activity that could hold their attention and grab their enthusiasm at the same time."
Students are working to build two houses on the 3500 block of Swan Drive this semester. The students' work day started on Saturday when the UHV shuttle buses left Jaguar Hall at about 7:20 a.m. for the worksite. They received a 30-minute orientation on the tools they would be using and what needed to be done. After that, the students got to work.
As part of the course, each student is required to write a reflection on his experience. One of the questions the students will answer in that reflection is what they learned.
Kiana Woods, a UHV freshman from Houston who is an undeclared major, helped put in caulking, did some organizing, helped move pieces of wood and held a ladder for people working on the roof. Her favorite aspect of volunteering was being able to help and work with the families that would be living in the homes.
"I learned to appreciate things," Woods said. "It was interesting being able to see other people's problems and then looking back at mine. It taught me the importance of giving back. It showed me that anyone can help someone else, even if it's not with money or resources. There's always a way to give back."
This was not the first group of students to take part in the Habitat for Humanity project. On Sept. 27, the class led by Linda Autry and Casey Akins worked on the homes. The university is linking classes so the same group of students takes a core class and a First-Year Seminar course. Another class led by Jang Woo Park and Amjad Nusayr contributed Oct. 4. A class taught by Ricardo Teixeira and Park is scheduled to work on the homes Nov. 22.
"The feedback that we've gotten from other volunteers and the people at Habitat has made me very proud of our UHV students," Fox said. "They were hard workers, and they were cheerful. They seemed to enjoy learning the new skills that were required of them during this activity. Community engagement is always a goal for our students, and this has been a perfect community-oriented activity."
The University of Houston-Victoria, located in the heart of the Coastal Bend region since 1973 in Victoria, Texas, offers courses leading to more than 80 academic programs in the schools of Arts & Sciences; Business Administration; and Education, Health Professions & Human Development. UHV provides face-to-face classes at its Victoria campus, as well as an instructional site in Katy, Texas, and online classes that students can take from anywhere. UHV supports the American Association of State Colleges and Universities Opportunities for All initiative to increase awareness about state colleges and universities and the important role they have in providing a high-quality and accessible education to an increasingly diverse student population, as well as contributing to regional and state economic development.