Close
UHV artist in residence brings creative options to students, community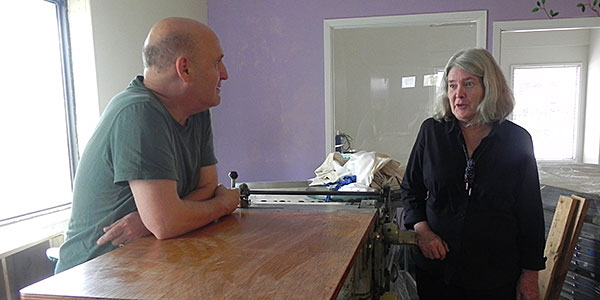 Cynthia Miller, UHV artist in residence, and her husband, Charles Alexander, director of the UHV Master of Fine Arts in creative writing program and founder of Chax Press, stand near the Chax Press printing machine and discuss renovations being made to the UHV Center for the Arts in downtown Victoria.
Cynthia Miller didn't start out pursuing a career as an artist. At first, she wanted to do creative writing.
"For me, it's the same impulse; it's the same drive," Miller said. "It's the same river of inspiration and ideas. Whether it's writing or visual art or music, it all comes from the same spot, and it's just another way to tap it."
Now, the University of Houston-Victoria artist in residence is sharing her talent and love of creativity with students and the community. Before she joined the faculty, she was living and teaching art in Tucson, Ariz., with her husband, Charles Alexander.
Alexander was hired by UHV as the director of the new Master of Fine Arts in creative writing program. UHV hired Miller to teach some new elective classes: "Introduction to Drawing" and "Introduction to Painting." A more advanced drawing class will be offered in the spring.
"Cynthia Miller is a gifted artist who has a wealth of knowledge and experience to add to UHV," said Jeffrey Di Leo, dean of the School of Arts & Sciences. "Her commitment to advancing the arts at UHV and in the community is an incredible asset to the university. I look forward to seeing how she will build up the arts in the future."
Miller earned her master's in painting from the University of Arizona in Tucson and has taught art classes for years. She and Alexander have both received the Arizona Art Award, given for excellence in creative work. At UHV, she has about 25 students in her classes, most of whom are juniors and seniors. They come from all areas of study, including history, communication design, forensic science and more.
"They're on fire," Miller said. "They're making some interesting work, which makes sense because they're interesting people. I'm very impressed with the quality of their work and painting."
For now, Miller is teaching classes on the UHV campus, but once the new UHV Center for the Arts is completed, she will begin teaching classes in downtown Victoria. The building will be home to the art classes as well as Chax Press, the publishing and printing company run by Alexander, and a second Computation and Advanced Visualization Engineering lab for the university's digital gaming program.
She plans to have a semi-private studio for her work that will be shared with Chax Press. The building also will contain a shared workspace for Miller's classes, which she plans to fill with easels, a large work table, supplies and tools.
"What I like is to have a lot of resources in my studio," Miller said. "I have an art library and all kinds of wacky stuff that's fun to draw, like still-life props. I have tools such as canvas pliers and staple guns, and I'm happy to teach students how to use these tools and further their art education by learning the process involved."
In addition to teaching from the center, Miller and Alexander also plan to use it as a venue to host the new Downtown Arts Series, which they spearheaded this year. The series is based on a similar program the couple was involved with in Tucson. They are bringing in a variety of book artists, poets, print makers, film and media artists and other creative talent to share with the community.
Three poets and book artists already have made presentations in the Downtown Arts Series. Poet Rosa Alcalá will be the next speaker at 7 p.m. Nov. 22 in the Center for the Arts, 204 N. Main St.
"It's just invaluable," Miller said of the series. "It serves a dual purpose by bringing in writers and artists to the community while also giving the artists themselves some support. They can meet local poets and writers and help inspire others. It keeps the creativity going."
Miller describes herself as a contemporary artist. She bases her work on objects and cultural items, but also works through invention and observation. Most of her work is done using acrylic paint combined with chalk pastel and oil paint sticks, which she said is like drawing with lipstick. She also has done some sculpture, posters and printmaking.
As she watches the downtown building take shape and teaches her students, Miller says she sees a lot of possibilities in UHV for a growing art program. But her main goal is to help people make wonderful art.
"My goal is not to turn everyone into an artist, but I think that anyone can learn to see the way an artist sees and to be observant and careful in that manner," she said. "Those observation skills are something that I think is lacking in our world today. Whether a person goes to law school or into nursing, the ability to observe something in its totality is priceless."
The University of Houston-Victoria, located in the heart of the Coastal Bend region since 1973 in Victoria, Texas, offers courses leading to more than 80 academic programs in the schools of Arts & Sciences; Business Administration; and Education, Health Professions & Human Development. UHV provides face-to-face classes at its Victoria campus, as well as an instructional site in Katy, Texas, and online classes that students can take from anywhere. UHV supports the American Association of State Colleges and Universities Opportunities for All initiative to increase awareness about state colleges and universities and the important role they have in providing a high-quality and accessible education to an increasingly diverse student population, as well as contributing to regional and state economic development.