Close
Special announcement caps off UHV annual report event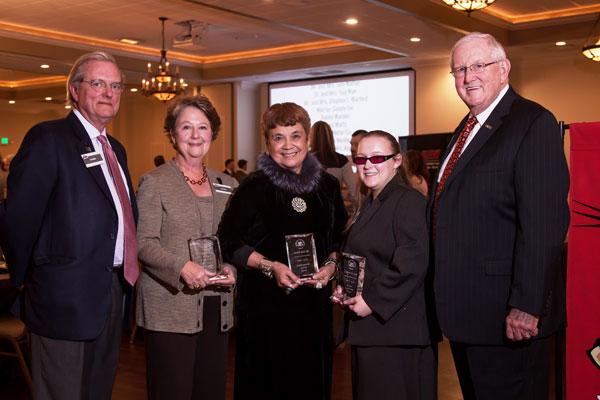 Recipients of special recognition awards at Tuesday's UHV President's Annual Report & Excellence Awards pose for a photo with UHV Interim President Vic Morgan, right, after the event. Ron and Kay Walker, left, won the Community Partnership Award. Josie Rivera was named the UHV Alumni of the Year, and Caitlin Bartosh was presented the Student Leadership Award.
The 2013-2014 University of Houston-Victoria President's Annual Report & Excellence Awards Tuesday evening featured a special announcement and a look at how UHV is building the future of higher education.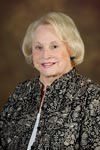 Dorothy Alcorn
In the company of nearly 200 community supporters and university representatives at Spring Creek Place Event Center, UHV Interim President Vic Morgan announced that Victoria resident Dorothy Alcorn, a former UH System regent, has provided for the gift of her home to the university in her estate. It is her intention that the home in the Hidden Meadow subdivision be used as the university president's residence.
To thank Alcorn for her gift, UHV presented her son, Charles, with a copy of "Sixty Stories" by Donald Barthelme. Charles is the UH System regional gift officer for the Coastal Bend. The book will be donated to the Victoria College/UHV Library.
"We're very excited about this donation," he said before the event. "We've hosted so many UHV functions in that residence during the past 30 years that we think it will be a natural fit for the UHV president. We're very excited about the legacy of the Alcorn house becoming UHV's presidential residence. We are delighted that the community and the university will benefit from its use."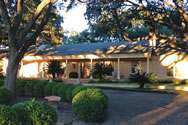 Dorothy Alcorn's home
Dorothy, who also is a UHV alumna, was appointed as a UH System Board of Regents member in 1987 and served until 1993. She was the first UH System regent from the Victoria area to be appointed by the governor of Texas. The house has been in her family for 40 years. It was purchased by the Alcorn family in 1974 from the family of another former UHS regent, Morgan Dunn O'Connor.
"UHV is grateful to Mrs. Alcorn for her generous gift," Morgan said. "The university is fortunate to know a woman with such commitment to the advancement of higher education. We are proud to have her as part of the UHV family, and we intend to cherish this gift for years to come."
Throughout the event Tuesday, Morgan shared examples about how UHV is continuously growing and preparing for the future. The theme for the report is "Building the Future."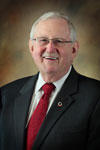 Vic Morgan
"At this event a year ago, UHV looked back at 40 years of history as well as current growth," Morgan said. "Now, we are looking forward and planning UHV's future. The 2013-2014 year was full of new projects and beginnings. We are excited to see where these new developments will take UHV in the years to come."
The university also honored four individuals with awards for their efforts to make UHV a comprehensive regional university.
The Community Partnership Award was given to Victoria residents Ron and Kay Walker. The Walkers have worked for decades to promote higher education in the Victoria area.
Kay served on the UH System Board of Regents from 1993 to 1999 and was integral in helping UHV acquire tuition revenue bonds for the purchase of land and a new building. She also has served on a number of committees and is a member emeritus of the UHV President's Regional Advisory Board. Ron has served on the Victoria College Board of Trustees since 1985 and became chair in 2008.
Most recently, the Walkers contributed $250,000 to name the auditorium inside the new UHV Academic & Regional Economic Development Building scheduled to open in the spring. The gift is the third largest donation from individuals in school history.
"It is such a privilege to be here and to receive this honor," Kay said when accepting the award. "Ron and I have given numerous hours, effort and work to higher education in Victoria. Now we are in a fortunate position to be able to contribute in a significant way to the brick and mortar of this new building."
Ron also was appreciative of the award.
"It takes support beyond state funding for universities and colleges to achieve what they need to achieve," he said. "What we need is community support. Whether it's through the alumni or the towns and counties where the institutions are situated, we're going to need that support."
The Alumni of the Year Award went to Josie Rivera, the former superintendent of Bloomington school district. Rivera went from being a high school dropout to holding five degrees, three of which are from UHV: a bachelor's degree in elementary education, and master's degrees in curriculum instruction and education administration. She has been a member of the UHV President's Regional Advisory Board. She now is secretary on the Victoria College Board of Trustees and serves on the boards for the VC Foundation and the Victoria Chamber of Commerce.
"This is a great honor because it means that I've accomplished my dreams," Rivera said after the event. "The University of Houston-Victoria gives everyone a chance to achieve their dreams. I'm always telling students that UHV helped me achieve my dream. I went all the way through, and I eventually became the superintendent of the district that I dropped out of. I did that to let students know that they can go as far as they want to with their education because everyone has an opportunity at UHV."
Caitlin Bartosh was given the Student Leadership Award, which recognizes a student who demonstrates excellence in academic and leadership qualities. Bartosh is a junior from Schulenburg studying mathematics and secondary education. During her time at UHV, she has been involved in tutoring and served as a college algebra supplemental instruction leader. She also is a member of the UHV Math Club and co-secretary of the UHV History and Humanities Association.
"I'm very excited about this award," Bartosh said. "I'm so excited to have the supplemental instruction position where I get to help other students achieve success and help them with their classes. This award shows that the students appreciate me. They see that I do care, that I love UHV and that I want to help them."
In addition to these awards, the event also featured videos about each of the four academic schools, and the dean or a representative from each school talked about the academic highlights from the past year. These included:
The School of Arts & Sciences opened the Computation & Advanced Visualization Engineering, or CAVE, lab to give UHV students, faculty and local industry leaders exposure to cutting-edge motion capture technology.
The School of Business Administration received a $600,000 donation from Chinese businessman Bingxin Wu and his wife, Shuqin Feng, for the establishment of the Wu-Feng Center for International Business and to offer travel scholarships for 29 students to participate in a two-week study-abroad trip to China.
The School of Education & Human Development's Master of Education degrees in clinical mental health counseling and school counseling were re-accredited for the next four years by the Council for Accreditation of Counseling and Related Educational Programs. UHV is the only CACREP-accredited school in the area and one of only 13 in Texas.
The School of Nursing signed a dual-degree partnership with Victoria College to allow students to earn an Associate Degree of Nursing from VC and a Bachelor of Science in Nursing from the university.
Area residents can now view the annual report and an event photo gallery at www.uhvAnnualReport.com. The site features video presentations shown during the event; faculty, staff, student and alumni highlights; UHV's enrollment and financial figures; a list of donors; and more. Videos filmed at Tuesday's event soon will be added to the website.
The University of Houston-Victoria, located in the heart of the Coastal Bend region since 1973 in Victoria, Texas, offers courses leading to more than 80 academic programs in the schools of Arts & Sciences; Business Administration; and Education, Health Professions & Human Development. UHV provides face-to-face classes at its Victoria campus, as well as an instructional site in Katy, Texas, and online classes that students can take from anywhere. UHV supports the American Association of State Colleges and Universities Opportunities for All initiative to increase awareness about state colleges and universities and the important role they have in providing a high-quality and accessible education to an increasingly diverse student population, as well as contributing to regional and state economic development.