Close
More UHV faculty get involved in elementary school math, science club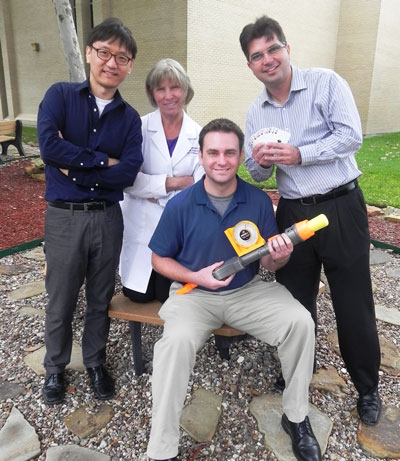 UHV faculty members Jang Woo Park, left, Sandy Venneman and Bradly Button, get ready to present hands-on activities to the Rowland Elementary Math & Science Club. Ricardo Teixeira, right, started the after-school club in the spring to teach grade-school students more about mathematics, physics and biology.
Ricardo Teixeira, a University of Houston-Victoria assistant professor of mathematics, has been known to share a few magic tricks with students participating in the Rowland Elementary Math & Science Club.
Teixeira, however, didn't need to pull a sleight of hand when recruiting guest instructors for his after-school club. He merely asked his colleagues for their help in presenting fun-filled educational activities.
Assisting Teixeira this year are three UHV School of Arts & Sciences faculty members: Sandy Venneman, a psychology and biology professor; Bradly Button, an assistant professor of physics; and Jang Woo Park, a mathematics lecturer.
"Faculty members in this school are glad to do their part to give back to the community," Teixeira said. "I'm proud to have Drs. Button, Venneman and Park working with me because it provides a positive message that the university cares about the community. Hopefully, we can continue to help out elementary school students for a long time."
Teixeira started the Rowland Elementary Math & Science Club in the spring after approaching the school's administrators about organizing a club as a way for him to become more active in his daughter's school. This is the second school year the club has existed.
Teixeira works with Rowland instructional coach Karen Johnson and kindergarten teacher Nache Holub to organize the experiments. Rowland students are split into two age groups: first- and second-graders and third- through fifth-graders. Each group meets once a month after school. There are about 50 students in the club.
"The students have to apply for the club by writing a paper about why they want to be part of it," Teixeira said. "That way, we know they have an interest in taking part in these activities. We talk about mathematics, physics and biology in a way that is fun for the students. We incorporate games and magic tricks into the lessons. The whole idea is to have fun."
With the support of Jeffrey Di Leo, dean of the UHV School of Arts & Sciences, Teixeira brought up a request during a school meeting to have additional UHV faculty members present lessons to the elementary students. Several showed an interest in helping.
"It's a good idea to get children interested in math and science at an early age and show them that there are fun aspects to it," Button said.
When he visits the club, Button said he plans to perform a few demonstrations using a Hot Wheels set or foam Nerf gun.
"I'd like to show the students a few things and let them play around," he said. "I don't want to overcomplicate what I'm talking about. I plan to just discuss a basic principle and then let them ask questions and try out the equipment."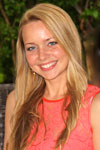 Alexandra Corbin
Past Math & Science Club lessons have included hands-on activities such as creating circuits and math card games.
"I explained the circuit basics, but then I let the students build their own," Teixeira said. "Since I had their attention, I took the opportunity to talk about electricity and safety. Another time, I revealed one of my card tricks that involve adding. The students can't do the trick without being able to add up the numbers."
Alexandra Corbin, a UHV mathematics graduate student from Germany who helped out with the club in the spring, said the students were really excited when they saw Teixeira.
"I was there for the session when he was explaining the magic tricks and talking about different levels of education," Corbin said. "They were really into the activities the whole time."
The University of Houston-Victoria, located in the heart of the Coastal Bend region since 1973 in Victoria, Texas, offers courses leading to more than 80 academic programs in the schools of Arts & Sciences; Business Administration; and Education, Health Professions & Human Development. UHV provides face-to-face classes at its Victoria campus, as well as an instructional site in Katy, Texas, and online classes that students can take from anywhere. UHV supports the American Association of State Colleges and Universities Opportunities for All initiative to increase awareness about state colleges and universities and the important role they have in providing a high-quality and accessible education to an increasingly diverse student population, as well as contributing to regional and state economic development.