Close
Poetry translator brings talent, perspective to downtown Victoria
Rosa Alcalá first started thinking about translating poetry when she was getting her Master of Fine Arts at Brown University, and she will talk about that experience more when she comes to Victoria on Nov. 22.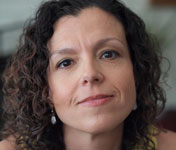 Rosa Alcalá
One of her professors was teaching a course in translation that inspired Alcalá to consider the possibilities. Later, she collaborated with Cecilia Vicuña, a visual and poetry performance artist, in Edinburg, Scotland. After Vicuña put on a show, a book was made of the show's transcript, and Alcalá translated the book into English.
"I think that was the appeal. I was able to use a skill that was handed to me by my parents just by virtue of growing up in a Spanish-speaking household and apply that to something that I really liked, such as writing poetry," said Alcalá, an associate professor at University of Texas at El Paso. "It gave me satisfaction in taking these poems in Spanish and translating them into another language that I also knew."
Alcalá will speak at 7 p.m. in Greek Bros., 205 E. Constitution St., as part of the Downtown Arts Series. The series was started by Charles Alexander, UHV poet and designer in residence, and his wife, Cynthia Miller, UHV artist in residence, who styled the series after a similar event they were part of in Tucson, Ariz. The series is free and open to the public.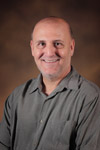 Charles Alexander
"Rosa Alcalá is a fantastic writer and translator who brings an interesting perspective to the art of poetry," Alexander said. "She came to Tucson as part of a previous series, and I am glad that she will be coming to share her talents with Victoria as well."
In addition to her translation work, Alcalá has published two collections of her own poetry. She also has edited a book called "Spit Temple" based on performances by Vicuña. The name "Spit Temple" comes from one of the poems, which addresses the contradiction of the profane image of spit vs. the sacred connection that comes from sharing words, both of which come from the same place, a person's mouth.
Alcalá plans to read some of her more recent work at the series and hopes to share a conversation with members of the community about personal experiences with poetry. In particular, she plans to discuss the vitality of literature in people's daily lives and how they use it to understand their own experiences or the experiences of others.
"I hope that people connect in some way and are surprised," Alcalá said. "I hope that people laugh, not because I try to insert humor, but because human experiences can be absurd and humorous. There might be things in my poems that people don't understand, and that's OK. I don't understand everything that I read or hear; I don't understand everyone's experiences. I want people to feel engaged and connected to my work. But if they don't, that's also part of the experience."
The University of Houston-Victoria, located in the heart of the Coastal Bend region since 1973 in Victoria, Texas, offers courses leading to more than 80 academic programs in the schools of Arts & Sciences; Business Administration; and Education, Health Professions & Human Development. UHV provides face-to-face classes at its Victoria campus, as well as an instructional site in Katy, Texas, and online classes that students can take from anywhere. UHV supports the American Association of State Colleges and Universities Opportunities for All initiative to increase awareness about state colleges and universities and the important role they have in providing a high-quality and accessible education to an increasingly diverse student population, as well as contributing to regional and state economic development.