Close
Distinguished Hispanic literary publisher to speak at UHV fall commencement
The founder of the nation's oldest and most esteemed Hispanic publishing house will address University of Houston-Victoria graduates during the university's fall commencement ceremony.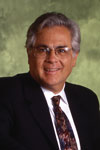 Nicolás Kanellos
Nicolás Kanellos, the Brown Foundation Professor of Hispanic Literature at UH, will deliver the keynote address during the Dec. 13 ceremony. The commencement will begin at 11 a.m. at the Leonard E. Merrell Center, 6301 S. Stadium Lane in Katy.
Kanellos is the author or editor of more than 30 books. He is the founding publisher of noted Hispanic literary journal The Americas Review. In 1979, he started Arte Público Press, the largest nonprofit publisher of literature in the U.S.
Kanellos and his students have made accessible more than 500,000 written works of Latinos through the Recovering the U.S. Hispanic Literary Heritage Project. The project's objective is to identify, preserve, study and make accessible hundreds of thousands of documents written in regions that have become the U.S. from the colonial period to 1960.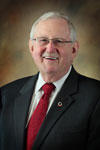 Vic Morgan
"Dr. Kanellos' impact on Hispanic literature and publishing is immeasurable," UHV Interim President Vic Morgan said. "I had the pleasure of meeting him during his visit to UHV in September and enjoyed hearing about some of his experience. I think our students will gain a lot from his speech, and it will enhance what will be a memorable occasion."
Kanellos gave a talk at the university on Sept. 4 to kick off the fall's UHV/American Book Review Fall Reading Series.
"I really enjoyed meeting everyone, especially the students and the community supporters of UHV," he said.
Kanellos, who has taught at UH since 1980, has delivered more than 100 speeches and keynote addresses at institutions and conferences throughout the U.S. and abroad.
While he's still contemplating the specifics of his graduation address, Kanellos said he may speak about dealing with the baggage that people carry and how to unpack those bags and fill them with success.
Kanellos obtained a bachelor's degree in Spanish from Farleigh Dickinson University in Madison, N.J. He earned his master's degree in romance languages and his doctorate in Spanish and Portuguese from the University of Texas at Austin. What stood out to him about his first college graduation was who was in attendance.
"My parents came to the college for the first time that day," Kanellos said. "I imagine the same can be said for many first-time college graduates whose parents don't know what goes on behind these ivy walls or who were afraid to come out to this foreign institution."
Kanellos won the 1988 Hispanic Heritage Award for Literature presented by the White House, the 1989 American Book Award in the Publisher/Editor Category and the 2013 Houston Mayor's Hispanic Heritage Award for Education in the Community. This year, he received the Lifetime Achievement Award from the North American Academy of the Spanish Language.
In 1994, President Bill Clinton appointed Kanellos to the National Council on the Humanities. In 2008, he was elected to the Spanish American Royal Academy of Literature, Arts and Sciences.
Joining Kanellos at the commencement will be his wife, Cristelia Perez. The couple has one son, Miguel Jose Kanellos, who is an aspiring novelist.
UHV holds graduation ceremonies in two different locations each year. Spring commencement is in Victoria, while the fall ceremony is held in Katy to better accommodate UHV students who take classes in Greater Houston. Summer and fall graduates have the option of attending the commencement ceremony in Katy, or waiting until the May graduation in Victoria.
For more information about commencement, contact UHV special events coordinator Nancy Gresham at 361-570-4351 or greshamn@uhv.edu.
The University of Houston-Victoria, located in the heart of the Coastal Bend region since 1973 in Victoria, Texas, offers courses leading to more than 80 academic programs in the schools of Arts & Sciences; Business Administration; and Education, Health Professions & Human Development. UHV provides face-to-face classes at its Victoria campus, as well as an instructional site in Katy, Texas, and online classes that students can take from anywhere. UHV supports the American Association of State Colleges and Universities Opportunities for All initiative to increase awareness about state colleges and universities and the important role they have in providing a high-quality and accessible education to an increasingly diverse student population, as well as contributing to regional and state economic development.