Close
UHV/ABR Reading Series to bring 75th author to Victoria
The University of Houston-Victoria/American Book Review Reading Series will celebrate a milestone Dec. 4 by bringing to Victoria an author who knows all too well the importance of writers sharing their work and craft.
Nan Cuba, founder and executive director emeritus of the nonprofit literary center Gemini Ink in San Antonio, will be the 75th author in the UHV/ABR Reading Series. She will read from her 2013 novel "Body and Bread" at noon in the Alcorn Auditorium of UHV University West, 3007 N. Ben Wilson St. The public is invited to attend the free event, and light refreshments will be served.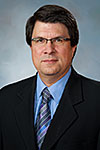 Jeffrey Di Leo
"When the reading series began in 2006, I had little idea it would blossom into inviting 75 authors to share their stories with us," said Jeffrey Di Leo, dean of the UHV School of Arts & Sciences and ABR editor and publisher. "Likewise, I don't think Nan Cuba envisioned Gemini Ink blossoming into a literary powerhouse that has brought countless writers into the San Antonio community. I'm elated she will join us to impart her wisdom as a writer and teacher."
Gemini Ink began as a dramatic reader's theater series that presented literary works with musical accompaniment. The series continues today as part of comprehensive programs that address the needs of San Antonio writers and readers, helping people create and share the human story.
"I really like it when writers not only read from a work I have grown to love or been introduced to and dazzled by, but also talk about the process of how it was created," Cuba said
Case in point could be Cuba's own novel, which took more than two decades to come together. Cuba said the novel started as a collection of short stories when she was a graduate student in the late 1980s in the Program for Writers at Warren Wilson College near Ashville, N.C. The book was put on hold as numerous administrative and teaching initiatives cut into writing time.
"It's gone through various permutations and revisions," she said. "I tell aspiring writers that to encourage them rather than discourage them."
"Body and Bread" won the PEN/Southwest Award in Fiction and the Texas Institute of Letters Steven Turner Award for Best Work of First Fiction. The book was chosen for reading lists by the Huffington Post and O, The Oprah Magazine.
The book is about Sarah Pelton, who years after her brother Sam's suicide, remains unable to fully occupy her world. Now, while her surviving brothers prepare to sell the family's tenant farm and a young woman's life hangs in the balance, Sarah is forced to confront the life Sam lived and the secrets he left behind. As she assembles the artifacts of her family's history in East Texas in hopes of discovering her own future, images from her work as an anthropologist – images of sacrifice, ritual and rebirth – haunt her waking dreams.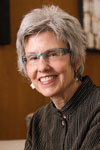 Nan Cuba
Cuba said "Body and Bread" is loosely autobiographical, and the family in the book is in some ways similar to her family. While it can be difficult to write in an autobiographical manner, she said she accomplished that by staying focused on craft issues.
"The analogy I give students is working the hand plate on an Ouija board," Cuba said. "I focus on switching voices when I switch characters. I train myself to hear different voices so I concentrate on diction and the number of syllables in a word. I'm also thinking about pacing and whether it's time to give a detail that helps the readers see an image. When you manage all those technical elements, it's like moving the plate on an Ouija board until you step back and see what you have."
In 2007, Cuba got a chance to get away and work on her writing in Spain after receiving a Fundación Valparaiso Residency Grant. The program, which was started by a Danish painter and his wife, brings artists to Mojácar, a quaint, old town next to the Mediterranean Sea.
"It's extremely charming," Cuba said. "The other people there were musicians, painters, writers and performance artists. We would gather for lunch and then in the evenings for cocktails and dinner. Almost all the time, we spoke Spanish. At the end of month, all of us made presentations to the local community. The writers gave readings, and the artists opened up their studios. It was a wonderful experience."
Cuba is the writer in residence at Our Lady of the Lake University in San Antonio. She also remains active at Gemini Ink, where she is mentoring two students. Modeled after her own graduate program, Cuba describes the mentoring as a master's-level, one-on-one learning experience. Her students have to write three 50-page exchanges where she gives them detailed feedback on their fiction. They meet with Cuba twice for conferences and then give a reading.
"Many of the Gemini Ink students are interested in developing their work in order to have a career as a professional writer, though they haven't been through a Master of Fine Arts program or had academic training," Cuba said. "I think the mentorship could prepare them for that kind of professional application."
Cuba has begun work on a second novel, which will be based on an experience from her investigative journalist days. She teamed up with a psychologist to interview a serial killer and then wrote about extraordinary violence theories. Cuba calls the book a tragi-comedy.
Cuba will be available after the reading to sign copies of her books, which can be purchased at the event. During her visit, she will meet with students and attend functions in the community.
ABR is a nonprofit, internationally distributed literary journal published six times a year. It began in 1977, moved to UHV in 2007 and has a circulation of about 8,000. The journal specializes in reviews of works published by small presses.
For more information about the UHV/ABR Reading Series, call the ABR office at 361-570-4101 or go to www.americanbookreview.org.
The University of Houston-Victoria, located in the heart of the Coastal Bend region since 1973 in Victoria, Texas, offers courses leading to more than 80 academic programs in the schools of Arts & Sciences; Business Administration; and Education, Health Professions & Human Development. UHV provides face-to-face classes at its Victoria campus, as well as an instructional site in Katy, Texas, and online classes that students can take from anywhere. UHV supports the American Association of State Colleges and Universities Opportunities for All initiative to increase awareness about state colleges and universities and the important role they have in providing a high-quality and accessible education to an increasingly diverse student population, as well as contributing to regional and state economic development.