Close
Outstanding students ready to take computer skills to workplace
For Heather Krumnow and Srikanth Krishnamachari, the University of Houston-Victoria had exactly what they needed to succeed.
The fall semester's outstanding students from the UHV School of Arts & Sciences both chose to attend the university to study computer science. Krumnow, a Houston resident, will receive her bachelor's in computer science, and Krishnamachari, a resident of Srirangam, Tiruchirappalli, India, will earn his master's in computer science.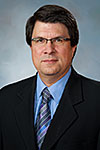 Jeffrey Di Leo
"Heather and Srikanth exemplify the excellence that UHV is committed to offering in all areas of study," said Jeffrey Di Leo, dean of the School of Arts & Sciences. "Their hard work in the area of computer science is an inspiration, and I wish them well as they take the skills and knowledge they learned here into the working world."
Each semester, professors from the four UHV schools select an outstanding student from both their graduate and undergraduate programs to be honored during commencement. UHV will hold fall commencement at 11 a.m. Dec. 13 in the Leonard E. Merrell Center, 6301 Stadium Lane in Katy.
For Krumnow, UHV offered a chance to fulfill a dream. In 2006, she already was working in the engineering industry when she gave birth to her son. She chose to stay home while he was young. A few years ago, she enrolled at UHV because of the computer science program and the classes available at UH Sugar Land, where UHV offers many of the degree programs.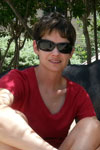 Heather Krumnow
Now, Krumnow is ready to return to the working world. She recently had an interview for a database administrator position with a Houston energy company. Earning her bachelor's at UHV helped broaden her skills and gave her confidence for the future.
"The program at UHV has pushed me to learn things I didn't know about and didn't particularly care about," Krumnow said. "It helped me see that these things are valuable, too. One thing that I was really dreading was the management course because I don't have any desire to manage people. But once I learned what that involves, it was actually kind of fun. It had a lot to do with psychology and how to work with different people."
Krishnamachari's decision to attend UHV for his graduate studies began with his family. He has a bachelor's in mechanical engineering and was looking for a program that could help him move more into computers and technology. His sister, Lakshmi, already had received her teaching certification through the UHV Victoria Online Initial Certification for Educators program and encouraged him to apply.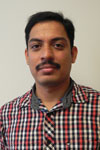 Srikanth Krishnamachari
Now he is hoping to find a position in the software industry. He already has started filling out applications and attending interviews.
"UHV gave me a deeper understanding of the skills and knowledge needed to do well in computer science," Krishnamachari said. "From here, I feel like I will be able to apply for a variety of computer science jobs. It's given me a look ahead into my future."
Part of what helped him prepare for his future were the classes and professors in UHV's computer science program.
"The academic programs at UHV are really good," Krishnamachari said. "The professors and staff are assets to the university and help the students however they can. Hongyu Guo was one professor who inspired me a lot. All of the classes were excellent, but he taught a lot of my favorite courses."
The University of Houston-Victoria, located in the heart of the Coastal Bend region since 1973 in Victoria, Texas, offers courses leading to more than 80 academic programs in the schools of Arts & Sciences; Business Administration; and Education, Health Professions & Human Development. UHV provides face-to-face classes at its Victoria campus, as well as an instructional site in Katy, Texas, and online classes that students can take from anywhere. UHV supports the American Association of State Colleges and Universities Opportunities for All initiative to increase awareness about state colleges and universities and the important role they have in providing a high-quality and accessible education to an increasingly diverse student population, as well as contributing to regional and state economic development.