Close
UHV undergraduate business students present cases at conference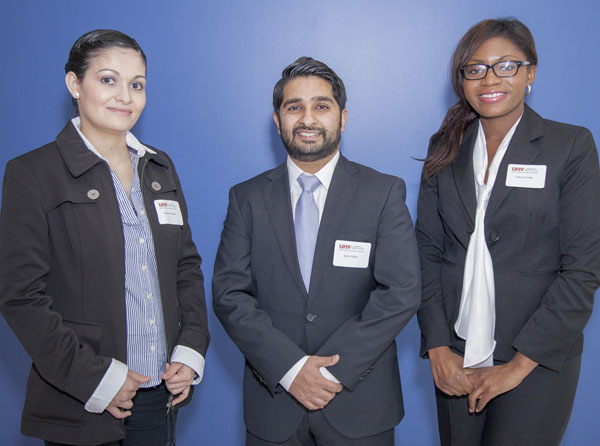 Roxana Tejada, left, Samir Salim and Valencia Tate pose for a photo after winning first place Saturday at the fall UHV School of Business Association Bachelor of Business Administration Case Conference.
SUGAR LAND – When Fayetteville, N.C., resident Valencia Tate arrived in Sugar Land on Friday for the University of Houston-Victoria School of Business Administration Bachelor of Business Administration Case Conference, she met other members of her team in person for the first time.
Little did the Houston native know that her team of three BBA students, who were all taking their courses online, would take first place with a perfect score in the competition.
"Before we received our score, we thought our presentation went very well," said Tate, a senior who is earning her bachelor's with concentrations in management and health care. "Once our score was announced, it felt amazing."
On Saturday, undergraduate students enrolled in the capstone course for the BBA degree took part in the conference. For the fall 2014 semester, about 110 students participated in teams of three or four. Members of the top three teams and their hometowns are listed below:
First: Tate; Samir Salim, Houston; and Roxana Tejada, Rosenberg
Second: Krista Frazier, Richmond; Daniel Guerrero, Richmond; Forrest Harris, Missouri City; and Danish Rauf, Sugar Land
Third: Christopher Gregersen, Cypress; Luke Johanson, Richmond; Victoria Scott and Lin Zhang, both of Katy
Each semester, students in the strategic management course analyze a publicly traded company – this semester that company was Whole Foods Market. Over the course of the semester students use all of the skills they learned through the business curriculum, including accounting, finance, management, marketing and economics, to analyze the company and develop a set of strategic recommendations. The students came to the conference dressed in business attire and presented their proposal to a panel of judges, much like they would before a board of directors.
"This is the class that brings everything together," said Jeff Blodgett, associate dean of the UHV School of Business Administration. "Students use their analytical skills to assess the strengths and weaknesses of a company in relation to its competitors, and identify threats and opportunities in the industry. It is a tremendous learning experience, and in having to make a presentation in a professional setting they gain tons of confidence.
The judging panel was made up of UHV faculty members and alumni. The students gave a 40-minute presentation, then spent 10 to 15 minutes in a question-and-answer session. The teams were scored based on the content and quality of their presentations.
"This was a very strong year for the conference," Blodgett said. "It reflects well on the school and the faculty members who have taught these students. Ron Salazar, Charlie Huang, Ehsan Fakharizadi and Kaveh Moghaddam are doing an outstanding job teaching this class, which is not an easy one. It requires students to focus on a big project and work together, even though some students are taking the class online and can't meet in person. It takes a lot of time and effort, and the professors put a lot of pride in working with their students."
Salazar, an associate professor, taught Tate's class. He helped Tate's team prepare for the conference by listening to the presentation and offering feedback, she said. The team spent hours together on the phone and through the Internet preparing for the Case Conference. Tate was the team leader, which was her first time in a leadership role.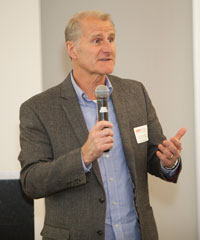 Rick Findlay, a vice president of purchasing, logistics and marketing at Whole Foods, speaks to UHV students, alumni, faculty members and guests at the BBA Case Conference.
"Going into the Case Conference, I looked at it as the equivalent of the bar exam for lawyers," Tate said. "But once it was over, it became something inspirational that I was able to learn and grow from. It was a great experience, and I learned something more about myself through it. Before, I always preferred for others to take the lead. But I pushed myself to get out there, and I was successful."
Keynote speaker Rick Findlay, a vice president of purchasing, logistics and marketing at Whole Foods, spoke to students, judges and faculty members after the competition. His presentation focused on the culture of Whole Foods and the company's commitment to harvesting food in an ethical manner.
Findlay detailed how the company goes to great lengths to support its small suppliers in order to offer quality products to customers. Whole Foods has been known to give thousands of dollars to smaller suppliers such as organic farmers and livestock operations that don't use hormones. In addition, if a store meets its financial goals at the end of a financial quarter, the company gives bonuses to the store's employees.
Listening to Findlay's presentation was inspiring to Tate. She has heard several of the speakers brought in by the UHV School of Business Administration, and she loves the messages they deliver.
"I love to hear them talk about how they started as students, just like we are," Tate said. "The speakers don't just talk about their own success. They show us how they got there and encourage us to reach for our goals and work to earn success just like they did."
The University of Houston-Victoria, located in the heart of the Coastal Bend region since 1973 in Victoria, Texas, offers courses leading to more than 80 academic programs in the schools of Arts & Sciences; Business Administration; and Education, Health Professions & Human Development. UHV provides face-to-face classes at its Victoria campus, as well as an instructional site in Katy, Texas, and online classes that students can take from anywhere. UHV supports the American Association of State Colleges and Universities Opportunities for All initiative to increase awareness about state colleges and universities and the important role they have in providing a high-quality and accessible education to an increasingly diverse student population, as well as contributing to regional and state economic development.