Close
Outstanding students juggle family, school to accomplish goals
The outstanding fall graduates for the University of Houston-Victoria School of Education & Human Development are on their way to fulfilling their lifelong dreams.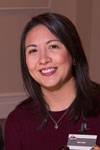 Amy Lopez
Amy Lopez, the outstanding undergraduate student and a Victoria resident, will earn her Bachelor of Science in Interdisciplinary Studies with a focus on early childhood to sixth-grade education. Lisa Marie Flores, the outstanding graduate student and a Houston resident, will obtain a Master of Education with educational diagnostician certification.
Each semester, professors from the four UHV schools select an outstanding student from both their graduate and undergraduate programs to be honored during commencement. UHV will hold fall commencement at 11 a.m. Dec. 13 in the Leonard E. Merrell Center, 6301 Stadium Lane in Katy.
"These two women have shown a remarkable dedication to education and the desire to improve themselves," said Fred Litton, dean of the UHV School of Education & Human Development. "I am proud to see such fine students graduating from UHV and wish them the best as they take the knowledge they have gained here to the outside world."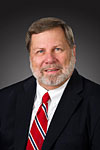 Fred Litton
This year, the outstanding graduates have more in common than their attendance at UHV. Both women are working mothers who always knew they wanted to have jobs in education.
Lopez worked for the Victoria school district as a teacher's aide for about eight years.
"I've always been in the classroom working as an aide," she said. "I finally decided I wanted to have my own classroom. I've had friends who graduated from UHV and told me it was a great program."
Lopez started taking classes at Victoria College before transferring to UHV to earn her bachelor's degree. She and her husband both had to work to provide for their family of four children, but she always took at least six hours of classes every semester. She did a lot of her coursework in the evening while her children were asleep and also got support from family in town when she needed more time. During the last year, she was able to take time off from work to focus on completing her degree.
"It took me seven years, but UHV worked well because it was local, easily accessible and I could take classes in the evening or online," Lopez said. "The price also was affordable."
Now that she has her bachelor's, Lopez wants to work at Chandler Elementary School in Victoria, where she did her student teaching and previously worked for five years. She plans to apply for a teaching position next fall. Until then, she will be a substitute teacher and will learn more about the different schools and principals in the district.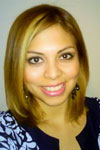 Lisa Marie Flores
Flores was in her second year of teaching special education in the Houston Independent School District when she decided she wanted to earn her master's degree. She is currently teaching in the Sheldon ISD in the same field.
"I've always wanted to pursue a master's," Flores said. "I like challenges and bettering myself. This helps in my career because I feel like I'm more knowledgeable in the area of special education and better able to service my students based on their individual needs."
Another teacher at her school was taking classes through UHV's online program and suggested it to Flores, who earned her bachelor's degree from UH-Downtown. She looked into the program and decided to enroll.
It took her seven years to finish her bachelor's degree because of her need to work, family responsibilities and other complications. This time, she was determined to get her degree quickly. She made a plan and earned her degree in a year and a half, in large part by taking advantage of her summer breaks from teaching to take more classes.
"I liked the convenience of taking online classes," she said. "It also helped that the coursework lined up with what I already was doing in my classroom. Now, I'm more knowledgeable, so I'm up for the challenges ahead. In a few more years, I want to pursue my doctorate. Now that I have my master's, I might as well keep going."
Flores plans to finish the school year before looking into promotion options or changes in position. She wants to apply for a diagnostician position with her district. Eventually, she hopes to be a professor at a college or university.
On top of working as a special education teacher, Flores also has two sons, who are 4 and 9 years old. She hopes that her aspirations and hard work will inspire them to plan for their future as well.
"This is a good example for my boys," she said. "I'm always telling them that I'm behind them 100 percent. I'm going to help them, whereas I had to do this on my own. I want them to know that I'm there to support them, and they can be successful, as well. There are a lot of opportunities out there, and they need to take advantage of them."
The University of Houston-Victoria, located in the heart of the Coastal Bend region since 1973 in Victoria, Texas, offers courses leading to more than 80 academic programs in the schools of Arts & Sciences; Business Administration; and Education, Health Professions & Human Development. UHV provides face-to-face classes at its Victoria campus, as well as an instructional site in Katy, Texas, and online classes that students can take from anywhere. UHV supports the American Association of State Colleges and Universities Opportunities for All initiative to increase awareness about state colleges and universities and the important role they have in providing a high-quality and accessible education to an increasingly diverse student population, as well as contributing to regional and state economic development.