Close
UHV offers graduate English course on 'Fight Club' author's works
A new graduate course is taking shape at the University of Houston-Victoria School of Arts & Sciences, and the subject material has a cult following.
"Chuck Palahniuk in Context," English 6300, will be an online seminar course offered in the spring semester that examines the work of Palahniuk, a contemporary American author best known for his first book, "Fight Club." Students taking the course will read a selection of his works, including "Fight Club," "Diary," "Rant," "Stranger than Fiction," and the first issue of the "Fight Club 2" graphic novel that will be released in April by Dark Horse Comics.
The course will be taught by Jeffrey Sartain, an assistant professor in the UHV School of Arts & Sciences, who has written and published a variety of interviews, articles, bibliographies and commentaries on Palahniuk's work. In 2009, Sartain also wrote the book "Sacred and Immoral: On the Writings of Chuck Palahniuk."
"I started reading his work in 1999, right about the time 'Fight Club' the movie came out," Sartain said. "If you ask me what my favorite of his works are, I could give you 10 different answers on 10 different days. But I always come back to 'Fight Club' because that's such an important novel as far as capturing a tone in the American culture in the late '90s. None of his other works capture a cultural tone in the same way."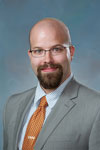 Jeffrey Sartain
Sartain's inspiration to create the course went beyond his appreciation for the author's work. He also knows this is a big year for Palahniuk. Palahniuk's novel "Beautiful You" was released in October. Also released in the fall, the short story anthology "Burnt Tongues" is a collection of stories Palahniuk selected and edited from a writing workshop and competition hosted on his website. Then, a collection of his own short stories, titled "Make Something Up," will be released in the spring. In April, Dark Horse Comics will release the first of 10 issues in the "Fight Club 2" graphic novel.
"The timing of needing and wanting to offer a graduate course on issues surrounding contemporary American literature and the fact that he is doing so much right now presented a great opportunity to offer the course on his work," Sartain said. "We are able to study a living author in depth, which is rare in a graduate school context. That's often one of the most exciting ways to study authors – to delve deeply into the things they've written and study what themes hold through and how they fit into a larger picture of American literature."
As part of the course, students will read several of Palahniuk's novels, criticism of his work and related American literature. Students also will branch out to read some of the author's works that will not be read by the rest of the class. Then they will make a presentation about what they found.
Palahniuk has a wide fan base, so there will be a number of students interested in this course, Sartain said. Graduate students in fiction and publishing, contemporary American literature students, UHV/American Book Review fans and others will benefit from the course. Community members may take the course by applying as temporary graduate students through the UHV Office of Admissions website www.uhv.edu/admissions/.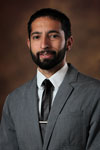 A.J. Ortega
"Palahniuk is one of those contemporary writers who transcends his readership," said A.J. Ortega, an English lecturer in the UHV School of Arts & Sciences and fan of Palahniuk. "He's a good writer to study because of his critical and commercial success. His stories are full of gritty, visceral, jarring stuff that will really knock you over. He challenges a lot of conventions and norms, and really takes risks as a writer."
Students typically study Chaucer, Milton, Shakespeare or other writers who have been dead for centuries when universities offer courses about specific writers, Ortega said. The UHV course is unique because the writer is alive and still releasing new works. That can serve as a source of inspiration for students who already may be familiar with Palahniuk's work. The fact that a longtime fan of the author will be teaching the course is another draw.
"Dr. Sartain has been a Palahniuk scholar for a long time," Ortega said. "He has read just about everything that Chuck has written, and he's quite an expert on this author, so there's not a better instructor for this course."
UHV students interested in taking the course should contact their advisors to sign up. The course will contribute to graduate degree plans, including UHV's Master of Science in publishing, Master of Fine Arts in creative writing and Master of Arts in Interdisciplinary Studies, but any interested graduate student may sign up.
For more information on the course, contact Sartain at 361-570-4254 or sartainj@uhv.edu.
The University of Houston-Victoria, located in the heart of the Coastal Bend region since 1973 in Victoria, Texas, offers courses leading to more than 80 academic programs in the schools of Arts & Sciences; Business Administration; and Education, Health Professions & Human Development. UHV provides face-to-face classes at its Victoria campus, as well as an instructional site in Katy, Texas, and online classes that students can take from anywhere. UHV supports the American Association of State Colleges and Universities Opportunities for All initiative to increase awareness about state colleges and universities and the important role they have in providing a high-quality and accessible education to an increasingly diverse student population, as well as contributing to regional and state economic development.