Close
UHV to recognize three outstanding business graduates at commencement
Adeyinka Ariyo and Richard Bradley took differing paths to earning a University of Houston-Victoria Master of Business Administration degree, but they both embraced interacting with their professors and classmates.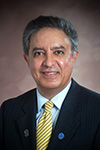 Farhang Niroomand
Ariyo took face-to-face graduate business classes in UH Sugar Land, where UHV offers many of the programs, and assisted faculty members as a graduate assistant. Bradley took online classes while working as an attorney in Waco.
Despite different approaches, both excelled in the classroom. Ariyo and Bradley were chosen as the UHV School of Business Administration outstanding graduate students for the fall. Agnieszka Smith of Inez was named the school's outstanding undergraduate student.
"These three graduates are terrific examples of what we are looking for in business students," said Farhang Niroomand, dean of the UHV School of Business Administration. "They faced their fair share of obstacles along the way, but they remained dedicated to developing tools to help them succeed both in school and in life. We're happy to recognize their achievements and excited about what the future holds for them."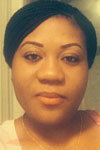 Adeyinka Ariyo
Each semester, professors from the four UHV schools select an outstanding student from both their graduate and undergraduate programs to be honored during commencement. UHV will hold fall commencement at 11 a.m. Saturday in the Leonard E. Merrell Center, 6301 S. Stadium Lane in Katy.
Originally from England, Ariyo first heard about UHV during a 2010 trip to Houston to visit family. Two years later, she decided to leave her London job as a consultant with Visa Europe and come to Sugar Land to pursue her degree. She will earn an MBA with a concentration in general business.
"At UHV, the flexibility of the MBA program meant I could study at a good pace to understand the class materials and relate it to something practical," Ariyo said. "UHV also was a good fit because I do not like large classes. At most, there were 20 to 25 people in a class, which facilitates good discussions and interaction."
Ariyo worked with UHV faculty members on research projects and helped out in classes.
"The professors are really great, and the diversity is a big plus here," Ariyo said. "I met a lot of people from different parts of the world. It's a really nice atmosphere."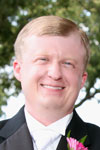 Richard Bradley
Ariyo is open to staying in Houston, but she's not against returning to England or moving to another country for a good job. She would like to find a position in business operations or management.
Bradley is a staff attorney at the Texas Tenth Court of Appeals in Waco. He will earn an MBA with a concentration in finance.
"The material that I learned will help me analyze business issues that come up," Bradley said. "The degree itself will improve my marketability because I'd really like to eventually transition into the energy industry. I grew up in the industry, and my father works in it."
Bradley said he chose UHV because it was online and affordable.
"Those were the two things I was looking for in an MBA program," Bradley said. "My studies have been very enriching. I've enjoyed dealing with issues businesses face today and debating with my colleagues in class. My professors were willing to answer questions and guide us."
Bradley said his academic performance and willingness to interact with classmates to flesh out issues in group work and discussions may have contributed to this award.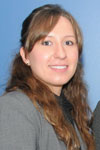 Agnieszka Smith
"I'd like to thank the administration, professors, and my wife and family," he said. "It's a nice honor and a privilege to have been selected."
Smith has finished her Bachelor of Business Administration with a concentration in accounting. She and teammates Courtney Samayoa, Melissa Stange and Robert Stryk took third place in the spring BBA Case Conference.
In October, Smith was one of 20 business students inducted into the Beta Gamma Sigma international business honor society. The exclusive society is made up of the top 10 percent of undergraduate business students and top 20 percent of graduate business students.
Smith has appeared multiple times on the UHV President's List, which honors undergraduates who earn a 4.0 grade-point average during a semester.
"Agnieszka's academic record speaks for itself," Niroomand said. "She excelled in several rigorous classes. We're proud of her performance in the classroom."
The University of Houston-Victoria, located in the heart of the Coastal Bend region since 1973 in Victoria, Texas, offers courses leading to more than 80 academic programs in the schools of Arts & Sciences; Business Administration; and Education, Health Professions & Human Development. UHV provides face-to-face classes at its Victoria campus, as well as an instructional site in Katy, Texas, and online classes that students can take from anywhere. UHV supports the American Association of State Colleges and Universities Opportunities for All initiative to increase awareness about state colleges and universities and the important role they have in providing a high-quality and accessible education to an increasingly diverse student population, as well as contributing to regional and state economic development.