Close
First UHV professional science graduates preparing for technical, teaching careers
When the University of Houston-Victoria introduced a graduate degree in professional sciences in 2013, it was touted as a way for students to attain professional employment or go on to a doctoral program.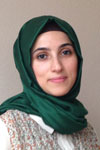 Ayse Mine Genc
On Saturday, the UHV School of Arts & Sciences celebrated the first two graduates of the Master of Science in biomedical sciences – professional science degree. One graduate, Ayse Mine Genc, is continuing her education as a doctoral student in biomedical engineering at UH. The other, Nimra Siddiqui, is working for a medical device developer and has future plans to teach.
"The program is quickly getting well-trained professionals out the door to where they want to go," said Richard Gunasekera, director of biology graduate programs and professor of biology and biochemistry. "I'm proud of both graduates. This degree is geared toward providing students with the knowledge and experience to attain their career aspirations."
UHV began the professional science degree in fall 2013. It includes three tracks in emerging fields – biomedical, bioinformatics and forensics. The professional science degree is a fairly new concept that merges science knowledge with business and technology fundamentals. The degree includes 30 semester credit hours, plus either a thesis or six hours of internships.
Genc completed her thesis this fall in the field of biochemical genetics of pediatric Parkinson's disease, a movement disorder. At the same time, she started her doctoral work in the UH biomedical engineering program. Since she already had completed her master's coursework, UH allowed Genc to begin her doctorate prior to UHV graduation.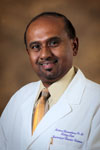 Richard Gunasekera
Genc said her long-term plan is to get a job at a university or other research institution.
"My intention is to increase my knowledge and put it into practical use by developing advance diagnostic tools or new therapeutic strategies," she said. "I believe my education experience, desire to serve the community and love of learning new techniques made me an ideal doctoral candidate in biomedical engineering."
Originally from Turkey, Genc took classes at UHV because of its strong science program offerings.
"What originally caught my attention about UHV was the diversity, quality of the faculty and flexibility of programs," Genc said. "The program was not just about us completing courses. The faculty helped us improve ourselves. They gave us a chance to do significant research. Dr. Gunasekera spent a lot of time teaching us how to write papers and conduct research. He always patiently explained the subject.
Genc worked with Gunasekera on his research about pediatric Parkinson's disease. She soon will have an article published on the subject in the Journal of Neurochemistry.
Gunasekera said Genc will fare well as a doctoral student.
"She has a keen mind, and she thinks outside the box," Gunasekera said. "She knows how to use statistics programs and technology extremely well."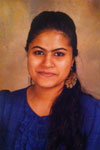 Nimra Siddiqui
Siddiqui, who additionally has a bachelor's degree from UHV in biology, recently completed an internship at LeoMed, a Houston medical device manufacturer. Bandula Wijay, president and CEO of LeoMed, taught Siddiqui and Genc as a UHV adjunct faculty member. Siddiqui said she learned about getting medical devices approved by the Food and Drug Administration. Wijay, who has several patented inventions including heart stents, teaches graduate students how to be inventors in the biomedical field.
"It was a fun experience," she said. "I took Dr. Wijay's course about medical device approval in fall 2013, so I had the chance during my internship to implement everything I had learned in the class."
Siddiqui also did an internship with the UHV School of Arts & Sciences as a teaching assistant for biology courses and labs. While she has done some teaching before, Siddiqui was curious about whether she'd like to teach college courses. She will work at LeoMed until she's ready to start her teaching career.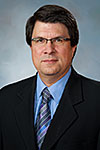 Jeffrey Di Leo
"I was teaching 10th-graders, but now I feel like I'm ready to teach at a college level," Siddiqui said. "I'm open to teaching biology to undergraduates."
Siddiqui said she liked how she could reach out and get help from UHV professors and advisors.
"It's a perfect degree for someone who wants to excel in the medical field," Siddiqui said. "The internships give you an idea of what to expect when you are done with the degree and also help your job prospects after graduation. I would recommend this degree to people with an interest in professional sciences."
Jeffrey Di Leo, dean of the UHV School of Arts & Sciences, said he is proud of the graduates.
"Ms. Genc and Ms. Siddiqui have bright futures ahead of them," he said. "We are glad the professional science degree was a good fit for them and helped them on their professional journey."
The University of Houston-Victoria, located in the heart of the Coastal Bend region since 1973 in Victoria, Texas, offers courses leading to more than 80 academic programs in the schools of Arts & Sciences; Business Administration; and Education, Health Professions & Human Development. UHV provides face-to-face classes at its Victoria campus, as well as an instructional site in Katy, Texas, and online classes that students can take from anywhere. UHV supports the American Association of State Colleges and Universities Opportunities for All initiative to increase awareness about state colleges and universities and the important role they have in providing a high-quality and accessible education to an increasingly diverse student population, as well as contributing to regional and state economic development.