Close
UHV makes state list of most affordable online colleges
When it comes to getting an affordable bachelor's degree online, UHV is one of the top options in the state, according to an online education website.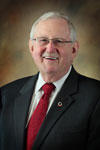 Vic Morgan
The study by OnlineColleges.net ranks UHV among the top 25 schools in Texas to offer affordable online degrees. UHV was listed as the third most affordable 4-year online degree program behind University of Texas at Brownsville and University of Texas at the Permian Basin. UH-Clear Lake, UH-Downtown and UH also were listed in the top 25.
"UHV's commitment to making a quality education accessible and affordable is an important element of its success," UHV Interim President Vic Morgan said. "This recognition confirms the longstanding message that UHV is dedicated to ensuring anyone who wants to has the opportunity to earn a degree."
Although UHV's place on the list is good news, it is not necessarily a surprise, said Jeffrey Cass, UHV provost and vice president for academic affairs. UHV makes a concerted effort to offer a less expensive option when compared to other major universities.
"This is a further indication that we have quality programs at affordable prices," Cass said. "We live in an age when people are increasingly hit by the growing cost of tuition and fees and end up needing student loans and debt. Having an affordable option will encourage more people to further their education."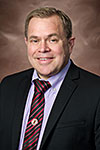 Jeffrey Cass
Maintaining affordability is a balancing act that all universities and college go through, Cass said. To a limited extent, there is some keeping up with the Joneses. But on the whole, UHV continues to focus on offering quality, accessible programs at affordable prices.
Even when students are accepted to a higher tier institution such as University of Texas at Austin, Texas A&M University or Baylor University, knowing that UHV is available and offers many of the same degrees can make students think twice, Cass said. When looking at the price tag, a student can spend upwards of $40,000 a year at a larger institution, or he can spend about $6,000 at UHV.
"Choosing a college based on name alone isn't always a good investment option," Cass said. "Students have to look at their options and goals before deciding where they want to get a degree. This study shows that UHV is a good investment."
Many undergraduate and graduate students at UHV have full-time jobs as they work toward earning their degrees. Students have the option to take classes online or in a face-to-face setting, and that flexibility is a major part of what makes UHV successful, Cass said.
"In today's world, a college graduate typically earns twice what someone without a degree would," Cass said. "At the same time, the standard of living for the middle class and salaries are not rising, which makes earning a degree and the affordability of that degree even more valuable than in previous years. UHV is an affordable, quality alternative, and we are proud to continue to serve our students and community."
The full list of Most Affordable Four-Year Online Programs in Texas can be found at www.onlinecolleges.net/texas/#four-year.
The University of Houston-Victoria, located in the heart of the Coastal Bend region since 1973 in Victoria, Texas, offers courses leading to more than 80 academic programs in the schools of Arts & Sciences; Business Administration; and Education, Health Professions & Human Development. UHV provides face-to-face classes at its Victoria campus, as well as an instructional site in Katy, Texas, and online classes that students can take from anywhere. UHV supports the American Association of State Colleges and Universities Opportunities for All initiative to increase awareness about state colleges and universities and the important role they have in providing a high-quality and accessible education to an increasingly diverse student population, as well as contributing to regional and state economic development.