Close
Commission votes to re-affirm UHV's accreditation for 10 more years
After more than three years of preparations and reports, the University of Houston-Victoria officially has been re-accredited through 2024.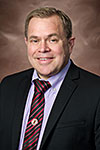 Jeffrey Cass
The Southern Association of Colleges and Schools Commission on Colleges recently voted to continue its accreditation of UHV for 10 additional years without any follow-up reporting.
"It's common for SACSCOC to give an institution re-affirmation but also have the school write a follow-up report if there are lingering concerns," said Jeffrey Cass, UHV provost and vice president for academic affairs. "We were completely clean, so they told us no follow up is needed. This is the first institution I've worked with where there was no follow up."
Based in Atlanta, SACSCOC is the accrediting agency for all public, private and for-profit colleges and universities in an 11-state region, from Virginia to Texas. UHV's on-campus accreditation visit took place April 6 to 9.
UHV passed all major standards, including the Quality Enhancement Plan, curriculum, faculty credentialing, general education, student services, finances and facilities, federal requirements, internal assessment of operations and academic programs, Internet technology and the library. The commission made one recommendation about staff credentialing. After staffing adjustments were made, UHV sent its final report to SACSCOC in September. The board accepted the report last week.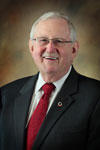 Vic Morgan
"I am thrilled the re-accreditation process was a success," UHV Interim President Vic Morgan said. "To only have one minor recommendation and no follow up is a tremendous accomplishment and shows the dedication of our administrators, faculty and staff. It also confirms we have smart, effective plans in place to help our students succeed."
Cass said Jill Fox, senior director of the UHV Living & Learning Office; Sharon Bailey, UHV associate director of assessment; and Uppinder Mehan, former UHV associate provost, were instrumental in formulating the SACSCOC documents. Cass also thanked the UHV deans, faculty and staff for their tireless work.
"During this re-accreditation process, we demonstrated that in all areas we are committed to our mission, our region and, most importantly, our students," Cass said. "There is a long list of people who played a role in this effort. I'd like to thank everyone who contributed, big and small, to the success of our re-accreditation."
One major component of the re-accreditation was putting together a Quality Enhancement Plan, a blueprint describing how the university will address improving student education. UHV selected "Living & Learning" as its QEP theme to highlight how the university will integrate academic and social aspects of campus life for students. Starting in the fall, groups of 20 to 25 freshmen living at UHV residence halls learned together.
UHV officials anticipate that students participating in those groups will have higher grade-point averages, better team-working skills, increased engagement with faculty and be more likely to return to the university their sophomore year. The students participate in linked classes and group activities outside of the classroom. UHV will send information on the progress of the QEP to SACSCOC as part of a five-year report in 2019.
Overall, Cass was pleased with the end result, and how UHV arrived at that result.
"SACSCOC always wants to see a campus pull together to produce documents necessary to demonstrate it's been effective, uses best practices and has all of its processes in order," he said. "I think the fact that we have a clean bill of health shows the university is in great shape."
The University of Houston-Victoria, located in the heart of the Coastal Bend region since 1973 in Victoria, Texas, offers courses leading to more than 80 academic programs in the schools of Arts & Sciences; Business Administration; and Education, Health Professions & Human Development. UHV provides face-to-face classes at its Victoria campus, as well as an instructional site in Katy, Texas, and online classes that students can take from anywhere. UHV supports the American Association of State Colleges and Universities Opportunities for All initiative to increase awareness about state colleges and universities and the important role they have in providing a high-quality and accessible education to an increasingly diverse student population, as well as contributing to regional and state economic development.