Close
Retired UHV professor updates popular education law textbook
During a nearly three-decade career teaching education law, Lawrence Rossow has shaped how countless educators think about legal situations.
"We can't train school principals to know the laws in any particular month," Rossow said. "What we can ask them to do is understand the Supreme Court cases and apply them to their individual circumstances."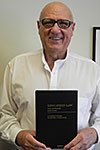 Lawrence Rossow
Rossow, who retired as a UHV education professor Thursday, recently had his 16th book published. "Education Law: Cases and Materials, Second Edition" is an updated version of a 2005 textbook co-written by Rossow and Jacqueline A. Stefkovich, an educational leadership professor at Penn State University in State College.
Rossow and Stefkovich have been invited to teach the book during a summer course at Columbia University in New York City.
"We'll find out what Columbia students think of it," Rossow said. "Ivy League graduate students typically aren't afraid to share their opinions about textbooks."
The first edition was a 1,200-page book that cost more than $100. It was used to teach graduate and law students at about 30 universities, Rossow said. The second edition, which was published by Carolina Academic Press, is about 500 pages and has a more economical price tag of $60.50. The book is available on Amazon.
Rossow and Stefkovich were tasked with condensing the book and gearing it to a graduate-level audience. It won't be taught in law schools. To reduce the page count, the authors took out dissenting arguments written by Supreme Court justices that opposed rulings. Rossow and Stefkovich explain how each case has made its contribution to the rules of law that govern schools today.
"Most Supreme Court cases have a majority decision and dissent, but education graduate students usually only study the rule of law, which is the majority decision," Rossow said.
Since joining the UHV School of Education & Human Development in 2009, Rossow has written three books. His research interests are constitutional standards in schools and higher education. He has taught courses about education law, special education law and ethics in education administration.
"I've been able to spend a good amount of time researching and writing," he said. "The Victoria College/UHV Library is well ahead of its peers in the area of legal research. They carry Westlaw, which is the gold standard for legal research. My co-writer at Penn State doesn't even have access to it."
Before arriving at UHV in 2009, Rossow was a professor of law and education at the University of Oklahoma. During that time, education law was not a common subject. Today, it has become specialized, and there are education law practices.
"There's a lot of competition now in education law textbooks," Rossow said. "I see the other authors regularly at conferences, and we talk about what everyone is writing. Each author approaches things a little differently."
During his time at UHV, Rossow served as dean of the UHV School of Education & Human Development and helped oversee the university's Office of Institutional Effectiveness.
"Dr. Rossow will still on occasion teach online the graduate educational law course," said Fred Litton, dean of the UHV School of Education & Human Development. "The second edition of his book is well written and full of valuable information that will assist school administrators in meeting the complex legal questions of 21st century school systems."
The University of Houston-Victoria, located in the heart of the Coastal Bend region since 1973 in Victoria, Texas, offers courses leading to more than 80 academic programs in the schools of Arts & Sciences; Business Administration; and Education, Health Professions & Human Development. UHV provides face-to-face classes at its Victoria campus, as well as an instructional site in Katy, Texas, and online classes that students can take from anywhere. UHV supports the American Association of State Colleges and Universities Opportunities for All initiative to increase awareness about state colleges and universities and the important role they have in providing a high-quality and accessible education to an increasingly diverse student population, as well as contributing to regional and state economic development.