Close
UHV makes national community service honor roll
The University of Houston-Victoria has been very active in the Victoria community over the past year, and those efforts recently received some national attention.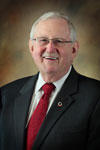 Vic Morgan
The Corporation for National & Community Service recognized UHV on the President's Higher Education Community Service Honor Roll. This is the first time the university was recognized. UHV is joined by 10 other public four-year institutions within the state including UH, the University of Texas at Austin and Texas Tech University.
"UHV is committed to serving the Victoria community," UHV Interim President Vic Morgan said. "Whether it is through education or service projects and partnerships, we endeavor to help our hometown continue to grow and prosper. We are grateful for the opportunity to make a difference."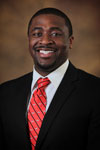 Dakota Doman
A big component of earning a place on the list is an institution's commitment to service, said Dakota Doman, director of Student Life & Services. UHV had to prove it is committed to community engagement when applying for the honor roll.
In order to promote community service, UHV hosts a Volunteer Opportunity Fair every semester to educate students on the needs in the Victoria area. Nonprofits and organizations that need volunteers set up tables and talk with student about available opportunities. The fair has served as an effective way to reach out to students and connect them with needs in the community, Doman said.
"We've done a great job of completely engaging with different aspects of the community," Doman said. "During the past year, the school has developed partnerships with a variety of specific organizations in the community such as Adopt-A-Pet, the YMCA, Golden Crescent Habitat for Humanity, Red Cross and others. We wanted to give students who are interested in being involved a lot of options to volunteer.
One of the major service opportunities that UHV offers is the Communities and Schools Program, which partners with the Victoria Independent School District. As part of the program, UHV's shuttles transport students as well as faculty and staff members to secondary schools to volunteer as mentors and tutors. Some students enjoy the program so much, they do up to 25 hours a week of mentoring and tutoring.
The volunteer work and community service UHV students do has a bigger impact than some might expect, Doman said. The experience is undoubtedly rewarding for both the mentors and VISD students, but it also comes back to help UHV.
"If students go out and impact the community, particularly at a high school level, it becomes a recruitment tool," Doman said. "Students see the work that UHV is doing to help them, and it's a positive influence. For current students, it can also be a retention tool. It's not a coincidence that a lot of students who are involved in this initiative usually return. They've forged a connection with this community."
Even after students graduate, that connection to the Victoria community and the good work that was done has an impact, Doman said. Many graduates are inspired to continue helping and supporting the university as alumni in part because of the service-oriented attitude promoted by UHV.
Faculty and staff members also are welcome to take part in other service projects. Students in the First-Year Seminar course are accompanied by faculty members when going out to build Habitat for Humanity homes in Victoria. That involvement also helps students connect with their professors.
"UHV is going to continue to improve its efforts to reach out to the community," Doman said. "We've done a lot in the past year. One of my goals when I came to UHV a little more than a year ago was to get the university on this list, and we've been able to do that through the commitment of our students, faculty, staff and the university's administration."
The University of Houston-Victoria, located in the heart of the Coastal Bend region since 1973 in Victoria, Texas, offers courses leading to more than 80 academic programs in the schools of Arts & Sciences; Business Administration; and Education, Health Professions & Human Development. UHV provides face-to-face classes at its Victoria campus, as well as an instructional site in Katy, Texas, and online classes that students can take from anywhere. UHV supports the American Association of State Colleges and Universities Opportunities for All initiative to increase awareness about state colleges and universities and the important role they have in providing a high-quality and accessible education to an increasingly diverse student population, as well as contributing to regional and state economic development.