Close
Smithsonian traveling exhibit at VC/UHV Library tells journey stories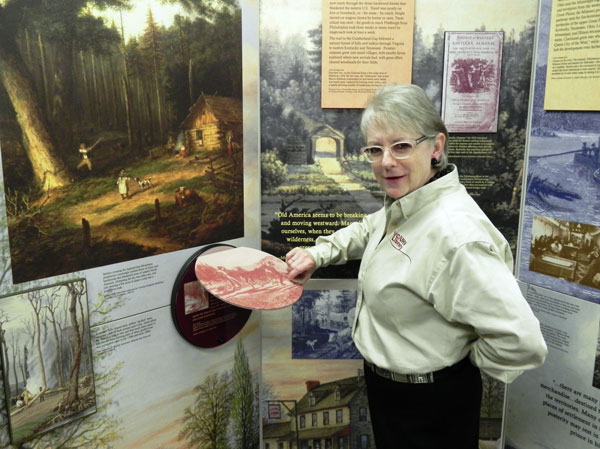 Jennifer Foster, media librarian for the Victoria College/University of Houston-Victoria Library, opens a display panel about how settlers traveled west in the 1800s. The library is hosting "Journey Stories," a Smithsonian traveling museum exhibit, from Monday until Feb 8.
Joe Dahlstrom, Victoria College/University of Houston-Victoria library director, said it's fitting a Smithsonian museum exhibit featuring stories about journeys is making a stop in a place known as the Crossroads.
"There is a good reason we are called the Crossroads," he said. "A lot of the people's journeys have passed through Victoria over the years. History is important to many people in this area, so we are pleased to host this exhibit."
"Journey Stories" will open Monday on the second floor of the VC/UHV Library, 2602 Ben Jordan St. The exhibit, which is free and open to the public, can be viewed during regular library hours through Feb. 8.
Visitors to "Journey Stories" will navigate four centuries of American history while experiencing the joys and hardships of journeys past. The exhibit comes from Museum on Main Street at the Smithsonian Institution Traveling Exhibition Service. The Smithsonian partnered with the Texas State Historical Association to bring "Journey Stories" to six Texas cities. Victoria is the third stop on the tour.
"We are thrilled to have this here," media librarian Jennifer Foster said. "It is an opportunity to increase the visibility of the library, university and college within the Crossroads. We've never had anything like this before in Victoria. This is put together by the Smithsonian, so the exhibit is first-rate."
"Journey Stories" explores the history of American travel, from immigration to migration, the role of innovation and myriad transportation modes, and the search for freedom. Using a wide range of engaging visuals, audio clips, music, maps and artifacts, the exhibit brings to life the personal paths of immigrants, slaves, explorers, business tycoons and historical figures whose travels have led from the Mayflower to the Golden State.
Dahlstrom said the library has hosted three history conferences during the past five years that have been well received.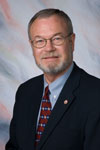 Joe Dahlstrom
"We have a number of people in Victoria and the surrounding areas who are interested in history and the journeys people took to get here," Dahlstrom said. "This is an interesting exhibit. We usually think about immigration and migration in terms of large groups of people. But in this case, these are fascinating individual stories. Everybody has traveled or moved somewhere, whether it's across town or across the country. The exhibit details those moves with different methods of transportation, from covered wagons to airplanes."
The exhibit includes a local component put together by students at Howell Middle School in Victoria and a student at Matagorda School. The Texas State Historical Association hosted a workshop in the fall for area history teachers. Students in those teachers' classes then made presentations or compiled oral histories about local residents. The presentations were put on the Texas State Historical Association website, which can be accessed on two tablets in the exhibit or at www.tshaonline.org/JourneyStoriesVictoria.
"The students did a nice job capturing the journey stories of people from this area," Foster said. "It's fun to learn about where people came from, how they got here and what brought them this way."
Foster said guided tours of the exhibit are available. Teachers or other groups interested in bringing students to the exhibit can call her at 361-570-4195 or sign up for a tour through the exhibit website, journeystoriesvictoriatx.weebly.com.
The exhibit will be open from 7:45 a.m. to 10 p.m. on Mondays through Thursdays, 7:45 a.m. to 5 p.m. on Fridays and 1 to 6 p.m. on weekends. The library will be closed on Jan. 19 for Martin Luther King Jr. Day.
In conjunction with "Journey Stories," the library is holding a speaker series. UHV and VC faculty members and local historians will make free presentations at 5:30 p.m. on Tuesdays and Thursdays at the library.
Here's the schedule of speakers:
Jan. 15 – Ken Titt, "The Unfinished Dream of the Blalock Mexico Colony"
Jan. 20 – Doris Obsta
Jan. 22 – Beverly Tomek, "Forced Migration Through Slave Trade"
Jan. 27 – Ed Byerly, "Jim Crow Laws: A Fossil Landscape of Segregation in Victoria, Texas"
Jan. 29 – Linda and Henry Wolff, "Journeys to Indianola, Then and Now"
Feb. 3 – Peggy Titt, "Where Did You Come From, Where Did You Go? Document Your Journey!"
Feb. 5 – Karen Hagan, "Orphan Trains"
For more information about the exhibit, call the library at 361-570-4166 or visit www.museumonmainstreet.org/journeystories/index.html.
The University of Houston-Victoria, located in the heart of the Coastal Bend region since 1973 in Victoria, Texas, offers courses leading to more than 80 academic programs in the schools of Arts & Sciences; Business Administration; and Education, Health Professions & Human Development. UHV provides face-to-face classes at its Victoria campus, as well as an instructional site in Katy, Texas, and online classes that students can take from anywhere. UHV supports the American Association of State Colleges and Universities Opportunities for All initiative to increase awareness about state colleges and universities and the important role they have in providing a high-quality and accessible education to an increasingly diverse student population, as well as contributing to regional and state economic development.