Close
UHV seeking panelists to give first-person accounts of Freedom Summer
Area residents who would like to share their memories about the summer of 1964 are invited to serve on a panel discussion Feb. 7 at the University of Houston-Victoria.
The Freedom Summer panel is part of UHV's Black History Month celebration. Among the topics to be addressed are voting obstacles, segregation and Jim Crow laws.
The event, which is free and open to the public, will begin at 1 p.m. in room L2 of the Victoria College/UHV Library, 2602 Ben Jordan St.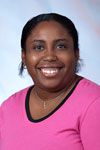 Cherlyn Hodge
"We want to hear from local citizens who remember that summer," said Cherlyn Hodge, a UHV School of Arts & Sciences advising coordinator and co-chair of the university's Black History Month Committee. "The panelists don't have to have been in the crux of what was going on in Mississippi at the time. What we're interested in is how what happened that summer affected people in Victoria and the surrounding areas."
Freedom Summer was a nonviolent effort by civil rights activists to integrate Mississippi's segregated political system. In the summer of 1964, civil rights organizations initiated a voter registration drive aimed at dramatically increasing voter registration in Mississippi. However, black Mississippians and more than 1,000 out-of-state, predominately white volunteers faced constant abuse and harassment.
On the project's first day, three workers were kidnapped and murdered. Mississippi residents risked their lives to attend local meetings and attempt to register to vote. While the initiative only led to registering a few hundred more black voters, the harassment was widely covered in the national media, which helped set the stage for the Civil Rights Act of 1964 and the Voting Rights Act of 1965.
Hodge said having the panel discussion will allow people who weren't alive in 1964 to hear from people who were around then regarding what life was like.
"History is reflective of the future," she said. "If we have a better understanding of what happened during the summer of 1964, it could spark improvement or change now and in the future."
Area residents interested in serving on the panel can contact Hodge at 361-570-4237 or hodgec@uhv.edu.
Hodge said that after the panel discussion, those attending can go on a tour of historical sites in Victoria, including some places that were once segregated such as the former F.W. Gross High School.
The panel discussion is a lead-in to the Freedom Summer at 50 Black History Month celebration at UHV, which will conclude with the inaugural A.D. Sheffield Symposium in African American History at 1 p.m. on Feb. 28 in the UHV University Center Multi-Purpose Room, 3007 N. Ben Wilson St. This symposium has been created by the School of Arts & Sciences and will become a yearly feature of the UHV Black History Month activities. This year, Phil Lapsansky, a participant in the Freedom Summer, and La Guana Gray, a historian from the University of Texas at San Antonio who specializes in African American studies, will speak.
In addition, UHV, Victoria College and the Black History Steering Committee will hold a Black History Month Reception from 5:30 to 7 p.m. on Feb. 13. Victoria fifth-graders are making posters about a century of black life history and culture, and the winners will be announced at the reception.
All posters submitted to the contest will be on display in the UHV University Center throughout February during regular business hours.
The University of Houston-Victoria, located in the heart of the Coastal Bend region since 1973 in Victoria, Texas, offers courses leading to more than 80 academic programs in the schools of Arts & Sciences; Business Administration; and Education, Health Professions & Human Development. UHV provides face-to-face classes at its Victoria campus, as well as an instructional site in Katy, Texas, and online classes that students can take from anywhere. UHV supports the American Association of State Colleges and Universities Opportunities for All initiative to increase awareness about state colleges and universities and the important role they have in providing a high-quality and accessible education to an increasingly diverse student population, as well as contributing to regional and state economic development.