Close
Ethnicity of characters in children's literature scrutinized in publication
In an effort to raise awareness and spur change, the most recent issue of the University of Houston-Victoria American Book Review examines why there are so few black characters in children's books and what problems it causes.
The September/October edition of the journal focuses on the color of children's literature. Several award-winning authors and university professors contributed to ABR by writing articles or book reviews.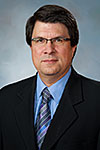 Jeffrey Di Leo
"The majority of children's literature is focused on white audiences," said Jeffrey Di Leo, dean of the UHV School of Arts & Sciences and ABR editor and publisher. "Children of color deserve, need and should have their own literary heroes."
ABR is a nonprofit, internationally distributed literary journal published six times a year. It began in 1977, moved to UHV in 2007 and has a circulation of about 8,000. The journal specializes in reviews of works published by small presses.
A study by the Cooperative Children's Book Center at the University of Wisconsin found that of the 3,200 children's books published in 2013, 93 were about black people. In 2012, only 3 percent of children's books published in the U.S. have significant African or African American content.
"I thought there was a need to call attention to this cultural problem and hopefully get people motivated to address it," Di Leo said. "We have an all-star cast writing incredibly thoughtful and moving pieces in this issue and reviewing several great books that are worthy of our attention."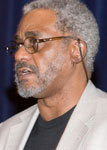 Charles Johnson
Charles Johnson, a novelist, essayist, literary scholar, short story writer, philosopher, cartoonist and professor emeritus at the University of Washington in Seattle, served as the issue's focus editor. Johnson learned more about racial problems in children's literature when co-writing a children's book with his daughter. Their book, "The Adventures of Emery Jones, Boy Science Wonder," is reviewed in the edition by Marc C. Connor, the Ballengee Professor of English and associate provost at Washington and Lee University in Lexington, Va.
"It is my hope that this special issue will contribute to the conversation we must have about racial representations in the stories we give our children," Johnston wrote is his column. "Then I hope it leads to re-constructive action; new works for a new century and millennium; and empowering stories that offer us characters who just happen to be black but also emblematic archetypal fictional vehicles in which we all invest our dreams, imaginings and sense of adventure."
The lack of diversity in children's literature was thrust into the national spotlight in November following inappropriate jokes directed at Jacqueline Woodson during the National Book Awards. Woodson's book, "Brown Girl Dreaming," which is told in free verse and reviewed in the ABR issue, is about her childhood in South Carolina and Brooklyn against the backdrop of the Civil Rights movement.
Woodson won a National Book Award in the category of Young People's Literature. The Nov. 19 award ceremony was hosted by Daniel Handler, a popular children's book author who also is known by his pen name, Lemony Snicket. In this ABR edition, George Yancy, a professor of philosophy at Duquesne University in Pittsburgh, wrote about the racist jokes Handler told during the ceremony.
Di Leo said one audience for the ABR edition is elementary and middle school teachers.
"We'd like to raise awareness with that audience," he said. "I think some of these issues teachers might see but may have not really pinpointed the absence of certain characters."
Jim McWilliams, an English professor at Dickinson State University, interviewed Patrik Henry Bass and Jerry Craft for an ABR article. Bass wrote "Zero Degree Zombie Zone," an adventure story featuring four black middle school friends. Craft provided the book illustrations.
McWilliams asked Craft how important is it to have diversity in the protagonists of children's books.
"It's extremely important to have lead characters of color," Craft said. "If we don't create our own books, then often, the stories will show a white lead who is not only interesting, but solves all the problems. And guess whose problems they solve? Ours. So early on, it lays a foundation for who the leaders are and who the followers are. And subconsciously, our kids fall in line with that thinking. I saw that with my own kids when they were little."
Other articles in this ABR issue include:
Graphic novelist Gene Luen Yang writes about the color of comic books.
Book reviewer Terry Hong reviews four young adult novels from women authors.
Author Rita Williams-Garcia writes a column about the culturally diverse books in her family's home.
Vermont College of Fine Arts graduate student Beth Bacon reviews "Search for Sarah Rector: The Richest Black Girl in American." That book was written by Tonya Bolden, who penned a column for ABR with the credo "All the children need all the books."
Copies of the September/October ABR issue are available on the UHV campus or by mail. To buy a single issue for $5 plus tax, call the ABR office at 361-570-4101 or email americanbookreview@uhv.edu. More information about ABR can be found on the journal's website at www.americanbookreview.org.
The University of Houston-Victoria, located in the heart of the Coastal Bend region since 1973 in Victoria, Texas, offers courses leading to more than 80 academic programs in the schools of Arts & Sciences; Business Administration; and Education, Health Professions & Human Development. UHV provides face-to-face classes at its Victoria campus, as well as an instructional site in Katy, Texas, and online classes that students can take from anywhere. UHV supports the American Association of State Colleges and Universities Opportunities for All initiative to increase awareness about state colleges and universities and the important role they have in providing a high-quality and accessible education to an increasingly diverse student population, as well as contributing to regional and state economic development.