Close
UHV business school has largest MBA program in Houston area
SUGAR LAND – The University of Houston-Victoria's School of Business Administration is moving up in the Houston area.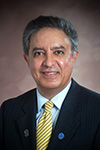 Farhang Niroomand
The Houston Business Journal listed the UHV academic school as the largest Houston-area Master of Business Administration program based on total enrollment. On the 2013-2014 list, the university was in the No. 2 spot. The UHV School of Business Administration has about 750 graduate students this school year. Many live in the Houston area and take classes at UH Sugar Land and the UH System at Cinco Ranch, where UHV offers many of the degree programs.
"The UHV School of Business Administration offers a versatile, accessible education for those looking to enter or progress in the business world," said Farhang Niroomand, dean of the UHV School of Business Administration. "I am proud to see that the hard work and expertise shown by our faculty and students is being recognized."
In addition to the UHV School of Business Administration, the business schools at UH, UH-Downtown and UH-Clear Lake also are listed in the top five for total enrollment on the 2014-2015 Houston Business Journal list.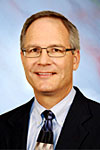 Jeff Blodgett
"This shows that the UHV School of Business Administration has a very attractive program with a lot to offer," said Jeff Blodgett, associate dean of graduate programs and external affairs. "We put a great deal of emphasis on ensuring that we offer a quality education that is affordable and flexible. Our program is an attractive option for professionals working in the Houston area and elsewhere."
For new MBA student Marvine Butler, an investor relations coordinator for Sysco, the choice to attend UHV was an easy one. The 49-year-old Katy resident will be attending face-to-face classes at the UH System at Cinco Ranch this spring.
"I chose UHV based on its reputation," Butler said. "I have heard and learned in my own research online that it is a good investment. It's also convenient for me because the Cinco Ranch campus is only five minutes from my home."
Butler already has a bachelor's degree in business and a master's in psychology. She chose to attend UHV for a second master's after a change in her career.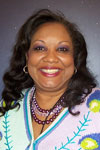 Marvine Butler
"I'm working in investor relations, which is a field I love," she said. "I need a background in finance to be able to move up in my career. I need to be able to understand the financial sheets and provide information to investors to keep the company going strong."
Butler's plan to advance her career by earning an MBA is common in the UHV School of Business Administration, Blodgett said. The school offers concentrations that people in the global business market need, such as accounting, finance, management and marketing. Many students find the accounting and finance concentrations particularly attractive.
"A lot of times our MBA students will be professionals who had careers in one of the sciences, such as engineering, and want to transition from a functional to a more managerial, decision-making position," Blodgett said. "That's the factor that really drives our graduate enrollment. Professionals who want to take the next step in their careers come to the UHV School of Business Administration to add that business background to their technical knowledge."
The school's ranking in the Houston Business Journal is encouraging to Butler. She is looking forward to the learning atmosphere and the opportunity to gain more knowledge about finance.
"I am super excited because I'm going to be part of the largest MBA program in the city," Butler said. "With the excellent reputation that the UHV School of Business Administration has, it's doubly exciting. It will definitely help me further my career. I will be recommending the program to other Sysco employees."
The University of Houston-Victoria, located in the heart of the Coastal Bend region since 1973 in Victoria, Texas, offers courses leading to more than 80 academic programs in the schools of Arts & Sciences; Business Administration; and Education, Health Professions & Human Development. UHV provides face-to-face classes at its Victoria campus, as well as an instructional site in Katy, Texas, and online classes that students can take from anywhere. UHV supports the American Association of State Colleges and Universities Opportunities for All initiative to increase awareness about state colleges and universities and the important role they have in providing a high-quality and accessible education to an increasingly diverse student population, as well as contributing to regional and state economic development.