Close
UHV sees dramatic rise in student event participation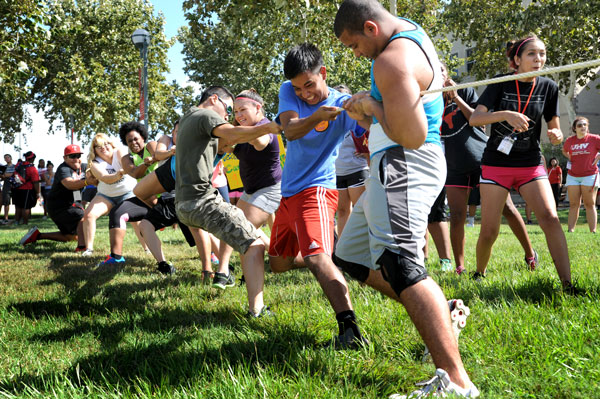 New UHV students take part in a tug-of-war game during the Jaguar Journey new student orientation event in August. The UHV Office of Student Life saw a major increase in student participation and the number of activities during the fall semester.
When it comes to activities outside the classroom, University of Houston-Victoria students are ready to get involved.
During the fall semester, the university saw a dramatic increase in the amount of student participation on campus and with the Office of Student Life, said Michael Wilkinson, associate director of Student Life for UHV. A major factor in the rise in participation is the emphasis on student involvement in creating and developing events.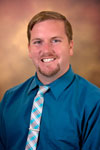 Michael Wilkinson
"First and foremost, all of our events are student driven," Wilkinson said. "Students are responsible for the events. They come up with ideas, and once those ideas are approved, they play a major part in implementing the activities. They're the ones who talk to their friends and get on social media to drive attendance. It all comes from them, including the follow-up reports on how successful the events were. Our job from a staff perspective is to be a support system for them and help facilitate that process."
The university offered a number of new events in the fall, along with some student favorites from previous years. One returning event, the '80s Skate Party, saw more than 350 students attend. The previous year, the same event was attended by approximately 150 students. Pumpkin Palooza, which was extended from a one-day event to a full week of activities, saw a 475 percent participation increase. In addition, the Jaguar Journey new student orientation had 335 students participate, the most since the university started the program.
Another reason for the rise in participation was the increase in the number of events offered. In fall 2012, UHV had 30 student activities, and that number rose to 35 in fall 2013 and 70 activities in fall 2014.
Sharron Varghese, a junior psychology major from Houston and multicultural student director for Student Life & Services, is one of the students who helps create and put on events and activities. The decision to give students more control over event planning is similar to what she's heard from some of her friends attending other universities. She is excited to take part in creating activities for UHV.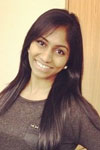 Sharron Varghese
"I love being part of this team and working for Student Life," Varghese said. "The department is very good at listening to what interests students. Students are putting on events they are interested in, and the staff is mostly overseeing those efforts. I think that's the best part. Students know students best. We know what events will or will not work and what people will come to."
Varghese especially is excited to see what new programs and events will be created. Her favorite events in the fall were the '80s Skate Night, the holiday party in December and the introduction of intramural sports including flag football, basketball, soccer, volleyball, and the scholarship series which included foosball, bowling and washers. One new event that she particularly enjoyed was International Coffee Hour, which allowed students to sample coffee and snacks from different parts of the world and learn about different cultures.
"It's exciting to see the new plans taking shape, and we're going to be even more prepared this spring semester," she said. "I want to see more students come out and show their school spirit."
Students also have been pleased with the quality of events offered, Wilkinson said. Approximately 100 students were given a survey in November, and 91 percent said they were satisfied with the quality of campus activities at UHV.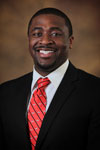 Dakota Doman
"Michael and his team are doing a great job engaging students," said Dakota Doman, Student Life & Services director. "There's a lot of social media activity with Facebook and Twitter to promote the various activities, and our students have really responded to the activities made available. We hope that will continue into the spring semester, and we will see an even larger amount of participation."
Wilkinson attributes the activities' success to the student-focused approach his office takes. Since the staff gives students the reins when it comes to planning and promoting events, it creates a noticeable uptick in participation.
"We could come up with hundreds of great ideas from the staff, but at the end of the day, if those events are generated from students, there is more of a buy-in," Wilkinson said. "Students are more likely to talk about, promote and participate in these events if they are invested in the process from start to finish. By letting them create traditions of their own, there's a legacy that's more likely to carry on into the future."
In order to continue the increased participation and number of events, UHV plans on relying on and encouraging student leadership. This spring, Student Life & Services will launch the Jaguar Activities Board, a student-led board that will create and run activities and events from start to finish, Wilkinson said. A meeting was held during the fall, and about 25 students expressed interest in serving on the board. The board is separate from the UHV Student Government Association but will work closely with the association when planning activities.
The office already has some new activities planned for the spring, including the continuation of intramural sports. There also will be activities such as bubble soccer, paintball, sumo wrestling, a spring festival and a variety of cultural celebrations.
By offering successful events and activities, students and the Student Life Office also are helping UHV's recruitment and retention efforts, Wilkinson said. Students have more opportunities to stay engaged while still at school by going to concerts, skating, bowling and movies. The department hopes to continue that trend and build on the foundation that was developed during the fall semester.
"This is a foundation, and we hope to grow every semester," Wilkinson said. "We want to provide an environment that enhances the development of UHV students and gives them the co-curricular programs they deserve."
The University of Houston-Victoria, located in the heart of the Coastal Bend region since 1973 in Victoria, Texas, offers courses leading to more than 80 academic programs in the schools of Arts & Sciences; Business Administration; and Education, Health Professions & Human Development. UHV provides face-to-face classes at its Victoria campus, as well as an instructional site in Katy, Texas, and online classes that students can take from anywhere. UHV supports the American Association of State Colleges and Universities Opportunities for All initiative to increase awareness about state colleges and universities and the important role they have in providing a high-quality and accessible education to an increasingly diverse student population, as well as contributing to regional and state economic development.