Close
UHV earns grant to study human-robot interaction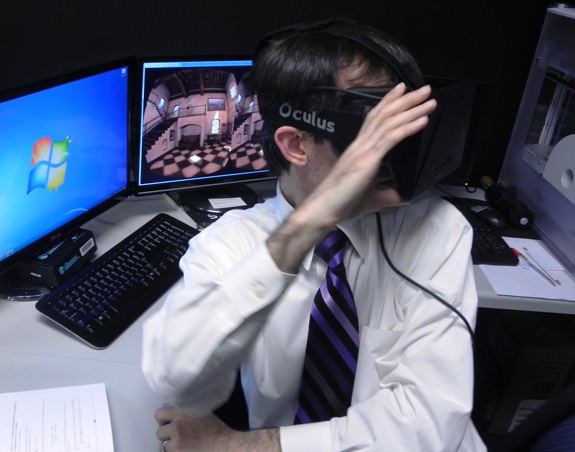 Alireza Tavakkoli, director of the University of Houston-Victoria digital gaming and simulation program and an assistant professor of computer science, uses special goggles to look at a virtual environment in the UHV Computation & Advanced Visualization Engineering lab. Tavakkoli will be the lead researcher in a project examining human-robot interaction funded by a $191,567 grant from the Department of Defense.
The University of Houston-Victoria Computation & Advanced Visualization Engineering lab on campus is getting some new tools thanks to a $191,567 federal grant.
Alireza Tavakkoli, director of the UHV digital gaming and simulation program and an assistant professor of computer science, applied for a research instrumentation grant from the Department of Defense and the U.S. Army to conduct research in Immersive Virtual Reality with Applications to Teleoperation and Training. The university recently received the grant, which will fund a research project studying the interactions between humans and robots.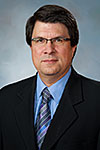 Jeffrey Di Leo
"The work that Dr. Tavakkoli has done in the digital gaming and simulation program is outstanding," said Jeffrey Di Leo, dean of the UHV School of Arts and Sciences. "This grant will enable him to continue his groundbreaking work in digital and virtual technology."
Tavakkoli will be working with two other UHV professors. Li Chao, chair of the School of Arts & Sciences Science, Technology and Mathematics Division and a professor of computer science and mathematics, will create the cloud-based infrastructure for the research. Psychology professor Donald Loffredo will focus on designing the processes of the research and analyzing data.
"I've always been interested but haven't done a lot of research before in computer-human interaction," Loffredo said. "It's a hot topic with the U.S. military because robots can do things like deliver weapons systems. Robots also are being studied as possible assistants for humans with physical disabilities."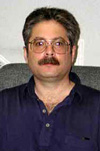 Donald Loffredo
Three advanced robots, software and equipment for the CAVE lab's motion capture systems, as well as some virtual reality equipment were purchased using the grant money.
"I think the CAVE lab is one of the main reasons that we received funding," Loffredo said. "Most universities, even big universities, do not have access to a CAVE lab. We're grateful that the UHV administration supported the creation of the lab."
The CAVE lab is a state-of-the-art motion capture studio that uses 24 cameras to record movement and use that data in programming animation sequences for games or other media. The university is building a second CAVE lab in the new UHV Center for the Arts located in downtown Victoria. The research will take place in the CAVE lab on the main UHV campus.
Tavakkoli said the research will focus on three main areas of study:
Immersive virtual reality in an intelligent environment – This is a virtual world that humans will be in while still in the physical element of the CAVE lab. The lab will read all of a person's moves and actions, and translate them into a virtual environment.
Tele-robotics and teleoperations – Interactions in the virtual world will do physical things with the robots. If a person extends his arm or walks, the robot would do the same.
Centralized processes on a high-performance server – Building a custom server will help create the kind of processing power needed to do the research.
At some point in the future, Tavakkoli plans to bring people in to take part in the research by interacting with the robots, but that will not take place until the infrastructure is created by Chao and the team establishes the first version of the virtual environment.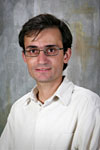 Alireza Tavakkoli
Once the study is planned and everything is prepared, students will be recruited to assist in the research, Tavakkoli said. Although the research will not be connected to a UHV course, it will be a good opportunity for students to be involved in an area of study that has not been widely addressed.
"The students who work on this program will be able to publish what they do," Tavakkoli said. "They will be working on things that no one has done before. If they're undergraduate students, it will help them get into a graduate program, and if they're graduate students, this could help them get accepted into a doctoral program. It could also help a student land a scholarship for an advanced degree or be a major advantage in finding a job in the industry."
The impact of the grant could help find additional state or federal sources of funding for future projects. The grant also could bolster recognition about UHV's programs.
The grant required that applications had to come from universities designated as minority-serving institutions. UHV was designated a Hispanic-serving institution in 2013.
"We are a small university, but we are quite capable of doing quality research," he said. "In fact, I hope that this will entice more students, especially minority and underrepresented students, in science, technology, engineering and mathematics fields and show them that nothing should stop them."
The University of Houston-Victoria, located in the heart of the Coastal Bend region since 1973 in Victoria, Texas, offers courses leading to more than 80 academic programs in the schools of Arts & Sciences; Business Administration; and Education, Health Professions & Human Development. UHV provides face-to-face classes at its Victoria campus, as well as an instructional site in Katy, Texas, and online classes that students can take from anywhere. UHV supports the American Association of State Colleges and Universities Opportunities for All initiative to increase awareness about state colleges and universities and the important role they have in providing a high-quality and accessible education to an increasingly diverse student population, as well as contributing to regional and state economic development.