Close
Unconventional letterpress printer to give presentation, workshop at UHV
Amos Paul Kennedy Jr. decided at age 40 to abandon the corporate world and make his mark in technology that began in the 19th century.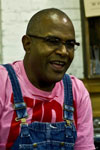 Amos Paul Kennedy Jr.
Kennedy, a letterpress printer who uses print as a form of social and political education, will share both his story and his creations with University of Houston-Victoria students and community members during his visit Feb. 13 and 14.
As part of the UHV Downtown Arts Series, Kennedy will speak at 7 p.m. Feb. 13 at the UHV Downtown Center for the Arts, 204 N. Main St. The event is free and open to the public.
Kennedy also will host a print workshop on the Vandercook Press, a type of press first introduced by Robert Vandercook in 1909, from 10 a.m. to 2 p.m. Feb. 14 at the center. Admission to the workshop is free for students and $50 for the public. The proceeds of prints sold will be donated to the Boys and Girls Club of Victoria.
Kennedy's presentation will be the first public event in the UHV Center for the Arts, a 5,500-square-foot facility for university courses in drawing, painting, design and the digital arts. The center was renovated in the fall and opened for spring classes on Jan. 20.
Charles Alexander, UHV poet and designer in residence, said Kennedy creates multi-color prints that include visual and verbal content with humor or political commentary.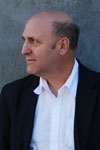 Charles Alexander
"He's the only letterpress printmaker I know who consistently puts his work to use as social activism," Alexander said.
Alexander has introduced Kennedy in two previous programs in Minneapolis and Tucson. Attendees at those talks and workshops have been entranced, Alexander said. Kennedy concentrates on the task at hand more than overt political messages.
"He'll show students how to create prints, teaching them every step of the way," Alexander said. "It was his idea to sell prints to benefit the Boys and Girls Club of Victoria. He's always working directly with youth or doing work that benefits them."
Alexander said UHV design students will get a technical education in printing arts.
"They also will pick up some tricks about color variations and mixing visual and verbal materials, which is one of the items we are concentrating on in my advanced design class this semester," he said. "Amos is a lot of fun to be around. They will enjoy working in the studio with him."
Kennedy grew up in Grambling, La., graduated from the University of Illinois and worked as a computer programmer for AT&T in Chicago before becoming committed to the art of printing. He produces show posters for local and regional events as well as his own catalog of inspirational and commemorative designs, usually featuring boldly lettered quotations. His work is sold at galleries and museum shops across the South.
Kennedy was profiled in Laura Zinger's 2008 documentary film "Proceed and Be Bold!" The documentary details Kennedy's views on art and its value, his opinions on race and why a trip to Colonial Williamsburg changed his life.
In 2013, Kennedy purchased a building in Detroit and developed it as a site dedicated to printing arts education.
"He converted this building to not only have a place to make his prints, but also to recruit and train other artists," Alexander said. "He has created an energetic art space in the heart of Detroit."
Kennedy recently was featured in Southern Living's article 50 People Who Are Changing the South in 2015.
The UHV Downtown Arts Series is organized by Alexander and UHV Artist in Residence Cynthia Miller to present an array of groundbreaking art practices to the Victoria community and to stimulate a dialogue about the presence of arts. He has invited book artists, poets, printmakers, painters, and film and media artists to make presentations. Kennedy is the fourth visitor in the 2014-2015 academic year. The remaining presenters are:
March 28 – David Abel, performer, poet, editor and fine book dealer
April 24 – Samuel Ace, photographer, painter, filmmaker and poet
For more information about the series or to sign up for Kennedy's workshop, contact Alexander at 520-275-4330 or alexanderch@uhv.edu.
The University of Houston-Victoria, located in the heart of the Coastal Bend region since 1973 in Victoria, Texas, offers courses leading to more than 80 academic programs in the schools of Arts & Sciences; Business Administration; and Education, Health Professions & Human Development. UHV provides face-to-face classes at its Victoria campus, as well as an instructional site in Katy, Texas, and online classes that students can take from anywhere. UHV supports the American Association of State Colleges and Universities Opportunities for All initiative to increase awareness about state colleges and universities and the important role they have in providing a high-quality and accessible education to an increasingly diverse student population, as well as contributing to regional and state economic development.