Close
UHV students approve new student center fee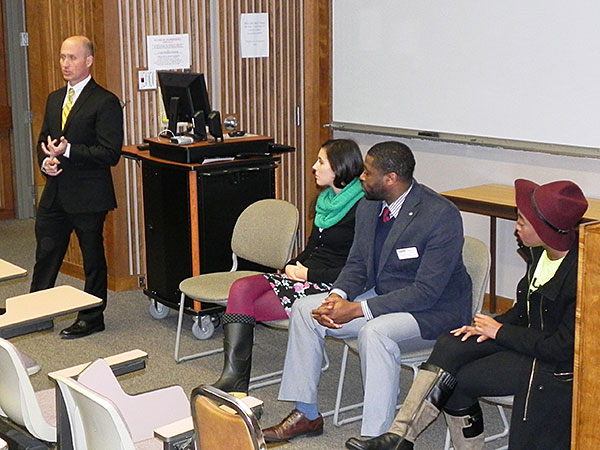 Jay Lambert, left, UHV vice president for enrollment management and student affairs, answers a student's question during a student center forum Tuesday at University West Alcorn Auditorium. Also serving on the forum panel, left to right, were Dawn Savage, a UHV student life coordinator; UHV Student Life director Dakota Doman; and Destiny Mayfield, a Student Life student worker.
The addition of a student center at the University of Houston-Victoria is one step closer to reality after students voted in favor of assessing themselves a fee.
UHV students living within a 50-mile radius of Victoria voted Tuesday through Thursday on whether to fund construction of the university's first student center. Of the 409 students casting ballots on JagSync, UHV's student organization portal, 334, or 82 percent, voted in favor of the fee.
Bola Adebyao, UHV Student Government Association president, was pleased with how the vote turned out.
"A student center will be a great addition to our university," she said. "We could use a place to go study or hang out. I've seen the importance of student centers at other campuses. Having one here will enhance what we have to offer current and prospective UHV students."
The fee proposal will next go to the UH System Board of Regents for consideration. Because it's an involuntary fee, it also will have to be approved by the Texas Legislature, said Jay Lambert, UHV vice president for enrollment management and student affairs.
"If all goes according to plan, we can get the approvals needed by this summer, hold town hall meetings with students and have the building constructed within the next two years," he said.
The student fee is for the sole purpose of financing, constructing, operating, maintaining and improving a student center. If approved, a fee of $150 would be charged each fall and spring semester to students living within 50 miles of Victoria since they are the ones most likely to use the center. The fee would be $50 for students taking summer classes that are between five and 10 weeks in length or $100 for summer courses lasting 10 or more weeks.
Lambert said he has had some preliminary conversations about bringing in a private company as a partner in constructing the student center. Doing so may be a financial necessity.
"The fee collected initially wouldn't fully pay for what we need to build a student center," Lambert said. "We could finance the interest for five years, and then with increased enrollment, we could afford the principal."
UHV Interim President Vic Morgan formed a student center committee in the fall to study other university student centers and discuss what features should be included in a center in Victoria. The committee consists of staff members and five UHV students who work in various university offices or are involved in student organizations.
The proposed center would have a UHV bookstore, food court and space for students to study or hang out before or after classes. The exact details would be left up to students. A series of student meetings would be held to get input on food vendors, types of games, study areas and how to fill the 17,580 square feet of useable space, Lambert said.
Lambert said he envisions the center being done in stages. Besides the food court and bookstore, the first stage would include a game room, lounge areas and offices for the Student Life & Services, Student Government Association and other student organizations.
"What we want to do is build a first floor that could support a second floor," Lambert said. "The second floor would include a ballroom where we could have large events such as Jaguar Journey new student orientation. The third phase would be expansion of the first floor to enlarge the food court, bookstore and lounge areas. There's no exact timeline, but the ballroom could be four years away, and the last phase might by 10 years down the line."
As a student worker in UHV Student Life & Services, Destiny Mayfield has noticed the difficulties members of student organizations have in finding space for their offices and events.
"It would be great for organizations to have their own space where they could advocate and carry out their missions," she said. "A student center would be an ideal place for those activities."
Cost estimates for the center depend on a number of factors. The location won't be nailed down until after legislative approval, Lambert said. The idea is to have it located near UHV's academic buildings. The center would assist in UHV's recruitment efforts.
"Other schools are offering the amenities that we don't have, so we need to step up," Lambert said. "A student center is a huge step forward."
Dakota Doman, UHV Student Life director, said besides the tangible aspects of a student center, there are numerous social and employment benefits.
"If it wasn't for the student center where I went to school, I wouldn't be in this role today," he said. "I got my first job working at a student center. There are benefits you can't put a price tag on. It's the friendships you make and the good times you have hanging out or having study groups."
The University of Houston-Victoria, located in the heart of the Coastal Bend region since 1973 in Victoria, Texas, offers courses leading to more than 80 academic programs in the schools of Arts & Sciences; Business Administration; and Education, Health Professions & Human Development. UHV provides face-to-face classes at its Victoria campus, as well as an instructional site in Katy, Texas, and online classes that students can take from anywhere. UHV supports the American Association of State Colleges and Universities Opportunities for All initiative to increase awareness about state colleges and universities and the important role they have in providing a high-quality and accessible education to an increasingly diverse student population, as well as contributing to regional and state economic development.