Close
From detectives to zombies, next ABR author writes what he likes to read
Readers of his 2014 book, "Not for Nothing," have told Stephen Graham Jones they were initially hesitant about reading a book written in second person.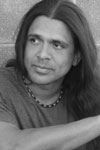 Stephen Graham Jones
"But they usually get 15 to 20 pages in and then forget it's written in second person, which is how second person is supposed to function," Jones said. "It's supposed to pull the reader in."
Jones, the next author in the spring University of Houston-Victoria/American Book Review Reading Series, has been pulling readers into his novels and short stories for years. He will give a reading at noon Feb. 19 in the Alcorn Auditorium of UHV University West, 3007 N. Ben Wilson St. The public is invited to attend the free event, and light refreshments will be served.
Although undecided on what he will share at the reading, Jones typically reads short stories and a selection or two from a novel. The author of 15 novels, six story collections and more than 200 stories, Jones has written about vampires, werewolves, aliens, murderers, mad scientists and zombies. While he's well liked among the horror and science fiction crowd, he also has written about growing up in Texas, Piggly Wiggly grocery store employees and many other topics.
"I do a lot of horror, but I've done young adult, thrillers, crime and what people call literary, which means it doesn't have spaceships in it," Jones said. "I've written everything I can think of."
Jones was once asked why he writes in so many genres.
"I really only write in one genre," he said. "It's the same genre we all write in, I hope. It's called, 'What I would like to read.' And since I read all across the shelves, that's what I write."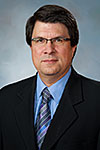 Jeffrey Di Leo
Jones, an English professor at the University of Colorado Boulder, won the Texas Institute of Letters Award for Fiction and the Independent Publishers Award for Multicultural Fiction. He also was the recipient of the 2012 This is Horror's Novel of the Year. His novel, "Growing Up Dead in Texas," was a Texas Monthly book selection.
Jeffrey Di Leo, dean of the UHV School of Arts & Sciences and ABR publisher and editor, praised Jones' versatility as a writer.
"Whether it's a horror short story or a transfixing novel, Dr. Jones provides vivid descriptions and enthralling twists and turns," De Leo said. "We're delighted he will join us as part of the spring reading series to share some of his innovative work."
The setting for "Not for Nothing" is the small town of Slanton, Texas. Disgraced Midland homicide detective Nicholas Bruiseman is so down on his luck that he's forced to take a job as a live-in security guard for the town's lone storage facility. He's hoping for anonymity, a life where he doesn't have to handle anything more complicated than picking up chopped beef sandwiches.
But one day, in walks Gwen Tracy, former high school cheerleader and homecoming queen, who hires Nick as a private investigator because she says she is being threatened and stalked by an ex-convict she met while tutoring at a prison.
Jones said in his first stab at the novel, it was set in Los Angeles and written in third person.
"It was fun to write, but it wasn't really working," he said. "I couldn't put my finger on why, though. I eventually thought the voice was off, so I re-wrote it into first person. Then I realized I didn't know enough about L.A. to set a novel there. So I moved the story back to where I grew up and switched it to second person. The changes got more to the core of that noir delivery."
Jones said second person is tricky because it can either be descriptive or commanding.
"It's fun to straddle the line between those two," Jones said. "Quite often, second person is the protagonist talking to himself or herself. We are just privy to that information."
While readers have complimented the novel's plot twists, that wasn't the original objective. Jones said at the outset of a novel, he intends to be as simple as possible. But once he starts writing it down, the story gets complicated.
"Things snowball, and pretty soon I do have 100 turns," he said.
Other writers scheduled for the spring 2015 UHV/ABR Reading Series are:
Stephen Harrigan, March 12 – Austin-based author Harrigan got his start as a staff writer at Texas Monthly, where he later became a senior editor. Harrigan has written three novels and three books of nonfiction. His novel, "The Gates of the Alamo," was a New York Times bestseller and has won several awards. Harrigan is also a screenwriter. His "King of Texas" was produced and aired on TNT. It starred Patrick Stewart.
Megan Kruse, April 2 – Kruse's creative writing has appeared in various magazines such as Narrative Magazine, The Sun, Thumbnail Magazine and many others. Kruse received nominations for the Pushcart Prize in 2005, 2006 and 2011. Her short story, "Dollywood," is one of 100 Other Distinguished Stories listed in Best American Short Stories 2011. Her first novel, "Call Me Home," will be released in March 2015.
Alice Notley, April 23 – Notley, a poet, was a finalist for the Pulitzer Prize and winner of the Los Angeles Times Book Prize for Poetry for "Mysteries of Small Houses." She has won grants and awards for her work from the American Academy of Arts and Letters, the Poetry Society of America, Academy of American Poets, the Foundation for Contemporary Arts and many others. The Indie pop band AroarA selected several poems from Notley's collection "In the Pines" and set them to music for its Polaris Music Prize-nominated 2013 EP "In the Pines."
ABR is a nonprofit, internationally distributed literary journal published six times a year. It began in 1977, moved to UHV in 2007 and has a circulation of about 8,000. The journal specializes in reviews of works published by small presses.
For more information about the UHV/ABR Reading Series, call the ABR office at 361-570-4101 or go to www.americanbookreview.org.
The University of Houston-Victoria, located in the heart of the Coastal Bend region since 1973 in Victoria, Texas, offers courses leading to more than 80 academic programs in the schools of Arts & Sciences; Business Administration; and Education, Health Professions & Human Development. UHV provides face-to-face classes at its Victoria campus, as well as an instructional site in Katy, Texas, and online classes that students can take from anywhere. UHV supports the American Association of State Colleges and Universities Opportunities for All initiative to increase awareness about state colleges and universities and the important role they have in providing a high-quality and accessible education to an increasingly diverse student population, as well as contributing to regional and state economic development.