Close
UHV to launch STEM Lecture Series with visit by particle physics expert
As a way of showcasing success stories in science, technology, engineering and math, the University of Houston-Victoria School of Arts & Sciences is staring a new lecture series.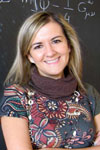 Claudia Ratti
The STEM Lecture Series will begin Feb. 20 with a speech by Claudia Ratti, an assistant professor in the UH Department of Physics and Astronomy. The event, which is free and open to the public, will take place from 1:30 to 2:30 p.m. in the University West Alcorn Auditorium, 3007 N. Ben Wilson St.
This is the first of a planned monthly series in the STEM fields designed to engage and inform students and faculty members about the expansive and broad research conducted by local and regional academic and professional researchers.
"The series is designed in part to highlight fascinating ongoing research in the mathematical sciences, which could be of great interest to STEM professionals in area industries," said Jeffrey Di Leo, dean of the UHV School of Arts & Sciences. "A big component of the series is an effort to capture the attention of students and generate excitement about working in STEM areas."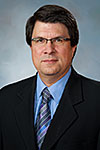 Jeffrey Di Leo
Bradly Button, a UHV assistant professor of physics, came up with the idea for the series. When he was an undergraduate, he was moved by a campus visit from renowned scientist Brian Greene.
"I was happy to have that experience, so I'm trying to replicate that as best I can for UHV students," he said.
Button said at many institutes of higher education, there's not a lot of specific events geared to students in STEM areas.
"Students who are naturally gifted, curious or passionate in the mathematical science fields don't get a lot of exposure to people working in those fields," Button said. "When students see someone who is enthusiastic and capable in these areas, it can be a moving moment and help lead them toward a STEM career."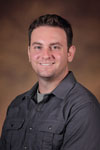 Bradly Button
Ratti will begin the series with a discussion of her particle physics research on matter formation in the early universe.
"Dr. Ratti is highly accomplished, and her research topic is fascinating," Button said. "Her research focuses mainly on the interactions at the sub-nuclear level at a time of the universe where matter condenses out of energy spreading just after the Big Bang."
Ratti has been a postdoctoral researcher at the Technical University of Munich in Germany; the European Centre for Theoretical Studies in Trento, Italy; the State University of New York at Stony Brook; and Wuppertal University in Germany. She has written more than 40 publications in peer-reviewed international journals and presented the results of her research at more than 80 seminars at international conferences and universities.
She won the 2011 International Zonta prize for women in science and the 2012 prize "Giuseppe Borgia" for best Italian Physicist under age 35.
For more information about the series, contact Button at 361-570-4219 or buttonb@uhv.edu.
The University of Houston-Victoria, located in the heart of the Coastal Bend region since 1973 in Victoria, Texas, offers courses leading to more than 80 academic programs in the schools of Arts & Sciences; Business Administration; and Education, Health Professions & Human Development. UHV provides face-to-face classes at its Victoria campus, as well as an instructional site in Katy, Texas, and online classes that students can take from anywhere. UHV supports the American Association of State Colleges and Universities Opportunities for All initiative to increase awareness about state colleges and universities and the important role they have in providing a high-quality and accessible education to an increasingly diverse student population, as well as contributing to regional and state economic development.