Close
Siblings win top spots in Black History Month poster contest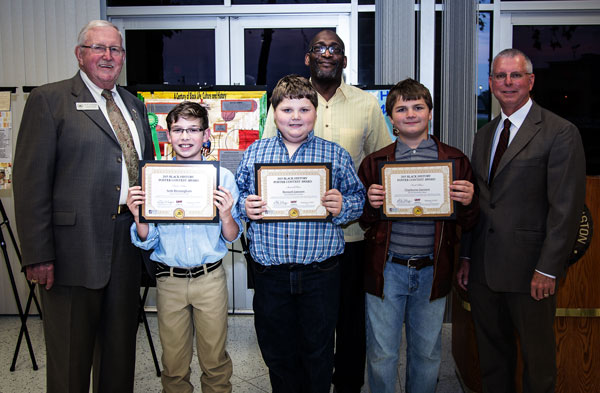 The top three winners of the Black History Month Poster Contest show off their award certificates Friday after a reception at the University of Houston-Victoria. Pictured from front row left are Seth Birmingham, third place, Vickers Elementary; and twins Bennett Janssen, second, and Clayborne Janssen, first, both of DeLeon Elementary. Presenting the certificates were Vic Morgan, left, UHV interim president; James Murphy Jr., chair of the Black History Steering Committee; and Larry Garrett, Victoria College executive director of special projects.
Twin fifth-grade brothers from DeLeon Elementary School are the top winners of the Black History Month Poster Contest.
Clayborne and Bennett Janssen, sons of Chris and Jennifer Janssen, won first and second place, respectively, for their poster designs. The brothers helped each other on their posters, and they are each other's biggest fans, Jennifer Janssen said.
"It's so exciting," Bennett said. "We thought our posters would probably place close together. But we expected something like sixth and seventh place. Instead, we're first and second. It's unexpected, and we are so honored."
The brothers and five other fifth-graders were honored for their poster designs Friday at a reception held at the University of Houston-Victoria.
Clayborne's poster featured African American inventors and innovators who made an impact on modern society, such as Mark Dean, who holds three of IBM's original patents.
"I love electronics, so I wanted to look at people I could relate to and the things that they invented," Clayborne said. "The person on this poster who is really special to me was Otis Boykin, who invented the control unit for pacemakers. Our dad has a pacemaker, so without black history, my father wouldn't be here today for this ceremony."
Bennett's poster presents a profile of Leonard Roy Harmon, a Cuero native and sailor in World War II who fought in the Battle of Guadalcanal and had a U.S. Navy destroyer escort ship named after him.
"I wanted to do a poster about someone known for what he did, not for the color of his skin," Bennett said. "I chose a hometown hero who did something so great that anyone in his shoes would be recognized, no matter what background they had."
Third place went to Seth Birmingham, a student at Vickers Elementary, whose poster featured Pete Rydolph, the first African American millionaire in Victoria.
"These students have done fabulous work in creating these posters," UHV Interim President Vic Morgan said. "Their hard work and research into some of the leading figures in African American history is truly worthy of recognition. UHV is proud to see children in the Victoria community taking part in this celebration of culture and history."
Every year, UHV, Victoria College and the Black History Steering Committee put on the contest to encourage local fifth-graders to learn more about the achievements of African Americans throughout history.
The theme for this year's contest was A Century of Black Life, History and Culture. Fifth-graders across Victoria submitted more than 100 posters for the contest, which featured prominent figures in African American history including Chuck Berry, Jackie Robinson, Oprah and Rosa Parks. The posters were judged by representatives from UHV, VC and the Black History Steering Committee.
The Friday ceremony included remarks from Morgan; Larry Garrett, Victoria College executive director of special projects; and James Murphy Jr., chair of the Black History Steering Committee. It also included a performance of traditional African dances by the UHV African Student Association.
Clayborne took home the first-place prize of a $2,000 scholarship at UHV. Bennett's second-place prize was a $1,000 scholarship at UHV, and Seth received a $500 scholarship at UHV. All three students also received VC Summer Camp waivers. Honorable mentions were given gift bags from UHV and VC. The honorable mentions were:
Joshua Baldwin , Dudley Elementary
Lauren Berryhill, Schorlemmer Elementary
Mason Gisler, Mission Valley Elementary
Baylee Hathaway, Vickers Elementary
"It's a pleasure to see the effort the kids put into these posters," Murphy said. "The students probably learned more about these historical figures in their research than they would have in their classroom history books. The more information students learn about these people and their impact on African American history, that's always a plus."
The posters will be on display through February at the UHV University Center, 3007 N. Ben Wilson St. A few also will be displayed at the Victoria Public Library, 302 N. Main St.
The University of Houston-Victoria, located in the heart of the Coastal Bend region since 1973 in Victoria, Texas, offers courses leading to more than 80 academic programs in the schools of Arts & Sciences; Business Administration; and Education, Health Professions & Human Development. UHV provides face-to-face classes at its Victoria campus, as well as an instructional site in Katy, Texas, and online classes that students can take from anywhere. UHV supports the American Association of State Colleges and Universities Opportunities for All initiative to increase awareness about state colleges and universities and the important role they have in providing a high-quality and accessible education to an increasingly diverse student population, as well as contributing to regional and state economic development.