Close
UHV offers robotics class for high school students through grant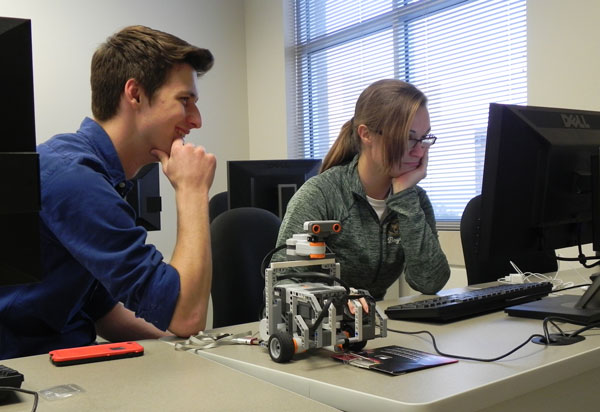 Victoria West High School students Kevin Clark, junior, and Kayla Garrett, senior, troubleshoot their robot's programming at the weekly robotics class at the University of Houston-Victoria. The class is funded by a grant from Alcoa Foundation.
Victoria high school students are learning to build and program autonomous robots as part of a robotics course offered at the University of Houston-Victoria.
This year's class, led by Alireza Tavakkoli, director of the UHV digital gaming and simulation program and an assistant professor of computer science, is made up of 12 students divided into two groups of six. The first group is comprised of students taking the class for the first time, while the second is made up of returning students with more experience.
"I like being a part of this group because it's the more advanced one," said Kayla Garrett, a Victoria West High School senior. "We all know a lot more about what we're doing, and it's a collaborative effort to put this maze-solving program together. It's something that is a unique challenge."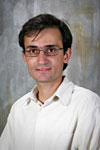 Alireza Tavakkoli
The course, funded by a grant from Alcoa Foundation that has been awarded for several years, allows a group of 10 to 14 students to participate in a weekly robotics class during the school year. The class is part of four main programs tied to the Alcoa Foundation grant. Other components of the grant include UHV/VC Math and Robotics Awareness Day, a week-long robotics summer camp, and math and computer science presentations to area elementary schools.
"The goal of this class is to give students an alternative to the typical extracurricular activities available in high school," Tavakkoli said. "Students who are interested in math, computers and programming have a limited number of options when compared with other activities. This gives them a chance to learn more."
Students have the opportunity to program robots to perform a variety of tasks depending on which sensors and actuators are put on the robots.
"The maze is certainly the most interesting and challenging task because students have to make the program to implement a certain amount of autonomy and intelligence to make decisions at the junctions inside the maze," Tavakkoli said. "A lot of the programming is tested in the maze. Even though the maze looks small, it is actually rather complicated because there are no markers for the robot to indicate which corridor it is in. Also, taking accurate measurements and including them in the programming is an important part of the process."
Kevin Clark, a Victoria West High School junior, started taking the class as a freshman. His older sister was in the class first and told him about it.
"I'm really interested in robotics and programming, and I thought it was a neat way to get involved with something I like doing," Clark said. "My favorite part of the class is troubleshooting the robot's programming and trying to go above and beyond the basic mechanism of maze solving."
Clark and Garrett focused Feb. 12 on working out the kinks in their robot's programming. Their robot is programmed to solve any maze based on 90 degree turns.
Students who took part in previous classes have gone on to study at universities such as Texas A&M and Stanford, Tavakkoli said. He is glad to know that students have experienced something in his class that helped them choose their future career path.
"My biggest hope is to show these students how exciting and interesting this field is," Tavakkoli said. "At UHV, we have opportunities for them while they are still in high school. They can get an idea of what is available and what they'd like to pursue once they graduate and move on to college. Hopefully, students will decide they'd like to stick around and pursue their undergraduate or graduate degrees at UHV."
The work being done by the high school students will eventually tie in to the robotics research Tavakkoli is developing through a grant from the U.S. Department of Defense. The classes were integrated into the grant proposal, and he hopes to continue receiving support from Alcoa Foundation as well.
"The grant from Alcoa Foundation has given UHV another opportunity to reach out to students in Victoria," Tavakkoli said. "We are grateful for the ability to share the importance of robotics while also showing students that this work is enjoyable and rewarding."
In addition, the federal grant supplied a $2,400 stipend for an eight-week internship for a high school student. Students interested in the internship can contact Tavakkoli at 361-570-4204 or tavakkolia@uhv.edu.
The University of Houston-Victoria, located in the heart of the Coastal Bend region since 1973 in Victoria, Texas, offers courses leading to more than 80 academic programs in the schools of Arts & Sciences; Business Administration; and Education, Health Professions & Human Development. UHV provides face-to-face classes at its Victoria campus, as well as an instructional site in Katy, Texas, and online classes that students can take from anywhere. UHV supports the American Association of State Colleges and Universities Opportunities for All initiative to increase awareness about state colleges and universities and the important role they have in providing a high-quality and accessible education to an increasingly diverse student population, as well as contributing to regional and state economic development.