Close
Celebrated cartoonist to give free presentation at CentroVictoria event
When drawing the cover art for the fourth issue of Huizache, University of Houston-Victoria's Latino literature magazine, the first thing that popped into Lalo Alcaraz's mind was Frida Kahlo's eyebrow in the form of a tilde.
Alcaraz ran with it from there, producing a different sort of portrait of the famous Mexican painter, who was known for self-portraits.
"We've gotten tremendous feedback about this cover," said Diana López, a UHV assistant professor of English and associate director of CentroVictoria.
Alcaraz, the creator of the first nationally syndicated, politically themed Latino daily comic strip, "La Cucaracha," will give a talk about his work at 3:30 p.m. March 5 in the UHV University West Alcorn Auditorium, 3007 N. Ben Wilson St. The presentation is free and open to the public. His visit supports the initiatives of CentroVictoria, a center for Mexican American literature and culture housed at UHV
Dagoberto Gilb, executive director of CentroVictoria, said he is thrilled to have Alcaraz visit Victoria to speak with students and community members.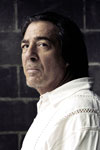 Dagoberto Gilb
"Lalo is among the five most successful Chicano artists in the country," Gilb said. "He's funny, vibrant, full of energy and especially full of talent. Anyone who has grown up in South Texas isn't exposed to this type of art very often. It's not because it doesn't exist. I would argue it's repressed because it's not often promoted."
At the launch party for a prior Huizache magazine, Gilb jokingly said out loud that Alcaraz would provide the cover art for the next issue. Alcaraz accepted, but Gilb at first thought he was kidding.
"But he meant it," Gilb said. "Not only did he come through with a great cover, but it was an original creation. It was an impressive and generous gesture."
Alcaraz has produced editorial cartoons for L.A. Weekly since 1992 and also creates cartoons in English and Spanish for Universal. His work has appeared in The New York Times, Variety, Latina Magazine, Mexico's La Jornada, Germany's BUNTE and many other publications. He has been featured on CNN, the CBS Evening News and several other news programs.
Alcaraz will share his journey of how he took his natural ability and turned it into a career.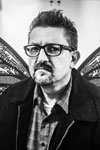 Lalo Alcaraz
"I could not have done this without having gone to college," he said. "I went to college to study architecture, and I ended up doing what I was meant to do. College helped me realize my artistic career and give me the writing skills necessary to express my views and innermost thoughts."
Alcaraz, a California native of Mexican descent, said he also will discuss how he shows politics and history through his cartoons. The social commentary expressed in "La Cucaracha" has led to both praise and criticism.
"I try to make politics accessible to the Latino community through political cartooning," he said.
López said Alcaraz does a masterful job of taking what's around him and seeing the humor in it.
"He'll use exaggerations to make a point," she said. "That's where a lot of the humor comes from. He'll play with language and perception of words and identity. He'll make you laugh."
Alcaraz also has a few drawings in the fall 2014 issue of Huizache. He supports what CentroVictoria is trying to accomplish with the publication.
"I remember how Dagoberto outlined what Huizache is during a launch party in Los Angeles," Alcaraz said. "We now have this magazine that is just as slick, powerful and sturdy as other literary magazines. Huizache is not trying to be pretentious. It's trying to be inclusive. It's open to everyone."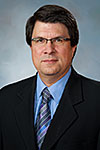 Jeffrey Di Leo
Jeffrey Di Leo, dean of the UHV School of Arts & Sciences, said he proud of the accomplishments of CentroVictoria and the amazing work that Gilb has accomplished in creating this nationally recognized magazine.
"Getting Lalo Alcaraz to contribute the cover was terrific," Di Leo said. "And getting him to visit our university to meet with our students is nothing short of remarkable. He is a major talent and our Hispanic-Serving Institution is honored to welcome him."
Alcaraz is a writer for "Bordertown," an upcoming animated series that will air on Fox in the fall.
Seth MacFarlane, creator of "Family Guy" and "American Dad," is one of the executive producers. The animated series revolves around the life of Mexican immigrant and father of four Ernesto Gonzales, who deals with neighbor Bud Buckwald, an underachieving white man with interesting opinions regarding minorities.
Alcaraz said writing for "Bordertown" has been an eye-opener and the level of writing necessary for a prime-time show is astonishing.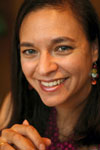 Diana López
"I feel good about my writing, and I think the audience will be pleasantly surprised with some of the actual Latino, Mexican American and border issues," he said. "It's not a documentary on growing up on the border by any means, but political satire can offer up a lot of truths."
Alcaraz will be selling posters of his work. Autographed copies of the latest issue of Huizache also will be available for purchase. Alcaraz also will be signing copies of his graphic novel book "A Most Imperfect Union," a New York Times bestseller. UHV's new Hispanic Student Association is helping coordinate the event and will be providing free refreshments.
As a Hispanic-Serving Institution, it's important for UHV to have these types of events, López said.
"It's important for students to make a personal connection to people represented in books," she said. "Sometimes students see the book as a distant object. They don't always understand that the people who created the object are real. Once they make that connection, then they see the possibilities for their future and their work."
The University of Houston-Victoria, located in the heart of the Coastal Bend region since 1973 in Victoria, Texas, offers courses leading to more than 80 academic programs in the schools of Arts & Sciences; Business Administration; and Education, Health Professions & Human Development. UHV provides face-to-face classes at its Victoria campus, as well as an instructional site in Katy, Texas, and online classes that students can take from anywhere. UHV supports the American Association of State Colleges and Universities Opportunities for All initiative to increase awareness about state colleges and universities and the important role they have in providing a high-quality and accessible education to an increasingly diverse student population, as well as contributing to regional and state economic development.