Close
UHV students, alumni visit Capitol, request legislative support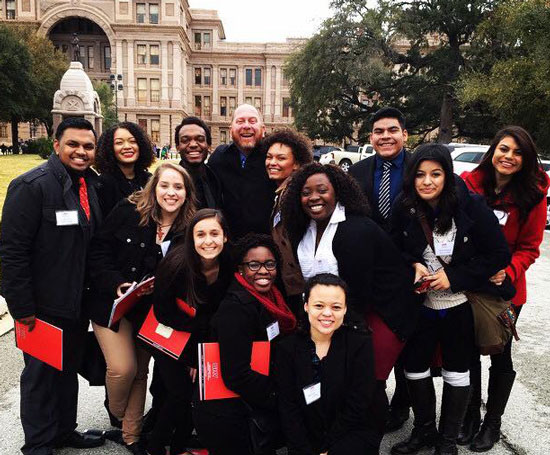 Randy Vivian, Victoria Chamber of Commerce president and CEO, back row center, poses with Bola Adebayo, University of Houston-Victoria Student Government Association president, in red scarf, and other UHV students during UH System Day at the Capitol. Vivian, who is also a UHV alumnus, and the students were part of a group from Victoria that went to Austin to lobby for funding to expand UHV.
A group of University of Houston-Victoria students, administrators and alumni recently took their case for university expansion to the Texas Legislature.
On Feb. 23, a group of 34 people, including 21 students, went to the state Capitol and spent the day lobbying for the university's request for $166 million in Tuition Revenue Bonds and $6 million in program development funds.
"These funds are absolutely necessary for UHV to succeed at becoming a destination university with 6,000 face-to-face students on campus in the next 10 years," UHV Interim President Vic Morgan said. "It was an encouraging sight to see our students and alumni taking an active role to solicit funding and help build UHV's future. In fact, some of these students will be returning to Austin to testify in support of a student fee to fund the building of a UHV student center."
The trip was part of UH System Day at the Capitol, and groups from all UH System schools attended. The UHV attendees were split into three groups that went to the offices of state legislators. In addition, the groups also sat in on sessions of the House and Senate. Bola Adebayo, a junior biology major from Houston and president of the UHV Student Government Association, was recognized by name by Rep. Geanie Morrison during the House session.
"Our main goal was to advocate for the money and expansion on the UHV main campus," Adebayo said. "It was great to go into these offices and have so many people who help make decisions in our state actually sitting down and actively listening to what we had to say. For many of them, our conversations actually reinforced what they already knew."
UHV representatives visited 12 legislators who were chosen by the UH System based on the areas they represent, said Margaret Rice, special assistant to the UHV provost and visiting assistant professor. They were Reps. Morrison, John Zerwas, Todd Hunter, Cecil Bell, Tracy King, Mike Schofield, Abel Herrero, Phil Stephenson and J.M. Lozano, and Sens. Joan Huffman, Lois Kolkhorst and Judith Zaffirini.
"Our students did a wonderful job of presenting our message and telling legislators how important this is not only for the school but for the students," Rice said. "We can grow a really dynamic university in the Coastal Bend area with their support."
Ten days before the trip, the students received training from Jason Smith, UH System vice president for governmental and community relations, and Sara Donatto, a member of his team. Students were given handouts and coached on talking points.
"At the first presentation in Austin, almost everyone was nervous, but after that first visit, it was much easier," Adebayo said. "I think our message was heard. When we came together at the end of the day to talk about what we did, everyone had something positive to say about his visit with the legislators."
UHV's expansion goals were the major topics of the day, said Christo Varghese, a UHV sophomore from Missouri City and director of finance for the Student Government Association. The groups spoke with legislators about the university's plans for expansion, including adding academic programs, purchasing land for development and buildings, and increasing undergraduate enrollment.
College students have a major economic impact on the local economy, and the community is invested in the success of the university, said Varghese, who is a supply chain management and health care administration major. Incoming students visit restaurants, make local purchases and work in the community.
"I'm pretty confident that we will get the money we requested because the legislators were able to see that the students are really involved and are taking the initiative to support UHV's expansion," Varghese said. "I'm really excited to see UHV growing. When the university grows, the community grows."
Victoria leaders who are UHV alumni also took part in the lobbying effort. They included Randy Vivian, president and CEO of the Victoria Chamber of Commerce, and Victoria County Judge Ben Zeller. Viola Saenz, Sally Aman and Bret Baldwin, who are members of the UHV President's Regional Advisory Board, and UH System Regent Roger Welder of Victoria also attended.
At lunch, the UHV representatives met with other groups from the UH System and took pictures.
"I enjoyed the bonding that we did as a group," Adebayo said. "It was more than just UHV people there. We got to spend time with people from across the UH System, UHV alumni and members of the Victoria community, and that was my favorite part."
Both Adebayo and Varghese said they hope legislators took note of the students' involvement in the lobbying effort.
"We already had some leaders advocating for us, but to have students come down and make that push was an important statement," Adebayo said. "Many of the students who went probably won't be around to experience the growth we lobbied for, but I want to be able to come back and see the expansion of this campus."
The University of Houston-Victoria, located in the heart of the Coastal Bend region since 1973 in Victoria, Texas, offers courses leading to more than 80 academic programs in the schools of Arts & Sciences; Business Administration; and Education, Health Professions & Human Development. UHV provides face-to-face classes at its Victoria campus, as well as an instructional site in Katy, Texas, and online classes that students can take from anywhere. UHV supports the American Association of State Colleges and Universities Opportunities for All initiative to increase awareness about state colleges and universities and the important role they have in providing a high-quality and accessible education to an increasingly diverse student population, as well as contributing to regional and state economic development.