Close
UHV adds millions to regional economy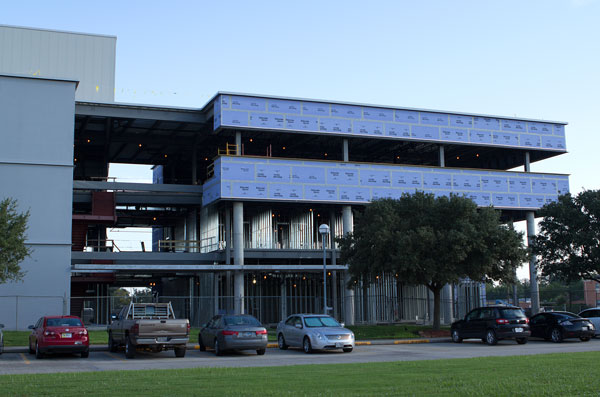 A $12.7 million Academic & Regional Economic Development Building is under construction on the main University of Houston-Victoria campus and will open this summer. A recently released report showed that UHV created $185 million in added regional income during fiscal year 2013.
The amount the University of Houston-Victoria spent on payroll and operations in fiscal year 2013 and the spending of its students, visitors and alumni created $185 million in added income to the Coastal Bend economy, according to a recently released report.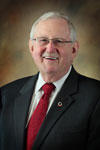 Vic Morgan
"This study shows the major impact UHV has on the regional economy and the positive return on investment that a higher education has on students, society and taxpayers," UHV Interim President Vic Morgan said.
The study, "Demonstrating the Economic Value of the University of Houston-Victoria," is part of a larger report produced by Economic Modeling Specialists International of Moscow, Idaho. The report found that Texas' public universities, community and technical colleges, and independent universities have a combined economic impact equivalent to nearly 11 percent of the state's gross state product.
During FY 2013, UHV spent $29.6 million on payroll and benefits for 459 full-time and part-time employees. Another $23.2 million was spent on goods and services for day-to-day operations. Those amounts, coupled with the spending of students, visitors and alumni, are equal to creating approximately 2,226 new jobs, according to the study.
In addition to the income generated for the regional economy, UHV also provides a return on investment to students, society and taxpayers. Here are some key findings from the study:
Every $1 that students invest in a UHV education will translate to a return of $2.40 in higher lifetime income.
Texas will benefit from a present value of $1 billion in added state income over the course of UHV students' working lives.
The state also will benefit from $134.6 million in present value social savings related to reduced crime, lower unemployment, and increased health and well-being.
Taxpayers will see an estimated present value of $67.4 million in added tax revenue stemming from UHV students' higher lifetime incomes and the increased output of businesses.
"UHV will continue to positively impact the Coastal Bend economy in the future as we grow into a regional comprehensive university with a goal of having 6,000 students taking face-to-face classes on the Victoria campus by 2025," Morgan said.
UHV's growth is apparent on its main campus with a $12.7 million Academic & Regional Economic Development Building under construction just northeast of the UHV University Center, 3007 N. Ben Wilson St. The 63,000-square-foot building is scheduled to open this summer.
In addition, students living within a 50-mile radius of Victoria recently voted to assess themselves a fee to fund construction of the university's first student center. The UH System Board of Regents has approved the fee, which now will go to the Texas Legislature for approval.
UHV also is asking for expansion assistance from the Texas Legislature. The university has requested $166 million in Tuition Revenue Bonds and $6 million in program development funds this legislative session. The TRBs would pay for new academic space, renovations to existing space and land acquisition, while the $6 million would fund the cost of establishing at least 12 new academic programs.
Highlights from "Demonstrating the Economic Value of the University of Houston-Victoria" may be accessed from the President's Office page on the UHV website or by going to www.uhv.edu/media/uhv/contentassets/documents/mkt/UHVFactSheet1213Final.pdf. A full copy of the UHV report is available at www.uhv.edu/media/uhv/contentassets/documents/mkt/UHVMainReport1213Final.pdf.
The University of Houston-Victoria, located in the heart of the Coastal Bend region since 1973 in Victoria, Texas, offers courses leading to more than 80 academic programs in the schools of Arts & Sciences; Business Administration; and Education, Health Professions & Human Development. UHV provides face-to-face classes at its Victoria campus, as well as an instructional site in Katy, Texas, and online classes that students can take from anywhere. UHV supports the American Association of State Colleges and Universities Opportunities for All initiative to increase awareness about state colleges and universities and the important role they have in providing a high-quality and accessible education to an increasingly diverse student population, as well as contributing to regional and state economic development.